News
Vijay Singh wins Toshiba Classic, his first individual PGA Tour Champions victory and first win in nearly 10 years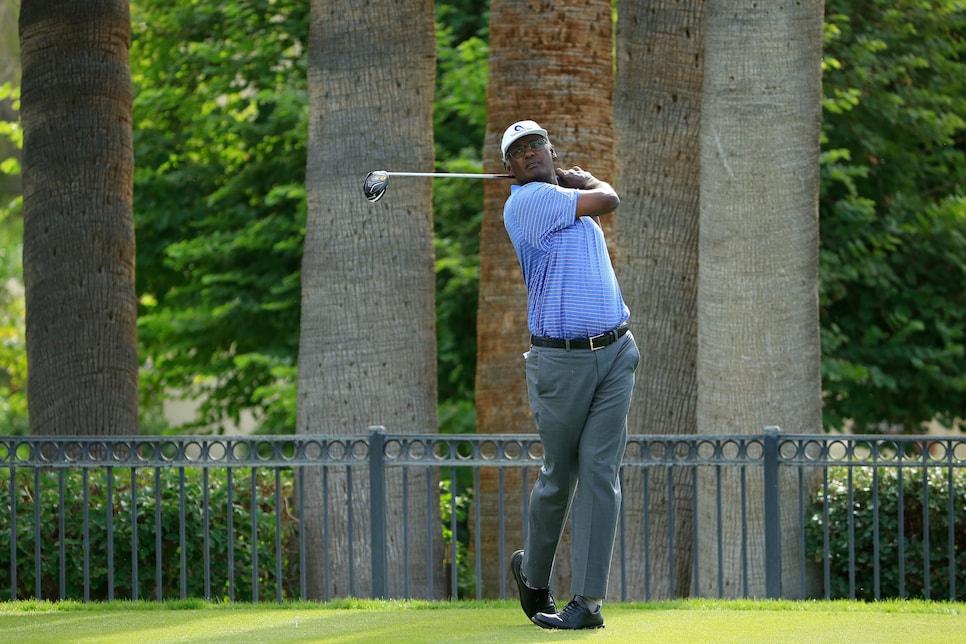 Vijay Singh once was a prolific winner, 34 PGA Tour victories landing him in the World Golf Hall of Fame in 2006. He won nine times in 2004 alone, three times in 2008, and then…nothing.
For nearly 10 years, Singh failed to win an individual PGA Tour or PGA Tour Champions event until his 18th-hole birdie gave him a one-stroke victory at the Toshiba Classic on Sunday.
"Every time I tee up here I put so much pressure on me that I have to win," he said. "It's kind of the wrong way to approach it. Like this week, I just went out there, just play and enjoy it. If you win you win. If you don't there's always next week."
The always-next-weeks had been inexplicably mounting. He has played 212 events since his last victory on the PGA Tour, in the Deutsche Bank Championship in 2008. He had played another 26 PGA Tour Champions events, with only a single victory, that in a two-man team event, winning the Bass Pro Shops Legends of Golf with Carlos Franco.
Singh, 55, made five birdies and a long bogey on the back nine at Newport Beach (Calif.) Country Club to post a closing five-under par 66 for a one-stroke victory over Tommy Tolles, Tom Pernice Jr. and Scott McCarron.
It was that close only because Singh flew the green at the par-3 17th hole, his ball settling in a bunker, leaving him an impossible second shot to a green sloping away from him. His bunker shot rolled past the pin, off the green and into another bunker, leading to a bogey.
Tolles, playing ahead of Singh, three-putted the 17th for bogey, then missed a four-foot birdie putt at 18. McCarron also three-putted 17 and made bogey.
Singh, meanwhile, hit his 3-wood second shot at 18 virtually pin high, but missing the green right. Using a putter for his third shot, he rolled it to within three feet, then made the birdie putt that ultimately was the winner.
Singh still splits his time between the PGA Tour and the PGA Tour Champions. He has played four PGA Tour events and only three senior events this year, though he said he intends to play more frequently on the latter tour.
In the meantime, there is an impending date in Augusta, Ga., the Masters, a tournament Singh won in 2000.
Singh's victory drought having ended, the most puzzling player on the senior tour has become Bernhard Langer. The question is whether his age, 61, is finally beginning to take a toll. Last week, Langer tied for 54th, his worst finish on the senior tour. At the Toshiba, he finished 58th.