The Loop
Vijay Singh suing PGA Tour over proposed doping suspension
PONTE VEDRA BEACH, Fla. -- Almost exactly a decade ago, Vijay Singh stepped into a public relations hornet's nest when he said he hoped Annika Sorenstam would miss the cut at the 2003 Bank of America Colonial on the PGA Tour.
Singh still doesn't talk to the writer who published that quote. That cone of silence may expand now -- on all sides. Suing the PGA Tour on the eve of its flagship event is not a way to win friends and influence people.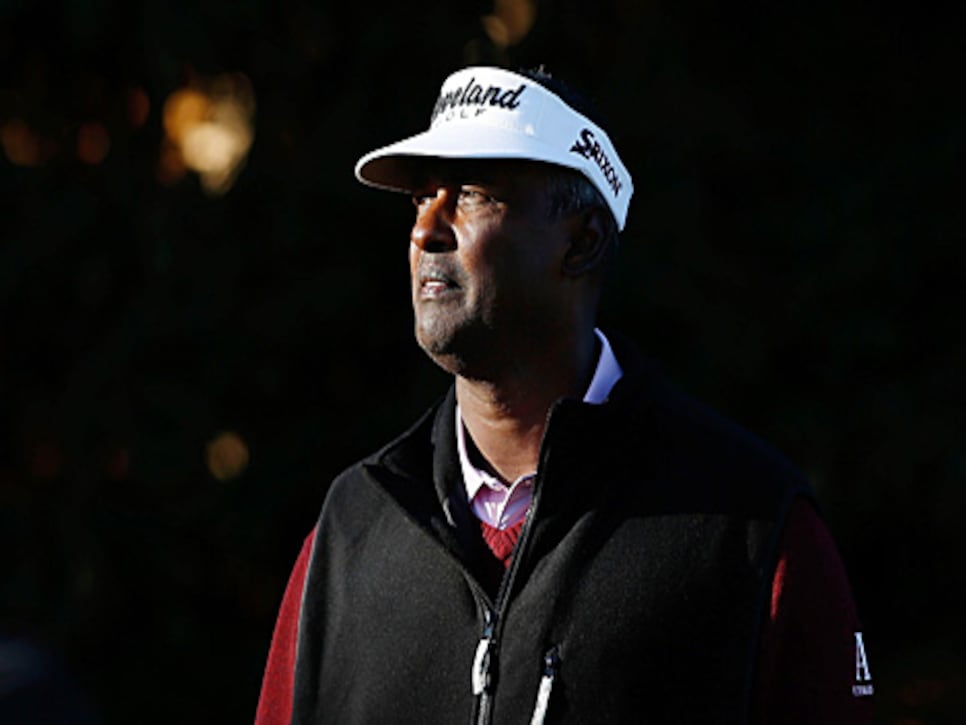 Lawyers for Singh said Wednesday they are suing the PGA Tour to "reclaim his reputation and hold the PGA TOUR responsible for its unwarranted effort to suspend Singh for his use of deer antler spray." The tour, not surprisingly, has no comment at this time.
By suing the tour, Singh is not only biting that hand that has fed him very well -- he has $67.5 million in career earnings, third all-time behind Tiger Woods and Phil Mickelson -- he is sort of suing the other players who benefit from the tour and its events.
And there are many among those players who were not happy when the World Anti-Doping Agency rescinded its ban on deer antler spray, leading to the tour dropping its 90-day suspension of Singh, which was under appeal at the time.
Singh freely admitted to using deer antler spray in a magazine interview while it was on the PGA Tour's banned substance list. That was changed when WADA concluded there was not enough human growth hormone in the spray to make it a performance-enhancing drug.
"I am proud of my achievements, my work ethic, and the way I live my life," Singh says in a news release by Peter R. Ginsberg Law, LLC, in New York City. "The PGA TOUR not only treated me unfairly, but displayed a lack of professionalism that should concern every professional golfer and fan of the game."
The timing of the suit is sure to annoy many players almost as much as it irks officials in PGA Tour headquarters here. That's about as in-your-face as it gets and is somewhat reminiscent of when three LPGA executives quit on the eve of the 2006 LPGA Championship, saying they had lost confidence in then commissioner Caroline Bivens.
At the time the suit was filed, Singh was still listed as having a 2 p.m. tee time in Thursday's first round of The Players. It's a pretty safe guess that the media room is rooting for a 64 by Vijay in the first round - and a trip to the interview room.
One of the risks in filing the suit is that the move likely means that anything in his file at the PGA Tour headquarters - and Singh has been controversial enough that a file certainly exists - is now fair game for public release, as it was in the case of John Daly when he sued a newspaper for libel.
The PGA Tour has a policy of not making public any fines or suspensions levied against players. The extent of the disciplinary actions against Daly were not known until he sued.
If there has ever been any actions against Singh, or even complaints, those would now become public knowledge. In fact, his 90-day suspension for deer antler spray was only made public when it was detailed in the suit Singh filed.
It's also probably safe to assume the PGA Tour will have crack investigators thoroughly probe every aspect of Singh's medical history.
The other risk for Singh is the elephant in the room throughout his career - a suspension for allegedly cheating, an allegation he denies, in the 1980s, would resurface larger than ever.
The accusation was that Singh changed a scorecard in the 1985 Indonesian Open in order to make a cut. The South East Asia Golf Federation suspended him indefinitely and he was not a member of any tour until resurfacing on the European Tour in 1989.
The only way this suit makes sense -- and the greatest risk to the PGA Tour is going to court rather than reaching a negotiated settlement -- is if Singh knows something. Have there been other drug penalties -- either performance enhancing or recreational -- the tour has issued to prominent players that Singh knows about but the public does not? If that is the case, then is the motive purely vindictiveness?
According to the the lawsuit filed Wednesday in New York:
"Singh seeks damages for the PGA TOUR's reckless administration and implementation of its Anti-Doping Program. After exposing Singh, one of the PGA TOUR's most respected and hardest working golfers, to public humiliation and ridicule for months, and forcing Singh to perform the type of scientific analyses and review that the PGA TOUR was responsible for performing, the PGA TOUR finally admitted that the grounds on which it sought to impose discipline were specious and unsupportable."
As for what Vijay want, the suit asks for:
"WHEREFORE, Singh respectfully requests that this Court enter judgment in Singh's favor, granting the following relief: 1.damages in an amount to be determined at trial; 2.punitive damages and attorney's fees; 3.and such other relief as the Court finds just and proper."
Singh withdrew last week at the Wells Fargo Championship pretty much as soon as the PGA Tour announced it was dropping its case against him in light of the WADA reversal on deer antler spray.
He last played at the RBC Heritage, where he missed the cut, and according to the lawsuit the tour had held more than $99,000 of his winnings in escrow pending his appeal of the suspension.
When Singh made his inflammatory comments about Sorenstam, he went out and won the EDS Byron Nelson Championship that week and then withdrew from Colonial, thus escaping further media scrutiny. It's not clear he has an easy road out this time, other than fully extending his cone of silence.
It could very well be that the next words we hear from Singh on this matter will be in court, where the questions are certain to be far more reaching than he ever gets in the interview room - and where the answers will have far greater consequences.
A matter that seemed as if it would quietly be forgotten now has the potential to not only drag on in a very public manner but also could drift into areas Singh has for decades avoided.