The Loop
The second Ambush took place in Scottsdale. The "victims" were in town from Michigan and I rolled up on Chuck Wierda and his seven friends on the first tee of Desert Canyon. I passed out boxes of balls and mini kegs of beer. Those boys were stoked and I was getting the sense we were on to something special.
In a little over two years of celebrating buddies golf all across the country, this concept has come a long way. Now I pass out boxes of Excalibur Cigars, Sundog Eyewear, Ashworth shirts, Srixon balls, TayorMade hats and a golf bag to the person who sends in the winning itinerary. I usually buy at least one round of drinks (or three) and depending on the size of the soiree, dinner might be included.
I've seen grown men cry and women north of 50 flash low-flying helicopters, but in all of my travels, I still haven't met anyone who doesn't love free stuff.
It's only after the Ambush article comes out that it's clear the biggest gem of the loot is getting the group's story in Golf Digest. A cherished trip, forever frozen in time by a cover, a few pictures and 500 words about who they are; what they mean to each other; when they go; where they go and why they go there.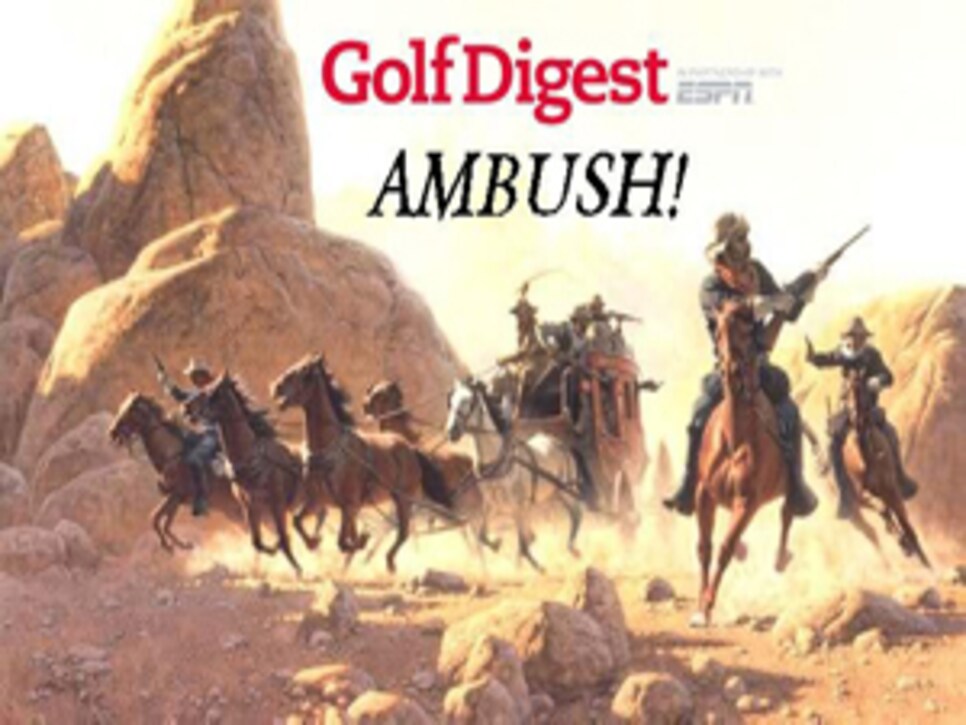 Ambush No. 3, the "Louisville Sluggers," is no group of Greg Waldrops, but they were kind enough to send me an engraved bat. The "Tennessee Masters," of Ambush No. 17, gave me a handmade head cover that I used until last week, when it finally fell apart. Dave "Walk" Walker, of Ambush No. 14, "Watson's Springfest," is one of the best bell cows roaming the plains of buddies trips. Where Walk goes, his friends and family will follow. Walk is the guy who has lead 135 guys from Canada to Canandaigua for the past 21 years, and he was kind enough to pass on a pair of golf socks (only because they didn't fit his feet). I have a bet to settle with Walk -- he beat me 1-up at Pinehurst No. 2. The next time I see him we'll play for a bigger pair of socks.
And then there's Bryan O'Toole, of Ambush No. 4, the "O'Toole Brothers Invitational," who recently sent me a note and a photo. The O'Toole brothers, great friends and golf rivals, are now playing for the "Ambush Cup," which is pictured at the top of this blog.
In every Ambush story I try to throw in some service for the readers, such as: the courses they play, how much money they spend and the tournament format they use to determine winners and losers.
I've been around enough buddies trips to know there is no such thing as a loser. However, as an impartial witness to these annual gatherings, I've had my fair share of odd spots.
Here's a video of Ambush outtakes that might better explain some of those situations:
Do you want to have your annual buddies trip featured in Golf Digest? If so, click here and tell us about your itinerary. You never know, you might be next. (And if you are, expect a congratulatory note from Greg Waldrop.)