The Loop
Victor Dubuisson hates the spotlight, so how will he fare at the 2014 Ryder Cup?
PERTHSHIRE, Scotland -- Every Ryder Cup side is a mixture or personalities, temperaments and nationalities. But it is safe to say that no one quite like Victor Dubuisson has ever played in the biennial contest that matches the best golfers from the United States against their European counterparts.
Consider this. When, earlier this year, the 27-year old Frenchman was cutting a wide swathe through the field at the WGC Match Play Championship in Arizona -- along the way hitting a couple of extraordinary and memorable chip/pitch shots from unlikely lies -- he was asked how old he was when he left school. His answer wavered between the ages of ten and 12, before he requested, "no more personal questions." And what was the first thing Dubuisson did after losing the final to Aussie Jason Day? He changed his phone number.
"I know his family story and it was not an easy childhood," says another Frenchman, Thomas Levet, who played for Europe in the 2004 Ryder Cup at Oakland Hills. "Let's not talk about bad things."
In the months since, not much more information has emerged other than Dubuisson is estranged from his parents and he lives in Andorra "for tax reasons." So he has arrived here at Gleneagles as something of a mystery, certainly to many of his teammates.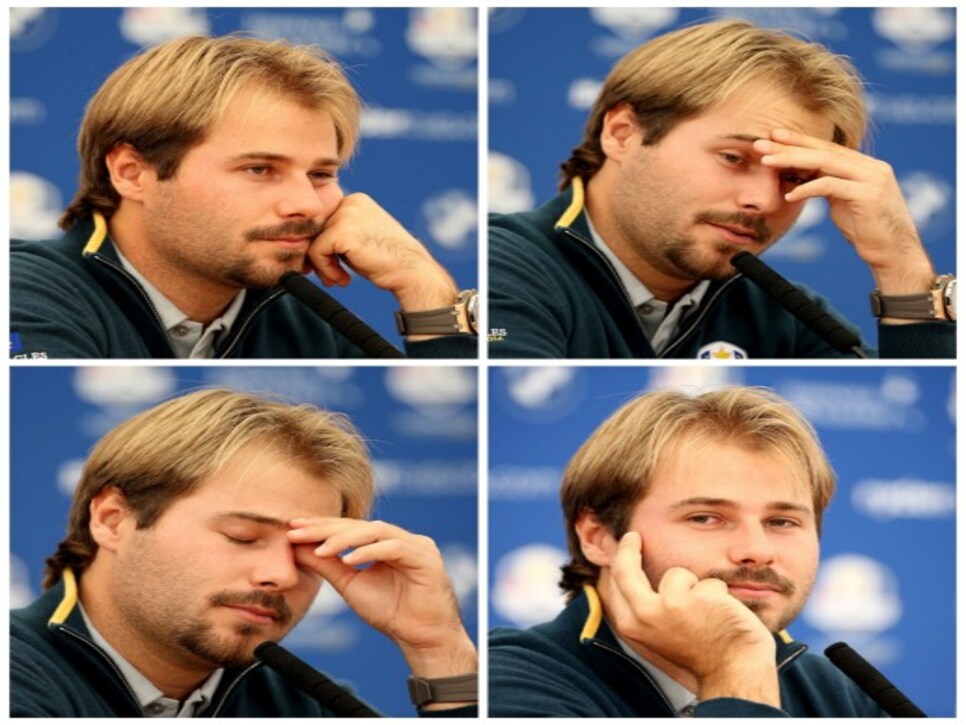 "It's very difficult to know what to make of Victor," was Lee Westwood's assessment.
"He's a bit of an enigma and just a tough guy to get your head round what he's thinking," said Graeme McDowell, who has actually spent a bit of time with Dubuisson over the last few months.
"For most of the guys on the team, it's the early stages of getting to know him as a person," admitted Henrik Stenson. "I'm sure we will get to know him a bit more."
As you'd expect of a detail-oriented individual, European skipper Paul McGinley has gone out of his way to introduce himself to Dubuisson since it became apparent the Cannes-native was going to make the side. But it clearly hasn't been easy. Asked if Victor's "shyness" poses a problem when it comes to team dynamics, the genial Dubliner did concede that it was "a challenge."
"Not everybody is Ian Poulter," continued McGinley. "My job as captain is to get to know each player, what makes them tick and what their personalities are. I like to get a good profile of them.
"This time last year I didn't know Victor at all. But when he won in Turkey then was second at the match play he was on my radar and I made it my business to get to know him. I think I've done that. He's a really great guy. I like him. He's got flair. He's got charisma. He's got Hollywood looks. There's something special about him and I like the fact that he is different."
The question, however, remains: Is that "good different" or "bad different" when it comes to a team event like the Ryder Cup?
"Match play is my favorite format," insisted Dubuisson when his turn came to face the assembled media. "It's more about the mind. Every few holes you have to change your strategy. But the key is just to play your own game. It's what I do all the time. If you play your own game and you do what you do, usually you won't lose many matches."
Then again, he also admitted to preferring individual sports to team games: "You're on your own and make your own decisions. I don't think I could play in a collective sport."
He ended on a joke though. Asked if he would describe himself as the Greta Garbo of golf, Dubuisson did manage to raise a smile.
"Ask the other players," he said. "I'm a very funny and cool guy. On the course I'm not shy. I just prefer to be quiet and humble rather than the opposite."
Hmmm. Even if that is true, it does sound like Captain McGinley still has some work on his hands.