News
Vic Damone, who died on Sunday, was an obsessive golfer who had Hogan stories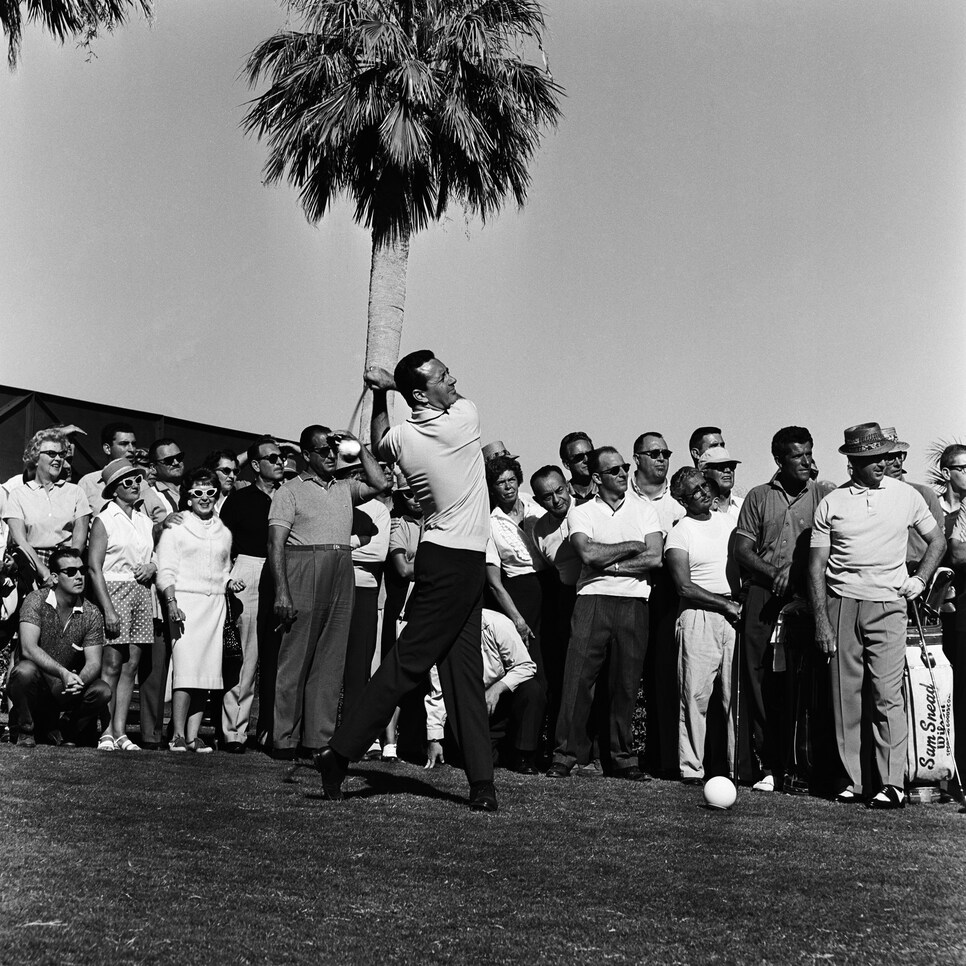 Singing made Vic Damone happily famous, but golf made him famously happy, as he noted in his autobiography. He confessed to an obsession with the game.
Damone, 89, who died on Sunday, once was a member at Riviera Country Club and was a long-time member of Trump International Golf Club near his home in Palm Beach, Fla.
He played golf with Hogan, Snead and Sarazen, played in the Crosby and the Hope. He called Jimmy Demaret a friend. And former President George H.W. Bush invoked his name, for unknown reasons, emphatically saying, "Vic Damone!" whenever he won a match.
In his autobiography, "Singing Was the Easy Part," Damone wrote of his friendship with Jack Benny. It led to his joining Benny's foursome at Tamarisk Country Club in Rancho Mirage, Calif., where Hogan was the professional. Benny, Hogan and Damone played, while George Burns walked along "kibitzing," Damone said.
"We were on a par three," Damone wrote. "Jack Benny hit first, as always. Then it was my turn. Hogan always hit last. After Jack hit, I put my ball down, but instead of placing it on a tee, I dropped it on the ground. I was moving the ball around with my club to find a nice spot to hit from, on the ground, not on a tee.
"As I was pushing the ball around, Hogan walked over to me.
"'Hold it, hold it, hold it!'
"He put his face right up next to mine.
"'My name,' he said, 'is Ben Hogan. I'm a professional golfer. I'm a tour player. I've won a lot of tournaments.' In a controlled voice. Quiet, with an edge. All this with his face five inches from mine.
"'When I play a par three,' he said quietly, 'I tee the ball up.'
"Then he screamed: 'Tee it up!'"
Damone was on the range at Tamarisk one day, while Hogan was at the other end practicing. Hogan "did not teach," Damone wrote. "That was the hard and fast rule. But Hogan needed so badly to correct my swing that he could hardly control himself…So he stuck his club in his golf bag and walked past me, never said hello, never said anything, never made eye contact. Except as he walked by he balled up both fists in frustration and hissed through his clenched teeth: "Turn, goddamnit. Turn!"
Demaret, he said, made him an honorary member at Champions Golf Club in Houston, where they'd play together and eventually break out into song. He also sang Christmas carols with Tom Watson while walking a fairway together on a hot day in Las Vegas.
Damone did not play golf as well as they did, obviously, and they could not sing as well as he did. Frank Sinatra said Damone had "the best pipes in the business."
But golf restored him. "Golf my therapy, physical and psychological," he wrote. "The game absorbed my attention. Playing golf, my mind was a million miles from work."