News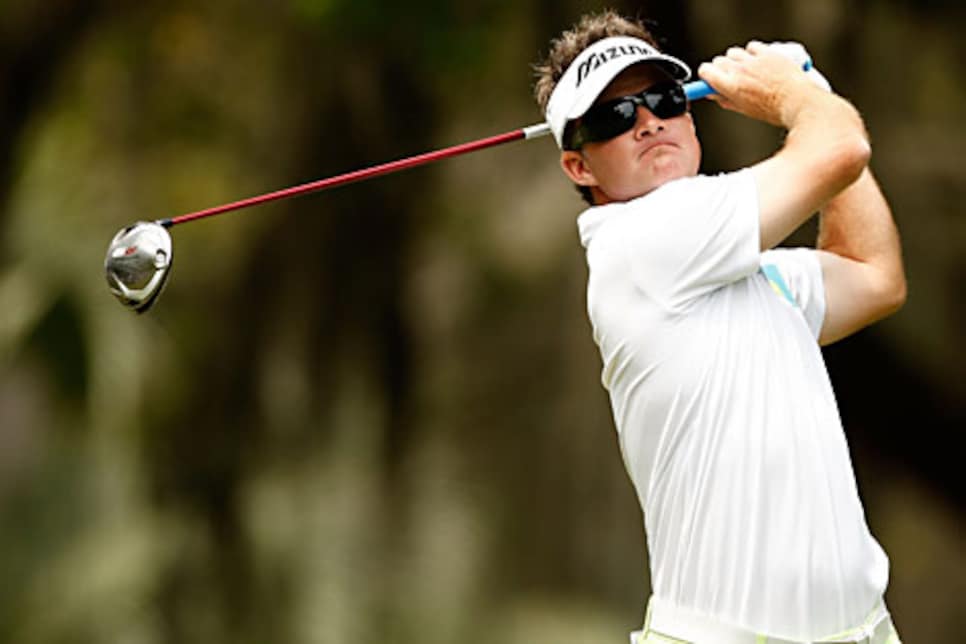 Over 72 holes, Gay had 20 birdies, an eagle and only two bogeys while hitting almost 84% of the fairways.
HILTON HEAD ISLAND, S.C. (AP) -- Brian Gay put on a record-setting show at the Verizon Heritage. And this time, he didn't have to share the spotlight with anyone.
"Just another unbelievable day," Gay said.
There have been many more of them the last two years for the former Florida Gator, who remains the only player to win two Southeastern Conference championships.
But finding golf success has been a struggle for the 37-year-old, who did not break through for his first win until his 293rd start in February 2008 at the Mayakoba Golf Classic in Mexico.
Bad luck for Gay, that triumph came the same weekend Tiger Woods' finished off the field at the World Golf Championships' Match Play event.
"Yeah, it's a bit of validation," Gay said.
And perhaps one of the PGA Tour's more dominating performances.
He had the tour's largest margin of victory since Phil Mickelson won the 2006 BellSouth Classic by 13 strokes.
Gay bested Loren Roberts' mark of 19 under in winning the 1996 Verizon Heritage. Gay's 10-shot edge over Luke Donald (66) and Briny Baird (68) shattered the seven strokes five-time champ Davis Love won by in 1998.
Besides a $1.026 million first prize, Gay earned a spot in next year's Masters, something he also didn't get with the Mayakoba victory. It will be his first time at Augusta National.
"I've had a lot of heartache not getting in that tournament, winning (and) not getting in, and missing by one spot on the money list two times," he said. "I just figured, who cares? What's going to happen is going to happen, just go play golf."
Gay moved into the lead Friday and carried a three-stroke margin over Tim Wilkinson into the final round. Gay's game plan? Don't do what he did at Mayakoba, holding on despite some passive, wait-for-pars play.
"I told myself to keep my head down and keep plugging along," Gay said. "I didn't watch any (leader) boards. I didn't watch anything."
Soon enough, Gay was out of sight of the field.
He essentially wrapped things up two holes into the round -- and never gave the chasers a chance to climb back in.
Gay struck his approach to 10 feet on No. 1 for a birdie to increase the lead to four. A hole later, he rolled in a curling, uphill 57-footer for an eagle-3, raising his putter as the ball disappeared into the cup.
Playing partner Wilkinson, facing a 10-footer for birdie, never had a chance with the cheers for Gay still in his ears and the margin increased to six shots.
A birdie on the par-5 fifth gave Gay a seven-shot edge that no one could dent.
Gay moved into the lead Friday with a run of five straight birdies and continued his precise, accurate play throughout. He made only two bogeys -- one Friday and one Sunday -- and bettered Roberts' low of three bogeys for the 1996 tournament.
The tour began keeping hole-by-hole scoring records in 1983.
"I'm happy for the guy. He's playing phenomenal," Baird said.
The only back-nine drama was if Gay could break Roberts' scoring mark. It looked dicey when Gay posted a bogey on the 12th hole to fall back to 17-under.
Surely, with a large lead and victory all but wrapped up, Gay would pull back a bit the rest of the way.
Gay regained the lost stroke with a birdie on the next hole, then matched Roberts with a birdie on the par-5 15th.
A hole later on No. 16, Gay rolled in a 15-footer to reach 20 under.
On the final hole, Gay finally asked caddie Kip Henley who was in second and how far ahead were they. "He told me he didn't know," Gay smiled.
There'll be no hiding Gay's victory this time.
Divots: Two-time defending champion Boo Weekley ended at 5-under after a closing 68. ... Spencer Levin made the most of his chance at the Verizon Heritage. Levin was the second alternate and got in only after Bart Bryant withdrew. Levin made the cut, then had his best weekend of the year going 66-69 to finish tied for 13th at 5-under. ... Rory McIlroy, the 19-year-old star from Northern Ireland trying to become the youngest winner in PGA Tour history, will put that quest on hold for a couple of weeks. McIlroy is returning home until The Players Championship in three weeks. He finished 2 over in his first visit to Harbour Town.