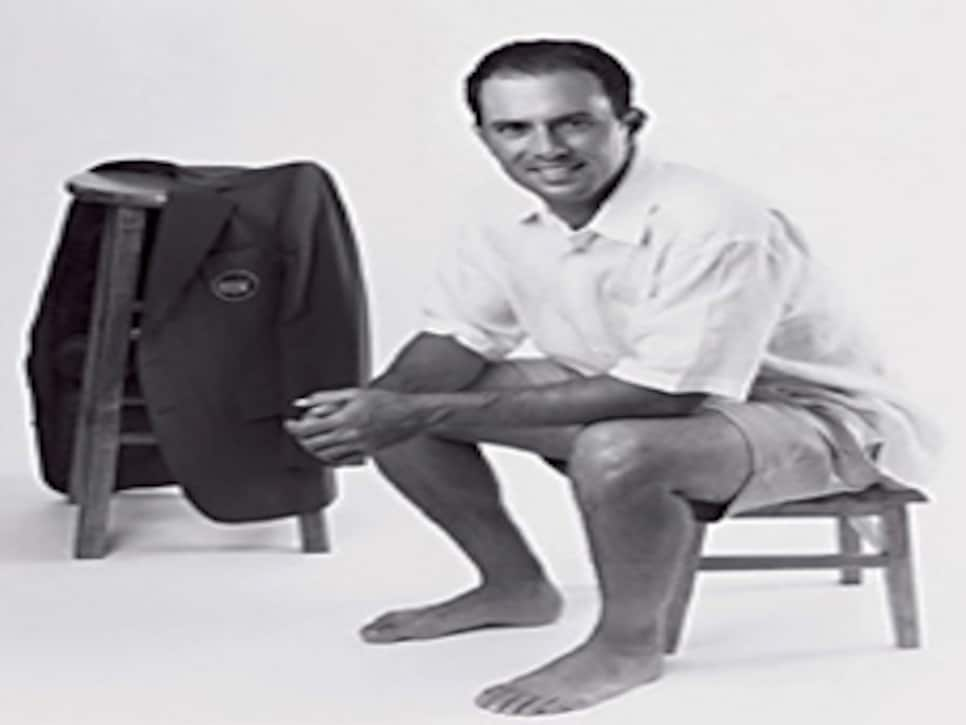 'Every once in a while, I open the door and peek in, just to make sure it's there.'
When Mike Weir returned to his native Canada last July for the charity golf tournament he hosts every summer, it was his first public appearance in Bright's Grove, Ontario, since winning the Masters in April. Weir requested that friends and residents play it low-key, and they obliged. An existing park was named Mike Weir Park, and that was pretty much it. But when Weir participated in the Canadian Open in September, there was no holding back. Already a national icon even before he earned the green jacket, Weir was hailed by thousands of supporters wherever he went. He even got an ovation when he exited a Porta-Potty.
"Unbelievable," says Weir, respected by peers for his work ethic and the manner in which he comports himself. But whenever a golfer reaches another level by winning a major, all eyes are peeled. How will this change him? The perception of Weir is reality — everything remains the same about him, except his phone number in Draper, Utah, where he cherishes his private time with his wife, Bricia, and daughters Elle and Lili.
In three interview sessions since his Masters victory, Weir recounted some of the highs and lows of his career — choosing golf over hockey after being a smallish but feisty forward who could skate and also drop his gloves when necessary, sloshing through mud with golf clubs on his back after bailing from a taxi in Indonesia, trying to polish his skills during some lean times on the Canadian Tour, and signing autographs for a stranger who showed up unannounced at his front door two days after his triumph at Augusta.
Mike Weir had been preparing to be a world-class golfer for years, on all levels. When he was having his basement office built, he thought he might like a custom cabinet with a hanger rack, just in case. "I was hoping to have something to put in there someday," he says. "And that's where the green jacket is."
Golf Digest: In your long, winding road toward being a world-class player, this year's Masters victory obviously was the high point. What was the low point?
Mike Weir: That would probably be Jakarta — in 1995, I think, on the Asian tour. The tournament organizers had us staying an hour and a half from the course. They sent a bus for us every so often, but I didn't want to sit at the course before my tee time, so I splurged and took a cab. Driver didn't speak English, and we're going a different route than I thought we'd go, right near this river. Well, turns out this river has overflowed, and the cab breaks down in the mud. Driver gets out and tries to push the car, then jump in if it gets rolling. He wants to get me out of the seat to help push. Forget it.
I could see the main road in the distance. I popped the trunk, took my clubs out, my shoe bag, and I started walking through this mud in nice slacks. I had a 1-iron in my hand, just in case — maybe a snake, maybe somebody would try to rob me. I finally made it to the main road and flagged another cab. I got to the course with a little time to spare, I made a 9 on a par 3, and I shot 80. That was worse than carrying my own bag in Perth, where it was 106 degrees. At least I was on the golf course. In Jakarta, walking through the mud carrying this big, red Wilson golf bag, I stood out more than I wanted to.
And all you had then was hope?
Basically. My wife, Bricia, was back home in Utah. I was rooming with Butch [Brennan Little], who's my caddie now and who was also playing the Asian tour. I didn't have any money. And I sure wasn't thinking about winning the Masters.
You probably weren't thinking about it too much during 2002, either.
Not a great year for me. I was irritable, not having fun. It was like I was trying to reinvent the wheel. I won the Tour Championship late in 2001, but it only made me wonder why I hadn't been in contention more often. I stopped doing that waggle before my swing, but I had been doing it so long, since 1998, that it almost became part of my swing. After the U.S. Open last year, I played better, but I still didn't have any top 10s.
You started 2003 with a win at the Bob Hope — by laying up on the last hole, a par 5.
That was a no-brainer. I was on a downslope with water on my left. I was 220 yards into the wind on my second shot, and I liked my chances of getting up and down for birdie from inside 90 yards, which happened.
With your Canadian background, everybody thinks if you hadn't played golf you would have stayed with hockey. But there was baseball as well.
I had a strong arm, so when I wasn't a left-handed pitcher I was a left-handed catcher. I had a special catcher's glove for my right hand, because you won't find many left-handed catchers. That was one of the few times my dad ever got mad at me, when I was a kid playing baseball.
I was probably about 8 or 9. I slid into home plate, the umpire called me out, and I got ticked off. I threw a bat or kicked something when I got back to the bench. Dad was the third-base coach, and he gave me some grief about it.
The only other time I can recall my dad getting upset at me was when I missed a hockey practice. My parents were away, so my buddy and I decided to skip it. I never told my dad about it, but he found out from the coach.
Those two times, honestly, are probably the only times I remember my father even raising his voice to me. He's a very calm man.
But when you were riding the cart back up the hill after winning the Masters playoff, he told you that it was OK to let go, to let your emotions come out?
No, that never happened. But I read it someplace. I don't remember it. I never did really break down or choke up, like Freddie [Couples] did at Houston. I got emotional, and Bricia got choked up, but it was more a feeling of being happy when it was over. Those few minutes on the 10th green, those were actually the best. Seeing my wife run toward me, so happy. That's when I thought about her caddieing for me when we had no money, or when I would carry my own bag in 100-degree heat in Australia for the same reason: no money.
Whenever we left our apartment in Utah to go play in Canada or Australia, we couldn't afford to keep the apartment. So every year we had to get our stuff together and pile it in a storage locker for $50 a month. Then we'd return to Utah, unpile it from the storage locker, and go find another apartment. We went through a lot of apartments and a lot of storage lockers, but it was all worth it. I kept half my clothes in the car. That helped.
Who do you remember playing with or against back then?
Guys like Peter Lonard and Stephen Leaney in Asia. Leaney is the Australian who finished second in the U.S. Open this year. In Canada, we had a lot of guys. Ian Leggatt, another Canadian. Tim Herron, Robert Damron. Also Steve Stricker — in 1993, I was Canadian Tour Rookie of the Year after beating him by one shot. I won $18,000 Canadian [about $14,000 U.S. at the time], and I thought I was loaded. Considering what I'd been making, I was.
Did Bricia ever complain?
No. I tried for my card six times, I think, starting in 1992. When I finally got it, in 1997, she was pregnant with our first daughter, Elle. I think at that point she was beginning to wonder if I was going to keep at it. But at the same time, I was seeing signs of progress in my game. I had won the Canadian Tour Order of Merit, which is the money list, and had won a couple tournaments. So I was encouraged, and by winning about $80,000 on the Canadian Tour, Canadian money, we were able to keep an apartment. That was nice. Before that I was making $30,000 Canadian, and not saving anything.
You're able to save after the Masters.
Obviously there are financial benefits. I have a lot of offers to play for appearance fees. It's nice gravy, but it's not a big motivating factor for me, to go here and there just for money. The purses are so good now, if you play well you're going to do fine. If I thought that I had hurt my chances of, say, winning another major just because I was chasing money around, I'd wind up kicking myself.
Did you splurge after the Masters?
Not really. My wife and I did take a little vacation to Vegas for a few days a couple weeks after the Masters stuff died down. We needed to get away on a date. We went to see a couple of shows — Celine Dion, for one. We went backstage at her concert, and while we were there, Shania Twain happened to drop by. Which was nice. I also talked with the people from the David Letterman show about going on, but we couldn't work it out.
Is there anything bad about winning the Masters?
Not much. Some guy showed up at my front door at home in Utah, carrying three Masters flags the Tuesday after I won. I asked him how he found my house. He said he was from Calgary and had been following me and was on his way home but had a layover in Salt Lake. So he rented a car and started asking around. I'm still not too sure how he got to my front door. I thought at first he might be a neighbor I'd never met, but he's from Canada. I signed the flags.
Because you're a good guy.
I signed the flags. [Laughs.]
Wayne Gretzky, your pal, was supposed to show up at Augusta National on your passes. But he didn't.
He had a charity tournament with a lot of Hollywood people in Las Vegas. As soon as I got back Sunday night to the house we were renting in Augusta, he called and congratulated me and said as soon as they were done playing out there, they were all watching the Masters on TV. George Clooney, Matt Damon. I later heard a bunch of people started singing "O Canada" to Wayne after I won, but I haven't heard that from Gretz.
Was he your first sports idol?
The first one was probably Bobby Orr. I actually had a Bobby Orr action figure. You could put the pads on him and skates and all that. When I was 7, it was 1977, and he was still playing. Baseball was the Detroit Tigers — Lou Whitaker, Alan Trammell, Lance Parrish.
When did you first meet Gretzky?
After all those years of watching and admiring him as a hockey player, I went to the Canadian Open to watch when I was just a kid, and he was there. I worked up the nerve to talk to him while he was having lunch. A quick hello. It's very cool that now we have a relationship, because Canada is hockey and he's Canadian hockey. The coolest thing, though, about Wayne and other hockey players I know, like Adam Oates, is that they're so down to earth. And so many of them — Brett Hull, Mario Lemieux — love golf.
What other nice things happened to you after Augusta?
Troy Aikman wrote me. I played with him in the pro-am at the Byron Nelson a couple years ago. Andy Reid wrote me. Head coach of the Philadelphia Eagles, from BYU [Weir's alma mater]. Jack, Arnie, Greg Norman, Tom Lehman. They all wrote.
This time, Jack wrote you first. There's the famous story about you writing to him when you were a kid, asking whether you should switch from being a left-handed golfer. What if he'd told you not to stay a lefty?
I don't know. If he had convinced me to become a right-hander, would I have made it this far?
One thing I'll share that was really nice about Jack's letter this time: He said he almost never watches golf on TV, but that he watched a lot of the last two days this year and was very excited for me. That's pretty special.
What if when you were a kid wanting to be the next Wayne Gretzky, someone had told you that you had a chance to be a hockey star?
Nobody ever told me that, so it's something I never had to worry about. If I had been bigger and better, I would have become a third-line left winger digging the puck out of the corners. At most. And I would have been finished by now. So it's just as well I'm doing what I'm doing.
Did your size contribute to your competitive nature?
Probably had something to do with it. I had two older brothers, so I was always competing with them. The guys I grew up with on the golf course, when I was 13, they were 15 or 16, and I was always trying to beat them. Before that, playing hockey, there were a lot of guys bigger than me, so I knew I was going to get hit and have to deal with it. Gotta hit back. And I don't mean fights. Just with body checking, although there were a few fights, too.
I see a scar on your left index finger. And a tooth mark on your right ring finger.
I had a few rumbles. We had the one brawl in high school hockey. I was growing up in Sarnia [Ontario], and we were playing Petrolia. We were down, 3-2. I was playing left wing. One of our best guys got hauled down late in the game, no penalty, when it could have been a penalty shot. As our guy gets up and there's no whistle, he kind of fires the puck at the referee. Then their goalie hit our guy who got hauled down. And then everybody came over the boards. A bunch of us got suspended from school for three days. I wound up going toe to toe with a guy. I don't remember whether he was bigger, but he probably was. I think I did OK. I punch left-handed.
Was golf important to you then?
It was a summer sport. I was probably 16 years old. A lot of my buddies also played golf, but when it came to going to the beach or on the boat and chasing girls, they usually went that way and I went to the golf course to practice. Sometimes they'd come from the beach at dark to pick me up at the course. That's what I did in the summer: hang out at the golf course, working there and practicing there.
Not necessarily in that order.
I was not great behind the counter. One time, I was handling the shop at Huron Oaks and I sold a golf bag for $35 that was supposed to go for $135. I didn't see the "1." Steve Bennett, the pro, got me away from the cash register after that. But he didn't fire me.
He fired me from the practice range another time. One night when it was time to pick up the balls, at $3.50 an hour, I was out there, taking my sweet time, basically chipping balls back on to the range area. What I was doing was practicing, not picking up balls. The next day, I came in and my name wasn't on the work sheet. I had a week off without asking for it.
Another time, we had a cart go up in flames, and we went out on another cart, which we wrecked by running it into the cart that was on fire, by mistake. The town's fire department came out, because there was this big trail of smoke.
You've gained some perspective over the years. After David Duval won the British Open in 2001, he said it was a terrific experience, but still he found that it wasn't quite all he expected. Can you identify with that?
Not yet. It might be better than I thought it would be, and I don't mean the fame aspect of winning the Masters. Like I said, that 10th green on that Sunday, after it's all over ... besides being married and becoming a father, that's a strong third there. Plus, the way it happened. Lenny [Mattiace] played so great ahead of me, and after he finished, I'm out there on the 15th as the only guy who really has a chance to catch him. Everything I did, I could feel people watching me.
Especially the putt on No. 18.
Exactly. I didn't want to become someone who three-putted the 72nd hole and lost the Masters. I kept telling myself that as well as I played, it couldn't end that way. All of seven feet. I had to make it.
Do you ever think about Lenny?
Oh, yeah. It's tough. He called me the Wednesday after the Masters. He was in Hilton Head; I was home. He called to say, "Great job," and I told him he played fabulous, shooting 65 on Sunday at the Masters. We never really had a chance to talk at Augusta.
Where's the green jacket?
In my office back home. I have a little closet there with a couple racks, just in case. Every once in a while, I open the door and peek in, just to make sure it's there.
What do you plan to serve at the champions dinner at the next Masters?
Got to be a keg of Canadian beer there, for sure, even though I'm not a big drinker. Bricia is Mexican, and I love Mexican food. That's a possibility. And Atlantic salmon. Coffee and doughnuts. We could have it catered by Tim Hortons, coffee and doughnuts. That's huge in Canada.
After the Masters you finally got to play a practice round with Nicklaus.
At his own tournament, the Memorial. I had never played with him. We actually had a practice round lined up for Pebble Beach once, but it never worked out.
Well, I was playing with Alejandro Larrazabal [2002 British Amateur champion]. Jack was with his son, Gary. We knew Jack would have to leave early, because there's a ceremony every Wednesday at the Memorial that he hosts. We figured the 16th hole would be it. They were 1 up at the time. I hit it about 12 feet, Gary about 15. Gary missed his putt, and Jack said, "At least we won, 1 up." Jack was trying to get into my head. I said, "No, no ... not yet." I made mine, and we pushed.
Jack was great to play with. We talked about what you'd expect us to talk about — fishing and hunting. No golf.
You didn't do as well in your bet with Phil Mickelson, and you never even hit a shot.
Oh, that thing. That was at Firestone a few years ago. Jim Furyk had a bunker shot. That was the time he had that long playoff against Tiger. We were watching on TV in the locker room, and Phil said it was about 25-to-1 that Furyk would make it. "Who wants that for $20?" he said. Furyk made it, so I owed Phil $500. That made it into print but never should have. I can't believe people care about reading that stuff.
A lot of people would have lost a lot of money on you at this year's PGA. You were in the hunt on Sunday but started off with five straight bogeys.
Yes, but I was doing it with smoke and mirrors all week. I wasn't playing well. I had been struggling with my game since the British Open. Including the British Open, I was awful. I managed to get in contention just by patching it together, chipping in from off the green four times, making a couple 30-footers. It's good I'm able to do that, but it didn't seem easy, like earlier in the year.
When you played the last round of the 1999 PGA Championship with Tiger, you shot 80. Were you overwhelmed?
I just putted so poorly. I just never felt comfortable, and the crowds were a little rough on me. "You suck!" That kind of stuff. They gave Tiger a little trouble, too. But that's not why I shot 80. I didn't know what to expect. I don't know if I choked, but I wasn't ready, that's for sure. I tried to tell myself, "It was just another round at a regular tournament." But that's not reality. There was a heightened sense of pressure on every shot, and there's no sense denying it. Recognize it, and deal with it.
You're now carrying the torch not only for Canada but for left-handers throughout the world.
Being left-handed isn't really so different anymore. It's not like when I was a kid, and finding left-handed clubs was difficult. As for my country, I don't live there, but obviously I'm very proud to be Canadian. If I can raise more money for charities, or get more Canadian kids to play golf, then the green jacket will mean even more.
Meanwhile, you're signing a bunch of posters as we talk, and you're doing it right-handed.
Anything over-handed, I do left-handed. Like throwing a ball or serving in tennis. Otherwise, right-handed, like writing and shaving.
You mentioned your pride in being Canadian. It's very important to Canadians that Canadians living elsewhere remember their roots, isn't it?
Definitely. We're very patriotic. It's hard to pinpoint, the Canadian "thing." It's almost like a small-town mentality. When I go back to my hometown, my old friends are still my old friends. As a rule, maybe we're more humble. It's not like we feel inferior. But maybe we're more tightly knit because we're smaller. If an American wins the Masters, it's not as big a deal as it is if a Canadian wins the Masters, because all Canadians kind of rally around that — Yes, one of ours did it. We can do it.
Besides health and happiness for my family, not really. The only thing I miss about team sports is basically what all of us golfers miss, the camaraderie, the togetherness. Out here, it's just you and the ball. But something drives you to golf, and maybe that's it. You're accountable for everything. Even in hockey, you can play in a great game and in the last minute, the puck will go off somebody's behind on the other team, and you lose. What happened? That's the beauty of golf. You're in charge out here in golf. That's the trade-off, but there you go.
There is something I can wish for. A Presidents Cup in Canada. That would be great, and I think it's going to happen. Maybe the next International site, which would be 2007. I'd better make that team.