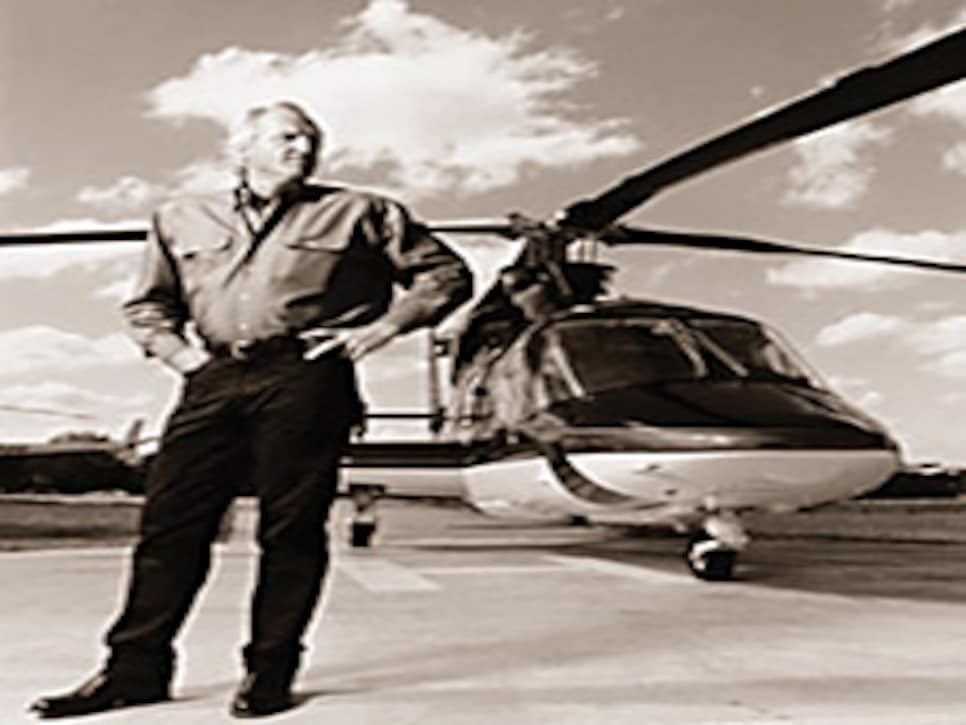 The Shark in front of his private helicopter
Greg Norman was No. 1 in golf's World Ranking for a total of 331 weeks starting in 1986, including a stretch of 96 consecutive weeks — a record until Tiger Woods came along. Norman won two British Opens and was oh-so-close to winning a number of other majors. Yet, as he sits behind his desk, impeccably dressed in jacket and tie, Norman at age 47 could pass for anything but a professional golfer.
Despite a lack of formal education, Norman is involved in a variety of business ventures, whether it's growing grass and grapes or designing golf courses and attire. The man who earned $28 a week as a kid in a golf shop has enjoyed fabulous success off the course, and he credits golf for everything he has, despite a series of traumatic defeats. None was worse than the 1996 Masters, when he led by six shots entering the final round but lost by five. That setback, according to Norman, and the public reaction to the way he handled it, "changed my life ... I couldn't have affected more people if I had won that tournament."
Unlike so many athletic figures who have endured heartbreak, Norman neither hides from reality nor wallows in self-pity. "As you can see," he says before his 22nd Masters, "I'm as comfortable here in the office as I ever was on the golf course."
Golf Digest: Evidently, reports of your retirement have been greatly exaggerated.
Greg Norman: I have no intention of retiring, and people who think I've retired just because I don't have a PGA Tour card anymore [he played 11 tour events in 2001, one shy of retaining membership] should look at my career. Very seldom have I played more than 15 or 16 tournaments a year in the States.
Besides, golf is not like other sports. I'm not Dan Marino, who is never going to throw another football in a competitive situation. You never really "retire" in golf unless you just shut it down. In fact, when I turn 50, I'll play some on the senior tour — if it's still there.
You still love golf? At least a little?
Of course, but my situation is not a lot different from anybody else who works his tail off to get to the position where you pick your spots. I've been at this for a long time, and I'm at the point where I can decide when I don't want to go to the office — my office being the golf course. I would think a lot of businessmen at age 47 are pointing in the same direction. So, when people say I don't want to play as much as I used to, so what?
We can't say we weren't warned.
Exactly. I've made no secret of my objectives. Life is compartmentalized. Early years, 0 to 18, you're a kid learning as much as you can learn. From 18 to 20, you start developing an idea of what you want to do and how you want to do it. From 20 to 30, that's when you try to establish yourself. From 30 to 40, you solidify what you have, you get married, you have children, you slow down a little along with your body. When you're 40, you should start thinking about where you're going to be when you're 50-plus. You should have all your ducks in a row.
It's a process with a game plan, and that's what I've done. As a result, I'm lucky enough to have multiple choices. The last five years have been the best five years of my life. My kids can travel with me if they want, they can fish or climb mountains with me, or we can all just stay home with [wife] Laura and have a great time. Or play golf.
Laura has told you many times that you should relax more, back off. If there is a thread throughout your career, is it that you tried too hard?
Oh, I don't think so. I don't think you can try too hard. I think you can be too uptight. There's a difference. "Relax your effort" — that's a great saying. When I'm 60, and I look in the mirror and ask how I did at life — family, friends, business, golf — it will be about more than golf titles. If I were single, it would be golf, golf, and more golf.
My attitude, so upbeat despite all these so-called terrible things that have happened to me — that's the real me. Either that, or I'm a hell of an actor, right?
If you ask the average golf fan, the perception is probably that you're tormented by some of the things that have happened to you on the course.
People say I'm very resilient, and I am. If I'd have won all those tournaments that I could've won or should've won — Bob Tway beating me from the bunker, Larry Mize chipping in, Nick Faldo coming from behind at the Masters — the only thing that would have changed is my trophy case.
Would I have liked to win all those tournaments? Of course, because I'm a competitor. Nothing would have satisfied me more in golf than winning the Masters.
Have you abandoned hopes of winning another major?
I haven't given up on the possibility, no. This is the fittest I've been in years, and I think I can still compete with these young kids. But what's really comforting is that I play on my own program. I've always had strong beliefs about being independent, and that's why I'm anti-establishment in so many ways.
You went across the grain in 1994 with an idea for a world tour for the best players — an addition to the PGA Tour— and it blew up in your face.
Each event was to be for $3 million, for the top 40 players in the world. Start with eight events a year, building to 12 down the line. We had an agreement with Rupert Murdoch of the Fox Network for $120 million. That's what turned the sirens on at PGA Tour headquarters. That caught their attention. How did they do that? Why can't we do that? They still haven't figured it out.
Arnold Palmer and [PGA Tour Commissioner] Tim Finchem came to the Shark Shootout in 1994, my own event, to talk to the guys about this evil concept of mine. I was done. I listened to the whole spiel, sitting in the boardroom of Sherwood Country Club, and I was feeling worse and worse.
Their spin was that it was my deal, about me and for me. But we had agreed to subsidize the [PGA Tour] events we were up against. If a world-tour event went against, say, the Milwaukee Open, we would subsidize the Milwaukee Open. "You can't do that," I was told. Well, what have they got now but their own world-tour events? And what are they doing for tournaments up against them but subsidizing them?
Apparently, my bad idea wasn't such a bad idea. And as our president [of Great White Shark Enterprises], Bart Collins, says, all these other golf federations from other countries march to whatever the PGA Tour wants, like puppets.
But when you were inducted into the Hall of Fame last November, Finchem credited you with the vision for the world-golf concept.
It was sad. I wish he had never said that. Cut a guy's legs off, then give him a pair of shoes.
'Never, ever will I forgive Tim Finchem, and he can induct me into a hall of Fame once a week.'
What took so long? In 1994, I was tarnished tremendously, being branded as someone who was trying to hurt the game of golf. It couldn't have been too strong a PGA Tour if one guy could destroy it. But Finchem knew he couldn't control it. It was all about control. So it was portrayed as a money-making scheme for Greg Norman.
I was devastated. I was angry, really angry. I didn't care about golf, and I was angry at my peers, who hung me out to dry. They said they would support the idea. But where were they? Slay the dreamer. I was alone on an island. I was the Bird Man of Alcatraz. I was a maverick.
Then, last November, Finchem says this about me at the induction. I couldn't believe what I was hearing. We were all sitting up there. I looked at Laura and Bart, and we were all amazed. *What the hell was that all about? *Thanks, but no thanks for the pardon.
I still haven't forgotten what he did to me, and I never will. Never, ever will I forgive Tim Finchem, and he can induct me into a Hall of Fame once a week.
What about the proposed idea of a players' union?
I took an interest in it, but I told them [the organizers] it was best for them if I wasn't on their roster. I never joined.
I could do them more harm than good, given my reputation. The PGA Tour propaganda machine did a masterful job of sweeping that under the rug, too.
But why don't we have an association as players? I've talked to Phil [Mickelson] about this. He's got a lot on the ball. But a lot of guys are content, making a handsome living. They're nonconfrontational. I'm for thinking outside the box.
Wouldn't it have been easier for you to be more content and less a maverick?
Not my style. There are leaders, and there are followers. Look, you can make a small fortune on the PGA Tour. You play 10 years, and then you go to the senior tour and make another $3 million. But I can't think of anything in the way of progress that has been created without going against the grain. Remember, those people at the tour work for us, we don't work for them.
The guys who were in at the start of our world-tour idea would have owned part of it, in perpetuity, like a pension. Nobody stepped up. The percentage of profits from our world tour going to the players was to be 30 percent. That's eight years ago.
Players should get $10,000 a week, every time they tee it up. Whether they make the cut or not, they're promoting the game and the tournament. And if they miss the cut, it costs them? If the PGA Tour people have a bad week, do they make nothing?
Finchem says that violates the spirit of the PGA Tour.
Spirit? What spirit? Like Casey Martin was going to violate the spirit of the tour by taking a cart because he can't walk? What if that were your kid?
After your world-tour concept fell apart, did you feel a chill from other players in the locker room?
There's still a residue from that episode. Maybe some of the guys are still pissed, maybe some think I'm still pissed. I do tend to get along better with the young guys than I do some of the older ones.
Are there one or two guys who really hurt you?
Maybe more than one or two. But no names. Not here. Time to move on.
Have you ever confronted peers who have issues with you?
If somebody has a problem with me and wants to talk about it to my face and hear my side, like a man, then I'll be glad to do so. But here we go with human nature again. It's easier to talk behind someone's back, isn't it? I can't worry about that, though. Don't sweat the small stuff. And that's all that is.
That's why I like the business situation we've created. We all pull toward a common goal, and if somebody on the staff doesn't think I'm doing the right thing, he or she will step up and say why. To my face.
__There's an Australian saying about "knocking the tall poppy." Does that ring a bell? __
The "tall-poppy syndrome" back home refers mostly to the media. It's about building you up and then tearing you down, and then maybe doing the same thing over again. It creates an ebb and flow that's wonderful for you press people. Always something going on. Of course, that doesn't necessarily mean the press is always in touch with the public. There seems to be a negative slant in most media.
And you sense certain negative vibes toward you?
At times, but the media is doing its job, I suppose. As for certain players, unfortunately, it's human nature for a segment of people to have an agenda. Why does he have all that? What did he do to deserve that?
I just can't comprehend being jealous of someone else. When I came up, I admired Jack, but I wasn't jealous of him. I wanted to emulate him, not diminish him through envy. I'm too busy to waste time on a draining emotion like jealousy.
But you're not too busy to notice?
One of the hardest things in the world is to become successful, and I was on top for a while. I think, like any other star athlete, I helped a lot of other golfers make money, too. Raymond Floyd said it years ago when there was all this talk about how much money I was making through endorsements and such. "He just raised the level," Raymond said. "He raised the bar for all of us. Now we can go in and ask for this, because Greg Norman got that." If Raymond recognized it, why couldn't others?
It's not about names. It's about attitudes. I remember when I first arrived at a Florida tournament — Honda, I believe — in my helicopter. I'd just gotten it and taken it from my home, and I could just feel it, in the locker room, on the practice range: Who the hell does he think he is, showing up in a helicopter?
It bothered me for a while, that undercurrent, but at the end of the day, you have to let it go. If guys are jealous of my helicopter, they should go work harder and get their own. It's not like somebody just gave me the helicopter. I worked my ass off to get it.
And not only a helicopter, but a plane, too. What do you remember about your first plane ride?
As a kid in Australia, I was about 5 or 6, I had my jacket and tie on. A four-engine prop job. Never thought I would own a plane. Never imagined I'd own one when I was 35 or 36.
And as far as being spoiled, our kids know they're fortunate, but they don't flaunt it. I recall once Morgan being around friends when she was told that "her plane" was ready to go on family vacation. She was not at all comfortable with that.
You've always been associated with "toys," whether it's a Ferrari or a boat.
I don't know about that term "toy." A Harley-Davidson is a toy. But the plane, a G-5, I need for my business. That's not a toy. And a car that you don't even drive but own because it appreciates in value — what's the difference between owning that or investing in art? Is a painting a toy?
Birthplace: Mount Isa, Queensland, Australia.
Residence: Hobe Sound, Fla.
Height/weight: 6-feet-0, 180 pounds.
Family: Wife, Laura; daughter, Morgan-Leigh (19); son, Gregory (16).
Turned professional: 1976.
1984: Kemper Open, Canadian Open.
1986: Panasonic Las Vegas Inv., Kemper Open.
1989: The International, Gr. Milwaukee Open.
1990: Doral-Ryder Open, Memorial Tourn.
1995: Memorial Tourn., Canon Gr. Hartford Open, NEC World Series.
1997: FedEx. St. Jude Cl., NEC World Series.
International victories: 56.
1980: Australian Open, World Match Play Ch.
1983: World Match Play Ch.
1986: British Open, World Match Play Ch.
Other: PGA Tour leading money-winner
(1986, 1990, 1995); Vardon Trophy winner (1988, 1989, 1994); player of the year (1995); World Golf Hall of Fame inductee (2001).
1994: withdrew; 1996: 3-2-0;
1998: 3-1-1; 2000: 1-3-0. Totals: 7-6-1.
As a lightning rod, do you ever wish you could retract stuff you've said?
Just like I think a halftime, or a timeout, might be nice in golf, I probably shouldn't have talked about the "$40 million I can fall back on" after the Masters defeat [1996]. People who knew me knew how to take it, but most people don't know me. Then there was a remark I made, way back, about some of the British players and their motivation. ["So many talented golfers on the British tour have not got the drive, have not got the guts or that inner power that is needed to go on and win when victory is in sight," Norman wrote in his 1983 autobiography, My Story, excluding Faldo and Sandy Lyle from the criticism.] I regret saying that.
Speaking of difficult situations, have you talked to Mark McCumber lately? [During the World Series of Golf in 1995, Norman accused McCumber of violating a rule that prohibits repairing spike marks or touching the line of your putt; McCumber maintained he was removing a small insect from his line. The tour ruled that it was one player's word against another's with inconclusive proof and didn't take action. Norman refused to sign McCumber's scorecard.]
No. Not that I wouldn't if he wanted to sit down and have a conversation. But my opinion of what happened has not changed. It went from a pebble to a twig to a beetle to all of the above. What was it? I saw what I saw, and I stepped out for the game of golf. Some people said, "Bravo." Other people said I broke the unwritten rule of golf, calling another player on breaking the rules. Well, the rule he broke is right there in writing.
Are there guys who cheat?
When I was playing on a regular basis, yes, there were a few players I used to watch like a hawk. Actually, last year, I pulled a young player aside after a round; he violated a rule. I told the kid what I saw, and that it was wrong. You don't put your hand on a golf ball before notifying an official or your partner. I was very calm in my delivery, but I wanted him to know. The reason I couldn't contain myself at the World Series was because it wasn't a rookie doing it, it was a seasoned player.
Same with Jumbo Ozaki? You challenged him — in Japan, of all places.
Five, six years ago. I hit a ball down the middle of the fairway, and he was off to the side. I could see what he was doing, patting down the area behind his ball with his club. I said to my caddie, Tony Navarro, "You see what I saw?" He said, "Sure you don't want to hit your shot first?" I said, "No." I challenged Jumbo, and it was over. As I recall, the powers that be chose not to do anything. I got on the plane and left town.
That's the same Tony Navarro who went after a guy who heckled you at Hilton Head the week after the '96 Masters.
Yes, there was this one chap who'd had too much to drink. Tony finally had enough and went toward the guy at the ropes. Apparently, the chap wound up on the ground, but I don't really know what happened. Tony said that just as he got there, the guy must have tripped on a beer can [laughs].
Tony left you to work for Charles Howell III at the end of last year. Now he's had a change of heart.
Charlie is going to be an outstanding player, and I'm winding down. You know, funny thing: When I got the invitation to this year's Masters, that was my first thought. I said to Laura, "What am I going to do at Augusta without Tony?"
Now you'll have him beside you. And while Tony says you've always been a perfectionist and not the easiest guy to work for, you always treated him like a brother.
Well, Tony's right about one thing: I'm not easy to work for. Tony is a wealth of knowledge about what to do and what not to do. Tony also has the knack of knowing when we've been together for a stretch, and how to back off. If I offered him a place to stay during a tournament, and he thought we both needed some space, he'd say, "No thanks, I've already made housing arrangements."
You had another famous caddie, Steve Williams, who now works for Tiger. And you fired him after the Chunichi Crowns tournament in Japan in 1989.
I won that tournament and fired him the next week. Not because he wasn't a good caddie or a good friend — which he still is, with our entire family — but we were becoming too close. Stevie caddied for me way back in Australia when he was 15. He said he was older than that, but I knew he was 15. Long hair, lots of spunk, never went to school. I probably regret letting him go.
Butch Harmon, your former instructor, says one reason the two of you parted in 1996 was a business situation. Anything else happen between you two?
We had a nice, long conversation recently. We're still friends; we'll always be friends. But it would have been difficult for Butch to be with two high-profile players like Tiger Woods and myself. I sensed that early on, when Tiger was coming on the scene, and you could tell he was going to be special. I played with him when he was 15. I was still with IMG [International Management Group], I had a look at him, IMG wanted to know what I thought. Certain athletes, you can just tell.
I never told Butch, It's Tiger or me. It was just a mutual respect. I did go back to Butch a couple years ago and told him I wouldn't mind working with him again sometime. Tiger apparently had no problem with that, but it just didn't happen. Of course, two years ago, the situation of Tiger and myself was a lot different than it was when Butch and I went our separate ways.
You were the No. 1 guy for a long time. What advice would you give to Tiger?
I don't know what I'd say, because I don't know what his frame of mind is. We hardly ever talk. I'd love to, because I think he's terrific. It has something to do with IMG, I think. I'm not with them anymore; he is. From a distance, I like what I see.
We have a great fan base and a great leader in Tiger. But if I were CEO of the PGA Tour, I'd be concerned about sustaining the situation in a down economy. And what happens if Tiger gets hurt? Does the PGA Tour suffer like the NBA did when Michael Jordan went away?
You have to prepare for contingencies. Tiger is carrying the load, and you don't want to put so much on him that he won't want to play when he's 35.
When Golf World magazine broke the story about Woods' complaints with the tour in 2000, you were quick to support him.
Absolutely. There are, and always have been, two or three or four top players in golf. But no matter how big or powerful or frustrated you are, it's a one-man, one-vote system. Tiger is huge, but his vote still counts the same as the guy who's No. 125. If he gets David Duval and Phil Mickelson voting with him on an issue like charity money from the Ryder Cup — an issue they rightly raised — that's still only three votes. If they want you to play for your country, let fans in free.
The Ryder Cup will go on forever. But what about the Presidents Cup?
A few of the Americans are indicating they won't go to South Africa next year. If Tiger and Duval and Mickelson don't go, that will be the end of it. Which would be a shame, because it's their duty to promote the game on a global basis. It would be a black eye on those guys.
You've said you're anti-establishment, but you so admire Augusta National and the Masters, which are very much "establishment."
Yes, but they are structured for a reason, which is why it's the greatest tournament of all.
And you'll have at least one more chance this year.
It was a pleasant shock. A week before Christmas, I got a call from Hootie Johnson [chairman of Augusta National and the Masters]. He made the effort to call and tell me I've got a special exemption. It made my year. It might even make 2002 for me.
Why were you shocked to be invited?
Well, I haven't done a whole lot in the game of golf lately. I'm sure you've noticed [laughs]. But if the exemption means I've contributed something to golf, I appreciate it.
If you were told 20 years ago that you would not have won a Masters by now, what would you have said?
I wouldn't have believed it. Hell, after 1981, when I contended in my first try [finishing fourth, three strokes behind Tom Watson], I thought I'd win in 1982.
If you had one mulligan for your career, where would you have taken it?
At the 18th of Augusta National on Sunday of the '86 Masters. I hit a 4-iron but was right between clubs. About 187 yards, maybe a bit more. If I had gone with a 5-iron, I think I would have fired into it more. Instead, I tried to go a bit slower with a 4, and it went right. I bogeyed and missed a chance at a playoff with Jack.
Was that indicative of a swing flaw?
My action in those days, I used to slide a bit. It wasn't a pure rotation, which I do now better than I did then. The tendency, sliding back, then forward, resulted in a block.
Any shot come to mind from that 1996 Masters, when you had the six-shot lead Sunday and lost to Nick Faldo by five?
Obviously, I wasn't playing well — I shot 78. But if I would take one over, it would be the wedge to No. 9. You have to be so precise at Augusta, and when I came up short on that hole, and the ball rolled down the hill, I figured the back nine would be a struggle. I should have hit the same club, but hit it harder.
I suppose now that it's six years later, you can tell us what Faldo said to you when he hugged you on the 18th green?
Is that right [laughs]? The exact words? Yeah, I could tell you, but I won't. First of all, you should know that Nick is very, very difficult to play with. He doesn't engage in any conversation. That's not a surprise, and there's nothing wrong with that; it's just Nick. He's the same with everybody. Very cold, so I don't take it personally. I just believe there's more to golf than that. At a cocktail party, he's got a sense of humor, but not on the golf course. Me, I like to talk a bit and joke to relieve the tension.
Anyway, what Nick said to me was extremely poignant. He was thoughtful and showed me a side I didn't know was there. He was concerned about how I would handle what happened that day, and how others would handle it.
Tom Watson once told me, "Once you bite that snake's head off, that snake's dead forever." What Nick said to me was similar. Guys like Tom and Nick, top-echelon players ... unless you've been there and experienced what golf can do to you, good or bad, you don't really understand.
After that defeat at Augusta in 1996, it was well-chronicled how bravely you responded and how well people responded to you. Didn't you ever go into a corner and vent?
Oh, when we got back home, Laura and I went down to the beach and had a nice cry. Nothing wrong with that. I'm not one of those macho guys who think men can't cry. If you're hurting, unload. But that whole experience helped change my life, starting with how the public brought me back from all the cynicism I had held since the world-tour business. People actually cared about me and how I lost that tournament. A man at my son's soccer match came up and said I changed his life. I don't think I could have ever gotten the reaction, the letters, the outpouring if I had won.
I'm not sure I reacted the way I did because I'm so strong. I have a lot of good people around me, starting with Laura, and I have outlets like working out. I can get on my bike and ride forever.
Was that your toughest loss, in 1996? And what was your sweetest victory?
The toughest loss was the '87 Masters, the Larry Mize chip-in. It came in the next major, right after Bob Tway beat me in a similar way in the PGA at Inverness, but Mize's shot was much more of a jolt. It really rocked me. That was one of those cases where I would have liked to call a timeout, so I'd have a couple of minutes to regroup.
My best win was the first — the West Lakes Classic in Adelaide, 1976. There was a good field there, and I won rather easily. I was just a kid, wondering where I belonged, and that definitely was a springboard for my career.
You've talked about your game plan for life. What's the aim — to be happy, or rich, or diversified? What's the final score?
There never is a final score, if you keep evolving. I didn't do what I did to become a billionaire. I never played for money. I passed on a lot of guarantees to play elsewhere, instead playing where I thought I might enjoy it more. Back in Australia, in Europe, I've played where I gave back half of my appearance money if I missed the cut, because I thought it was the right thing to do.
I didn't build my life on making money any more than I did to collect trophies. As with everything we do, the focus is on quality, not quantity. If you exceed people's expectations, whether it's growing grass or producing wine, you enhance your brand name.
You never went past high school. Where did you learn all this?
Listening and watching. For example, if you're an endorsement-related player, where is the long-term value? You'll endorse a product for a period of time and make a nice sum of money, which is a security blanket. Nothing wrong with that. But at the end of the three years, the contract is over, and you either sign another short-term deal with the same company, or somebody pays you more money to go with them. Now, you've built up some savings, but not much else.
Is that why you left IMG?
I didn't leave IMG. My contract with IMG expired, and I didn't renew it because I wanted to take control of my destiny. The only way you can establish a long-term value to a brand is by being the brand. The wine thing came about not because I know a lot about wine, but because I built up credibility in my name, my brand. When I established Great White Shark Enterprises, with the shark logo and all that, it wasn't about establishing value for a three-year period, or five. We were thinking about 10, 20 and 30 years, longer.
And when it's time, you'll leave Great White Shark Enterprises to your children, and take it easy?
And I'll want them to work at it as hard as I did, so their kids' kids' kids will have something, too. I left home early to play golf. You have to be somewhat independent to do that. I broke the family chain, so to speak. It's different now than when I came out. Kids come out of college now and get on the PGA Tour with a lot of money put away from endorsements. We had to scrape more when I was young. But even when I was making $28 a week, I saved a third of it. Never touched that, and still don't. Stash 30 percent of everything.
What are your top three business tips?
Due diligence, which is preparation and gathering as much information as possible. Then execution. And then, by all means, follow-through.
Throughout all three phases, patience is absolutely necessary. People who have seen me play golf can't believe the patience I have in business, but they've never seen me for eight hours on a fishing boat, either, just relaxing. In golf, it's you and the golf ball, and not the outside agencies that exist in business, where there are temptations and pitfalls. People will toss out all sorts of blue-sky scenarios, so you've got to be cautious.
So what are you? A genius? Lucky? Analytical?
I've always been analytical. I've always thought long-range. Street smart, I guess. But, it all came from that golf ball. I know that and appreciate it. So, this perception that golf has tormented me is bull. And I'm a believer that everything happens for a reason. All those shots people made to beat me, or shots I didn't make to win, they were fate. I couldn't control what happened to me. But I could control how I reacted. If, after Tway or Mize, I respond like, "Oh, I've been beaten again ... woe is me," I'm done. I disappear.
You had more fun at golf when you were 30, though.
I did become cynical there for a while. I try like hell not to let what other people say or think bother me, but I did hear a lot of stuff about how I wasn't winning as much as I should. Hell, I was trying my best. Then I got older, had surgeries, and opened my eyes a bit.
What happens when Tiger turns 30?
And gets married and has kids? It will be interesting. Because as you get older, all those drags on you become more tiring. He loves what he's doing now, and he does it better than anybody else.
Is he better than you were?
Oh, he's more complete than I was. He's got that new-millennium swing, with all that rotation. My swing is more like Jack Nicklaus'. The kids now, like Charles Howell, they store so much energy and rotate with such power ... look how far he hits it, and he's not a big guy.
In four years, when Tiger is 30, he'll be seeing kids who are 20 who respect him but aren't afraid of him the least bit. He won't be beating up on people the way he is now. They'll want his ass.
Look at Ernie Els. The difference between 25 and 30. When he was 25, he didn't have a wife or a baby. Now, maybe he wants to stay home a bit more, and can you blame him?
Any interest in doing TV?
Absolutely not. The CBS people came down to my place about a year ago to express their interest, which I appreciate. But I have no desire; it would just add more weekends on the road.
You said you're analytical and fatalistic. Can either of those qualities be detrimental to your golf game?
You either have to be very dumb or very smart to play this game. If you're really smart, you can separate what matters and what doesn't. Compartmentalize, like Jack. If you're dumb, you don't have to separate what matters.
You've talked of wanting to emulate Jack. What did you learn about him, on and off the course?
Talk about not sweating the small stuff. He did it his way. Completely the opposite of Arnold Palmer, who was on top when Jack came around. Arnold had all the charisma, then here came Jack — crew cut, fat, focused — before he became beloved, deservedly so.
In business, I'm more of a listener than Jack. I try to be patient, maybe more than I am at golf. I try to absorb the information and the expertise of all the professionals under my roof. What I'm saying is, I think Jack is more black and white about a situation than I am.
And Jack had his bad days in business.
Which is a shame. Of all the people in sports, Jack should have never been in the position of having any financial problems. Greatest golfer ever, and a terrific ambassador. I don't know the ins and outs, but he should never have been in the position he was for part of the '80s and '90s. When I read that he was in trouble, I couldn't believe it. I felt bad for him. But typical Jack, after a few business bogeys, he stepped up and revitalized himself.
You had your business setbacks, too.
Oh, yes. In the mid-'80s. I wasn't broke, and I didn't have to win to dig out of the hole. But it made me more determined, and let's just say that I put my faith in someone who turned out not to be trustworthy. Therefore, I was put into some bad situations, and I had to get up on my horse again. You read that Jack had to win the 1986 Masters to get back on his horse. I didn't have to win the British Open later that year, but it was a step on the way back.
Nicklaus had a hand in that '86 Open win at Turnberry, didn't he?
The Saturday night before the final round, I was leading and Jack came over and talked about my grip pressure. He said that I tend to squeeze the club. I won the next day, or he probably would have felt terrible, giving me a tip the night before the final round of a British Open. But he was a friend who cared, and he wanted to see me win. I appreciated it. Funny, but driving to the course at St. George's in 1993, I thought about Jack, and I made sure to grip the steering wheel lightly — This is how I'm going to grip the club today. That was my thought Sunday morning, and I won [shooting a 64 to overtake Faldo].
Tom Weiskopf, who was supposed to be the next Nicklaus even before you were, said you had all the game you needed but that you might not have been mean enough. That, contrary to certain portrayals, you didn't have enough ego. True?
In other words, nice guys finish last? I don't necessarily agree with that. I was more of a swashbuckling type of golfer. If it worked, it worked. I wasn't as analytical as Jack on the course.
And a lot of people say if only Jack Nicklaus' brain could have been implanted in Greg Norman's body ...
But you can't do that. And it wouldn't have been me. I was — and am — happy with me. Arnold has said that had he not been the way he was, aggressive, he might have won a few more tournaments. He let a few slip away. He also said, I believe, that he wouldn't trade those experiences for anything. I feel the same way. However I was on the golf course, and however I handled some of the things that happened to me, good and bad, allowed me to be where I am today. People enjoyed watching me play golf. I wasn't afraid to enjoy myself on the course, and I wasn't afraid to show my frustrations.
But you love it — or at least, used to.
Except for that period when I became very cynical, not so much about the game, but a lot of the crap surrounding it. As hard as you try to dismiss it, it affects you, because it affects your wife and kids. Things people write, things people say. Do I really need this?
You talk a lot about golf gods, and what's meant to be. Are you religious?
No, I'm not. I believe in destiny and faith and how good things happen to good people. Until we know what's on the other side of the universe, I'm very circumspect. But I do believe if you take care of your life and accept things for what they are, it all balances out.
Where were you on September 11th?
We have a ranch in northwestern Colorado, and a bunch of us were up there. No phones, no TV and certainly no newspapers or magazines. Cell phones didn't work either. So we didn't find out until two days later, the Thursday after the Tuesday disaster, when one of the guys from our design crew went down to buy some groceries. I wanted to come home immediately, but we weren't allowed to fly. We were about to rent a car and drive back to Florida. We finally got into the air on Saturday. It was a silent ride home, because we got some reading material about the disaster and we never really looked up. Then when I got home, I couldn't move from the TV.
Do you worry for your children?
No. There again, I'm the eternal optimist. I believe this horrible tragedy will awaken all of us, not just Americans, to clean up the world of terrorists. It's a reality check. A costly one. But a reality check. I'm not American, but this is as American as I've ever felt. I've been over here 20 years, and my affinity for America and Americans is deep and sincere. That extends to the Bush family, of course.
But you're still friends with former President Clinton?
Yes. In fact, he recently asked me to take a trip with him to Australia, but I couldn't, because of my schedule. I do like President Clinton. But, ideologically, I'm with the Bushes. I'll raise money for the Republican party whenever I can.
Is there a story behind the story of Clinton's injury at your home?
The only story is the hysterical media reaction. He came to our house at Hobe Sound [Fla.] in 1997. We were going to play in a member-guest at the Medalist Club. He came in late, about midnight, but he wanted to chat, which was great, because we have wonderful talks, about life, kids — not politics. I had a couple beers, he had a soda pop and sandwich, and after a couple hours, I was showing him to his quarters. It was dark out, he tripped on a step and fell right into me. Good thing, or else he might have hit his head. As it was, he tore up his knee, and in no time there was an ambulance to take him away. No sirens, for obvious reasons.
He went to the hospital, then they decided they'd take him back to Washington. After waking up Laura, who couldn't believe it, I was up all night. Here's a measure of the man, though: He wanted so badly to see the kids that I got a call to wake them and drive them to the airport to see him in Air Force One before they took off. The kids went on the plane; the president was great. We felt bad that he felt bad, and we knew he felt bad for us, because he knew what we were in for after word got out about what happened.
And that turned into a bit of a circus?
A circus. Every talk show in the country wanted to get hold of me to get the inside scoop on what really happened the night before. We refused them all. That's the media. And to think all Mr. Clinton wanted was to relax and play golf.
You don't idolize many people. But then there's Nelson Mandela.
When I had dinner with him in South Africa, I was mesmerized. I hung on his every word. I wanted to know how a man could be incarcerated for so long because of the color of his skin without being bitter.
How will you be remembered?
As someone who gave it all, committed to the game, a resilient bastard — and proud of it — devoted to golf and all it stands for. You cheat in golf, you cheat in life. You establish a discipline in golf, you can establish a discipline in that desk over there. And maybe it's not all over, either. What if I win at Augusta National? Wouldn't that be a story? Maybe the final chapter has yet to be written, if you know what I mean.
OK, now that we're done, you can tell us what Faldo said.
Can't I save anything for my book?