A Throwback from the Outback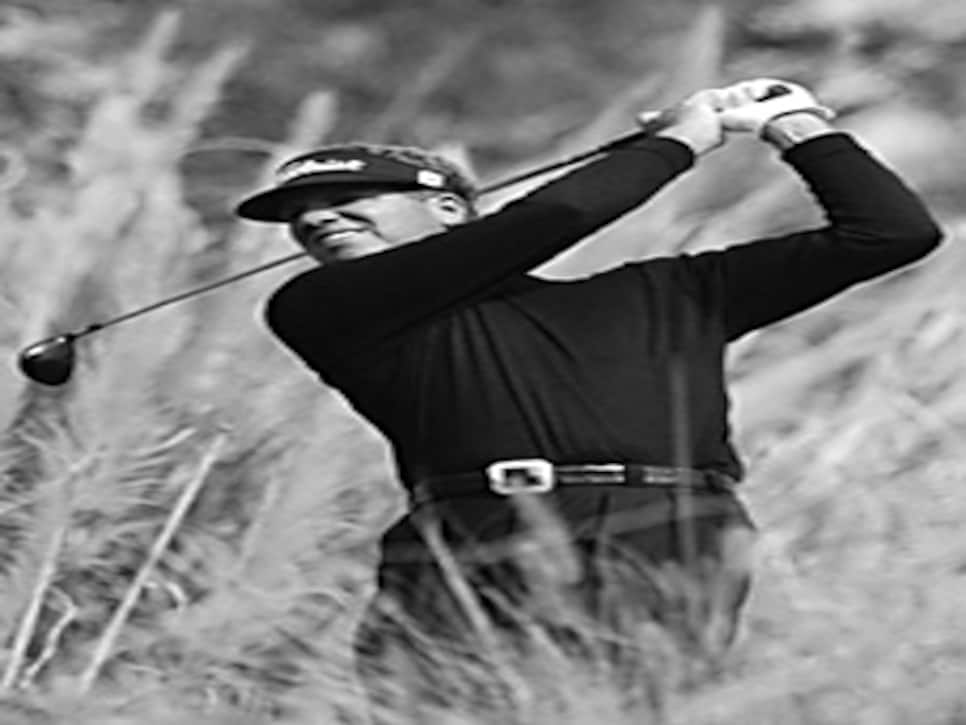 "I've won some tournaments," says Elkington, here this year at Riviera, where he won the 1995 PGA. "I can enjoy myself."
They will be yours in abundance when you visit the Elkington residence that graces a cul de sac near the Champions Golf Club in Houston, where Steve, an 18-year veteran of the PGA Tour, polished his craft. While attending college in Houston, after having been recruited from his native Wagga Wagga in Australia ("not far from Gumly Gumly"), Steve met wife Lisa. Inside and outside their airy home, they have two children, two dogs, 40 birds and a smashing array of plant life — his vegetable garden in the back and 5,000 tulips contributing to a kaleidoscope of color in the front.
While Steve admits to being a throwback, as evidenced by the many antique furnishings throughout the house, he is a modern man in many ways, and a typical Aussie — witty, pragmatic and adaptable to everything, including baseball.
Elkington is also perceptive, and opinionated, on the comings and goings of professional golf. He rues the fact that the young guns lack the panache and personality of those in his age group, he stresses that the fertile mind of pal Greg Norman is needed on the PGA Tour, and he scoffs at much of what the media puts out there. Elkington is such an interesting subject that one can forget his estimable accomplishments: 10 PGA Tour victories and more than $10 million in career earnings include the 1995 PGA Championship and two Players Championships (which he gently reminds annually produce the strongest fields), and he was part of a four-man playoff for the 2002 British Open that went to Ernie Els. When Elkington is on his game and healthy, he is formidable indeed. Alas, he has experienced some unusual infirmities.
Thus, when a writer extends a typical American greeting — "How are you?" — Elkington can offer a tart, tongue-in-cheek reply that might not be described as conventional. To summarize, Elkington is difficult to beat on the course — or in a war of words.
__Golf Digest: I would start by saying, "How are you?" except that's probably not what you want to hear.
Elkington: __Oh, don't beat yourself up over that. It's just that in Australia we don't greet people like that. When you see someone, you say, "Good morning" or "G'day, mate."
You don't ask, "How are you?" or "How are you feeling?"
One reason I don't ask you, "How are you?" is because I really don't care. [Laughs.] Plus, I'm a bit sensitive when people ask about my health. If Tim Finchem, the PGA Tour commissioner, came up to me, he would probably say, "Good to see you." But he's a little more diplomatic than you.
You are a bit sensitive to questions about your well-being.
True, but I've been out on tour for 18 years, and in the course of that time, I've probably missed a year. Which is less than 10 percent, not bad for a career. It's really a blip. I refuse to let people dot my career with that.
Well, you have had some unconventional ailments.
Like my last debacle with the shoulder, you mean? I was skiing on my birthday — Dec. 8, 2002 — and some drunk in an orange suit came from the other side of the mountain and wiped me out. I'd had a few, too, or else I could have gotten out of the way. I mean, I'm perfectly capable of getting hurt on my own without somebody helping me. I thought I broke my shoulder right there, but I came back from skiing, had an MRI at home in Houston, and it didn't show anything. So I tried to play with it through the pain, which I did, until the British Open.
First round, I'm playing with Colin Montgomerie at Royal St. George's, which was a joke, the way it was set up. On the seventh hole, Monty walks over to me and says, "I've come to inform you that I have to retire." I thought to myself, What, forever? He says his wrist hurt. OK, see ya.
Meanwhile, since the drunk in the orange suit hit me, I'm playing with a torn rotator cuff, only I don't know it. I went down to hit a ball out of this real thick hay, and I felt something pop in the same right arm, only lower. I finished the round, shot 86, and had to withdraw the next morning. I had a pool of blood in my right arm. So, a few of my mates and I pulled out a map and did a pub crawl, drinking beers all day. Then I came back to Houston to fix the rotator cuff and the British Open problem, which was a torn biceps.
And where exactly did that happen?
On the sixth hole, just a few minutes before Monty announced his retirement. Anyway, I was basically gone for the rest of 2003 after that.
Did you ever get the name and number of that guy on the ski slope?
Nope. There are a lot of guys in orange suits. I suppose I could be more careful, but that's not me. We're planning to go skiing again. I promised my wife I'd lay off the Crown [Royal]. But that time in December of '02, it was my 40th birthday. Had to celebrate.
Who do you have the most fun with on tour?
A lot of my guys are gone. Billy Ray Brown, Gary McCord, Mark Lye — good mates — they've all become broadcasters. McCord, I miss. He's completely psycho. When I was just starting, we had an appearance once in L.A. I hit balls for an hour, McCord did magic tricks, and we each got $500. We thought we were stealing. That's why they call McCord "Magic." He can pull a rubber duck out of his you-know-what. You ever seen him do his magic? Unbelievable. But he's definitely not all there. He used to live in a railway car. Can you imagine that? Go play golf, then go back home to a railway car. That was his house. Nuts.
There aren't as many characters as there used to be?
Not really. Caddies or players. Fulton Allem, he's crazy. Steve Pate, you could tell when he was about to snap. If he missed a three-footer, you just knew he'd have another three-footer on the next hole. Used to be every week before a tournament there were about four or five guys who were gone, or almost gone — the padded-room list. Anything bad that would happen to them in a round, they were over the edge.
One year I'm playing with Ed Fiori in the Canadian Open at Glen Abbey. It's on a former monastery, so they used to have these wooden monks on every tee, these little figures as tee markers. One day, he just chopped a monk to bits. A few holes later, Wade Cagle, the rules official, comes up to us and says, "Eddie, did you happen to kill a monk about a half-hour ago? If you did, it's a fine." Ed says, "No, I didn't do nothin'." So, Wade opens up his hand, and there's a monk's head. Sort of like what Craig Stadler did to that pineapple at the Hawaiian Open. Made it into pineapple juice.
Have you ever been fined?
Only once that I can remember. At the Western Open a few years ago, I three-putted and walked off the green swearing. Some fan wrote to the tour, and sure enough, a couple weeks later, a rules guy comes to me and reads me the letter: "According to this letter, you said [blank] and [blank] and [blank] and [blank]." I was disappointed. I thought Chicago people, in such a tough town, could handle that kind of language.
But you don't have to be nuts to be fun, do you?
Oh, no. Like with Craig. We were flying together a few years ago, so we switched up with someone so we could sit together. "Wanna beer?" he asks me. "Of course," I said. So, he reaches inside his jacket and pulls out two beers, one for him and one for me. Little while later, he says, "Want another beer?" I said, "Yeah, let me get the lady's attention." He says, "No, we don't need any flight attendant." He reaches in the other side of his jacket, and pulls out two more beers. He must have had a case on him. We drank his jacket.
I'm a throwback. Everything I like is old. Look at this house. It was built brand new, but with stuff that's old, from the windows to the flooring.
This is painting with a broad brush, but it seems that Australians know how to enjoy their time, and their money.
There's always a reason why things are the way they are. The taxes are so high in Australia, people know when to ease up and relax. I don't mean that we're not ambitious, but it does seem that Australians and other foreigners do know how to let their hair down more than Americans. And don't get me wrong, I love it here. I married an American.
And with all our devotion to duty, you still think we're a bit sedentary?
My dad always said America's a nation of spectators. I mean, there are people over here who, when they're not working, they'll spend the whole day watching TV. That just doesn't happen in Australia. We're more outdoor types. If you're fat in Australia, it's not as accepted as it is here.
With all your success, it sounds as if you play golf to live rather than live to play golf.
Wasn't always that way. Now, I would prefer to have fun with my family and friends. There was a time when I lived for golf, when I was younger. But I've got some longevity out here on tour, I've won some tournaments, I can enjoy myself.
Also, two of the best years I had were years when my kids were born. In 1995, when Annie was born, I won the Mercedes and the PGA. In 1997, when Sammy was born, I won Doral and my second Players Championship. So it's almost like the distraction — if that's the word — is a good distraction.
You believe that even if you strive to organize your life it's OK to have one part of it in chaos.
Yes. If your wife and kids are healthy, if everything is good with your friends, maybe something is out of sorts. Like a project you're doing. I have a '55 Ford Crown Victoria I work on, in mint condition. You have to have hobbies, to get away from golf, because if all you have is golf, and that's in disarray, you're screwed. Does that answer your question?
Do enough guys on tour branch out that way?
I don't really know. I mean, it's a different breed. Not long ago, Lisa and I were planning to have dinner with the Normans in Denver, at the International. Laura calls Lisa and says, "Greg just finished his round, and he's not feeling that well. So, he's going to have a couple beers and see if it goes away." Well, that's a typical Australian story. Here are our two American wives talking on the phone about it, probably not understanding us.
So, did you wind up going to dinner with the Norman?
Of course. He had a couple beers, he felt better, and we went out to eat.
I guess what I'm saying is, most of your peers appear to be pretty focused on golf and not much else.
Some. Last year after the final round in Phoenix, it's Super Bowl Sunday. I'm all up for the game, and I walked in the locker room there and asked the guy for a beer. "No, wait a minute — get me three beers." He tells me they don't have any beer in the locker room. They have flavored water, ice cream and Gatorade. That's what the players requested. Charles Howell, meanwhile, is next to me and says, "Hey, I've never even had a beer." I said to Charles, "Charles, I don't care. It's Super Bowl Sunday, and if you stick around you're going to get to see me have three." Anyway, the locker room guy went and got me the three beers. At the Phoenix Open, you don't have to go far to find three beers. I don't know the answer to the other question. If Charles has never tasted a beer, how does he know he won't like it?
Yes, but there are a few guys who still have a good time. I go over to the Dunhill every year, just because it's an opportunity to play St. Andrews, the greatest place ever. Ernie Els was there, and I want to say it was the year Mexico beat South Africa [1993]. Mexico! We go by the pub that night and Ernie's drinking beer out of his shoe.
You often tell your stories on "The Jim Rome Show," a syndicated sports-talk show.
I grew up listening to the radio, so I started listening to him over here. I got into the format, so I just called in to Jim one day. I guess I'm something of a regular now.
OK, time for the Monty custard story.
That would be the 1995 World Match Play at Wentworth. I had beaten him in a playoff for the PGA Championship at Riviera a couple months earlier, so when we got paired in the second round, it was being built up over there as a rematch, a chance for him to gain revenge.
Anyway, we're having lunch in the clubhouse there, which is a castle. Lisa and I are eating a little sandwich off in the corner. Monty has maybe 25 people at his table, royalty and all, with a fabulous buffet. Part of the spread is this huge custard castle, a replica of the one we're eating in. So Monty gets up and goes toward the custard, and he wiped out the whole west side of the clubhouse, an entire custard wing including maybe part of the locker room. I think to myself, Isn't that nice of Monty, scooping up all that custard for all those people at his table to share? Well, damned if he doesn't sit down and eat the whole thing himself. I turned to Lisa and said, "There ain't a man alive who can eat that much custard and beat me." I won, 2 and 1.
What's your take on Monty?
He's obviously a great player. If you read the papers, he doesn't seem too happy. I don't know if he is or not. I can't make anyone else happy. He's got to be happy himself. He does take it on the chin over here in America. He's got the bad body language. Some of the grief he takes, it's brutal. All he has to do is go after one of those people in the gallery, and that would be the end of it. That's what I'd do.
By the way, in all the mayhem in this house that followed my PGA win, I did write Monty a note saying, "Hey, it could have been you." Which he later acknowledged. And it's true. If he makes a putt and I don't, he wins. That's the nature of playoffs.
You and Norman almost got into a rumble with some people a few years ago, correct?
That was at Peter Jacobsen's tournament. Greg and I were at a pub there in Portland when a few guys starting giving him grief. Four of them, hockey players, I think. All toasted. Greg and I decided to get out of there, but these guys followed us to the parking lot. I wanted to go with them. Greg could have handled one, I'd have taken the other three. We drove off, thinking we were done with them, but these goofs chased us down the freeway throwing bottles of beer at our car. Full bottles! What a waste of beer. The cops finally got them.
Years ago, there was a poll taken among fellow tour players, and you were named as one who practices in "gamesmanship" — for moving around when other players hit, for early walking when another player is hitting, or clearing your throat.
I vaguely remember that, from way back. I don't know if that's Lee Janzen being quoted, because it's long ago, but we talked about it, Lee and I. Now, if someone considers me difficult to play against in a match like the Presidents Cup, well, I take that as a compliment. As for the other stuff about me intentionally doing stuff to throw off an opponent, no way. I don't believe in that. I don't do it.
Those team matches can be pretty tense. There are all sorts of subtleties that go on. I was a partner with Mike Weir in the Presidents Cup a few years ago, and Phil Mickelson broke open a bag of chips right in Mike's backswing, and they had words. They were pretty frosted. There's stuff that goes on, but I wouldn't do anything along that line. You will have personality conflicts when you play certain people, but you play a guy fair and square.
You and Norman were part of the 1996 Presidents Cup team that David Graham was supposed to captain, until he was voted out. What happened?
I don't really want to go there, because there's no reason to inflict any further pain on David. He's a respected man, what happened happened, I called him after to express myself, and I see no point in bringing it up again.
Did you watch last November's Presidents Cup in South Africa?
I saw a lot of it but was very disappointed with the ending. It was all very dramatic when they were about to enter the playoff, and Jack Nicklaus, the American captain, opens his envelope, and there's Tiger Woods' name. And then Gary Player, the International captain, opens his envelope, and it's Ernie Els. I mean, what a shock, right? Then an hour later, with no rules in place for a tie, they all decide, wait a minute, this is too good an event for it not to end all square.
Have you talked to some of the players involved?
A few. I've played in every one of them before the last one, and it seemed like the guys were pretty pleased with a tie. Both sides. That surprises me. I wasn't there, obviously, so I can't say how I would have felt. But where was Finchem? On his cell phone in the clubhouse while everybody else is on the course? I don't understand that. He should have been right there, saying, "Time out; let's get away from the cameras." It's pretty intimidating, I guess, when you have Gary Player and Jack Nicklaus telling you what to do. But the point is, in its infancy, the Presidents Cup was developed to be different from the Ryder Cup — no ties.
Left you with an empty feeling?
Well, if you have Ohio State and Michigan playing a college football game, and they're tied after four quarters, do you say, "This is such a good game that neither team deserves to lose?" This idea that no one guy should have to face missing a putt to cost his team the Cup, well, that's the pressure we're under as professionals. I think the tour screwed it up. Finchem's to blame.
How would you have solved it?
Besides finishing on a Monday, start the singles earlier on Sunday. There was no reason not to. It wasn't on live TV in the United States, which is a joke, so you could have started the finals anytime instead of the middle of the afternoon. The only place it was on live was in Europe, and they weren't even involved. That's how I found out about the tie.
I was going to a Texans' football game in Houston with my wife. Against New England. Lisa and I were in our house following the matches on a computer. Then when we left for the game, I got on the phone with a mate of mine who was in Scotland, watching it live. I was getting updates from him. Unfortunately, he was drunk as hell, and he was having trouble describing it all. All of a sudden we'd hear, "That -------- Els, he just made a ------- 50-footer for par! Unbelievable!" There's all this tension, and we're sitting in the car waiting to go into Reliant Stadium, as guests of the Texans' owner, Bob McNair. All of a sudden, I hear my mate say, "They called it a tie!" I didn't know what to think, except that he was drunk. When I found out it was true, I was deflated.
And, of course, you also knew that day that New England would win Super Bowl XXXVIII on the same field in Houston in February?
No way. Texans got beat on a field goal in overtime. Pitiful. But at least it didn't end in a tie.
Why the University of Houston?
I played over here in 1980 at a junior tournament at The Woodlands. Dave Williams, who coached golf at the school forever, a legend who's since passed away, saw me and recruited me. He called me at home in Australia every weekend for a year. "You gonna come here to the University of Houston and play golf on the same team with Billy Ray Brown of Sugarland, Texas." I had no idea what he was talking about. Billy Ray Brown from Sugarland, Texas? Anyway, Williams was persistent, and the two freshmen — Billy Ray and myself, the two guys nobody else recruited — wound up as roommates, we won the national championship three of the four years we were there, and Billy won as an individual his first year.
Absolutely. College golf has never been less glamorous than it is now. Guys are coming out too soon. That's a problem here and in Australia. The guys from my era, they all went to college and stayed. Now, guys are turning pro when they're kids. You're more likely to hear about players who are coming up and planning to bypass college altogether. I don't want to say they're not ready, but you hear all the time on TV now, "That pin position is very accessible" for a certain player. Well, when I started out, every pin was accessible, because you were supposed to be able to shape the ball. Now, the ball doesn't curve as much and players just hit it one way. Can't fade it and draw it both, or don't want to. It seems that when Jack Nicklaus stopped playing regularly, the 1-iron came out of the bag and the 60-degree wedge went in.
Aren't today's players better?
I don't think they are. The trend now is to just launch it off the tee, high and long. That looks good in Palm Springs, but when you get to the 10th at Doral with a 35 mile-an-hour crosswind, it might not work so well.
Who is going to be the next great player from this group of youngsters?
I'm gonna wait on that. Forget Tiger Woods for a second, because he's really not relevant. I told my wife the first time I saw him play that he had a chance to be the best I've ever seen. But the way the press writes about the young players, it's almost laughable the way you people go berserk about them. The reason so many guys in their 40s — you call us old — are still winning is because they're good enough to be out here. The guys in their 40s who weren't are gone, retired. The idea that Charles Howell would be favored by the press to beat Nick Price, any week, there's no way.
OK, but what's so different?
When I came on tour, $100,000 was a big year. If Jack Nicklaus is making $100,000 playing golf and $5 million with other businesses, where's your interest going to be? But if Jay Haas, at 50, can make $2 million playing golf, your interest changes. Plus, with all the young guys on tour, I've never seen a bunch that is so uninteresting. I don't mean Charles isn't a nice guy. Or Adam Scott. A good kid, but he never says anything. Hard-working, fine player, but you people in the press build them up as legends when they've won one tournament. Lisa and I just went on a trip on Greg's boat with Laura and Raymond Floyd and his wife. If you could bring Raymond and Lanny Wadkins back with these young guys, they'd just chop them up. On and off the course. It would be brutal, what they would do to these young guys.
Well, he's not as accessible as the other young guys. But he's the standard the rest of them use, and Tiger is terrific, the way he behaves himself. But he's not going to be like Peter Jacobsen, who will talk to sponsors and amateurs about anything and everything. I'm not saying Tiger is doing it wrong. Not at all. But in the long run, if more of the young guys looked at Peter as a role model as far as how to relate over the long term, it would be a good thing.
Where does the tour hierarchy fit?
Finchem's done a good job, but he's made a lot of promises to these kids about their pensions. There's just no way you can project what their retirement money will be, because you can't predict what the stock market will do.
Look, Greg is a good friend of mine, and Finchem is scared -------- of him. But Greg has done so well in golf and is such a success in business, why wouldn't you want him on our board in a position of influence? Love him or not, Greg has taken golf to an unprecedented level, as far as branches on a tree. That SOB could fall in a river and come out with a trout in both pockets. But he's worked at it. Greg came up with the idea of world golf, Finchem squashed it, then he's taken it and ruined it. They had four world events last year, and all four were in America. That's not taking golf globally, having four world events over here for something like $5 million a pop while all the other tours are suffering.
Now, before you cut me off, I want to say that the tour is moving along quite nicely under Tim. But the structure could be changed slightly by having one of our own on the independent council to have a pulse on things. Greg, specifically. Would he do it? Is it possible? Don't know.
I don't have a beef with the tour. You asked me. I just think some things are a bit too ram-it-down-your-throat. When the tour says we have to fill out a card on what clubs we use for ShotLink or else we're fined, well, that's not the best way to do business. The ShotLink thing is a disaster. If that doesn't pan out, can we fine them for investing all that money in it?
Skipping back a bit, what about the yacht?
Greg's? Aussie Rules. It's a terrific boat; we were on it in November for a week off the Bahamas. Scott McCarron and his wife were there, too. Crew was great. Greg loves the water. He's relaxed when he's out there, and he's earned the right to do what he wants. He's made it on his own. Go out to Long Island. Everybody has one out there. Where do people get all their money?
You have the reputation of being a great dresser, maybe the classiest on tour.
I had the good fortune of growing up in America in Houston, meeting Jackie Burke and Dave Marr and Jimmy Demaret and Jay Hebert. All stylish guys. They said, "OK, Elk, if you're going to be here, you've got to wear the right gear."
Does being an artist help?
I guess I have an idea of what looks right and what doesn't. Before I decided to be a golfer, I had a chance to study art on a university scholarship in Sydney.
How would you characterize the state of fashion on tour?
Better than it used to be. Jesper Parnevik, I wouldn't wear the clothes that he wears, but it's definitely a style. I'd rather see more of that. Payne Stewart used to wear knickers, for goodness' sake. Tiger's a good dresser. Conservative, but he wears good-looking clothes that fit him properly. Greg has a great line of clothes. Rocco Mediate works on his wardrobe all the time. Always has nice shoes, always looks professional.
Then again, I played with some young guy recently who was wearing these plastic shoes with a spider or something on them. I said to him, "Mate, what's wrong with your shoes?" He said to me, "Oh, you gotta try these." Yeah, sure. He's been out here five minutes on tour, and he's telling me about these soft spikes with spiders on them.
I use my feet a lot, which is why I use steel spikes. People ask me why I don't wear soft spikes, and the reason is, I can't stand up on them. Does Carl Lewis use soft spikes when he's running? I need to hold the ground. If I could have them longer, I would.
Do you pay for your own clothes?
Yes. And I like to get out there and dress up a little bit. Historically, the great players all wore good gear. Raymond Floyd rocked; Tom Weiskopf was off the charts. Sam Snead dressed great.
What do you pay for a pair of pants?
You don't want to know. I don't want to embarrass you.
Well, as long as we're doing this in your house, can I have a look at your closet?
No way. You're not getting near my closet. Look at you, anyway. Every time I see you, you're wearing black on black, maybe with a splash of purple. Who are you trying to be, Gary Player? Is that where Gary sent all his hand-me-downs, to your house?
How many pants do you have?
I don't do it like that. I don't count them. I get some nice material sent to me every year, and I pick out what I want for a few pairs. Then I add to it. Light wools, heavier when it's cool.
Never wear cotton. I don't want to look like a writer.
Poly's made a bit of a comeback. I probably have a casual shirt that has some polyester in it. There's not much polyester left in the world, once the press is finished shopping.
OK, what about the 1 percent mink in your pants?
Oh, that started with McCord. He and I went to get some pants once from a guy in L.A. McCord said it on the air during one of his broadcasts: "You know, Steve Elkington has 1 percent mink in his pants." Well, he got all sorts of letters from the Humane Society and animal-rights activists. That was the end of the mink story.
You mentioned you like to draw.
I like to draw cartoons and caricatures. I might draw a Christmas card for friends. When I got back from Greg's boat, I drew one for them. I had Greg on a deserted island, practicing his putting for the Shark Shootout, which was coming up on the schedule. Laura was there in a raft with the yacht in the background. Took me a couple hours.
Oh, I think so. I would like to see him play more often. When Greg won the British Open at Turnberry in '86, I was over there to qualify, didn't get in, so I watched him from the gallery. He had that nice, long swing. Nobody was swinging better.
You stayed around to watch Greg Norman play?
Absolutely. He's a huge hero to us in Australia, always has been. We've had some good athletes come out of our country, but none bigger than Greg.
Your best chance in the British Open ended up as a playoff loss at Muirfield in 2002. Do you agonize over it?
Not really. I had to qualify, and then I played great. If I had made that putt on the 72nd hole [from six feet], I would have shot 65 and won in regulation. Then we went into a four-man playoff with two twosomes — for what reason, I have no idea. It was the worst decision ever. I don't think they had a rule for it, so they made one up on the tee. Any club in the world, if you're having a four-hole playoff, you play as a foursome. As it was, Stuart Appleby had to stand on the 18th for 25 minutes, taking practice swings, while he waited to see what was happening in front of him. Ernie played the worst of us the final day, but the best for the week, and he won. Thomas Levet could have won, too. But he pulled a drive on the 18th and knocked it into the bunker. It was nuts.
You said Royal St. George's was off the charts for last year's Open. Does that taint Ben Curtis' victory?
Hell, no. That was no fluke. Same with Shaun Micheel at the PGA. A lot of you guys in the media make it out to be flash-in-the-pan stuff. Well, those guys performed under pressure. They did it, and if they weren't up to it, they would have melted. So, you can't take that away from them. If you win a gold medal at the Olympics, are you a fluke if you don't win two? I don't think so.
That shot Micheel hit to the 18th green on Sunday in Rochester, if Tiger Woods had hit it, they'd have built a statue right there. It would have been up before he left town.
There are a lot of guys with game out there. This perception created by the media that there are only a few guys who can play, but the rest of us are crap, that's bizarre.
Vijay Singh has a frosty relationship with the media. Where do you put him?
First of all, I don't think he cares what you people think. Second, I voted for him as player of the year because, with about eight weeks to go he said, "I'm gonna win the money list," and he did. That's a strong move. Tiger could have played as often as Vijay did at the end of the season, but he didn't. Do you penalize Vijay for playing more events than Tiger? I don't think so. If you want to beat him on the money list, play more often. If you want to win the batting title, do you sit out the last two weeks of the baseball season?
Tiger keeps hearing that he's in a slump.
I played with him in the last round at Riviera in February, and he shot 64. I didn't see any problems. He's got a lot in his toolbox.
A lot of people joke that you had an unfair advantage winning the '95 PGA Championship. You're allergic to grass, and there was none on the Riviera greens.
They were a bit brown, but it was fun. The Sunday there, I want to say I had 210 yards to the pin on the 18th, and I hit 7-iron. I went back there later to re-create it, and I couldn't get there with a 4-iron from the same spot. Just that timing of that Sunday. The wind was right, I was pumped up. Amazing.
Besides your allergies, what else is in your medical history?
I've controlled the allergy problems with diet and medications. Hip surgery, that was a worn-out part there. Meningitis, how am I going to control that? People get meningitis once, if at all. Once is like having the measles. I had it four times, but I believe that's related to the allergies, because the white blood-cell count gets so low you become susceptible to all sorts of infections. In 1999 I shoot 65 in the third round of the Houston Open with a chance to win, and I went right to the hospital. I knew I had viral meningitis, because I couldn't move my neck. It locked up on me. That's not as serious as spinal meningitis, because that can kill you.
You seem rather bright to be just a golfer. What's your IQ?
Just a golfer? I'm 141, mate.
Would you characterize yourself as politically correct?
No, but you do have to watch what you say now. Thank goodness, we can still call our caddie out without being sued. That doesn't exist in most workplaces. If you called someone in your office some of the things I've called my caddie, you wouldn't be here.
Greg recently came out against women playing on the PGA Tour. Do you agree?
I talk to Greg often, but we haven't talked about that. I'm OK, though, with sponsors doing what they want to do with their exemptions as far as promoting their events. But I'm not quite up to speed on television networks having to show every one of Michelle Wie's shots over 36 holes in Hawaii.
Did you think Annika Sorenstam's participation in the Colonial last spring was over-the-top?
I think that was one of those events that got out of everyone's control. But I guess I disagree with Greg to a point, because you can't say Annika was bad for the Colonial last year, or that Michelle was bad for the tournament in Hawaii early this year. Makes you wonder why the LPGA doesn't jump on that and put a couple of tournaments in Hawaii. She'd bring a lot of people in.
Do you see the day when you show up on the PGA Tour and play against women?
You mean on a regular basis? Well, if she's qualified. And I think Michelle Wie is the only possibility. She plays golf like a man. She hits the ball far, she spins it, and she's young enough to do it, maybe. Whether that would be the best thing for the women's tour, I don't know. Even though the women's tour is not robust, there's still a market for women's golf. I'm not a golf watcher, but I watched the Curtis Cup on TV when I was injured, and I thought it was great stuff. I was glued to it.
What are your opinions on technology?
With all the commotion, I don't think it's affected scoring that much. The place where the USGA is missing the boat is with the long putter. If a club is attached to any part of your body other than your hands, it's not golf. Some guys can't play without it, but they're within the rules. It's the rule that's wrong.
You have about 40 birds in your aviary. Can I go see them?
If you don't get too close. You might be carrying a parasite. A polyester parasite.
Did you know Steve Elkington...
Has five top-three finishes in major championships....His idol growing up was fellow Australian Bruce Devlin....Elkington was a two-time All-American at the University of Houston....His first tour victory was in 1990 at Greensboro, where he rallied from a seven-stroke deficit in the final round....His most dominating performance? We'll go with his seven-stroke victory in the 1997 Players Championship.