The Loop
Velvet Milkman, Murray State women's golf coach, takes over as AD, has greatest name ever
College sports have provided us a plethora of phenomenal names of players that, decades ago, would likely go largely unnoticed. Thanks to the internet, these select few and their incredibly unique names go viral. In college football alone, the 2017 all-name team (yes, that's a thing and hopefully will be again in 2018) featured the likes of Illinois State lineman Kobe Buffalomeat, Stanford kicker Jet Toner and Eastern Michigan defensive lineman Lion King.
While these are all excellent, none of them hold a candle to college sports' newest GOAT of names: Velvet Milkman.
Who is Velvet Milkman, you ask? Milkman is the women's golf coach at Murray State, and was just named the athletic director on Friday, per this tweet that's going viral because of this person's name:
Like me, chances are you thought that this man was Velvet Milkman, subconsciously thinking that anyone named Milkman would be ... a man. WRONG! The man above is an impostor! We've been duped!!
Just kidding, that's actually Allen Ward, something Adam Wells should have probably made clearer when he tweeted this out. Will the real Velvet Milkman please stand up?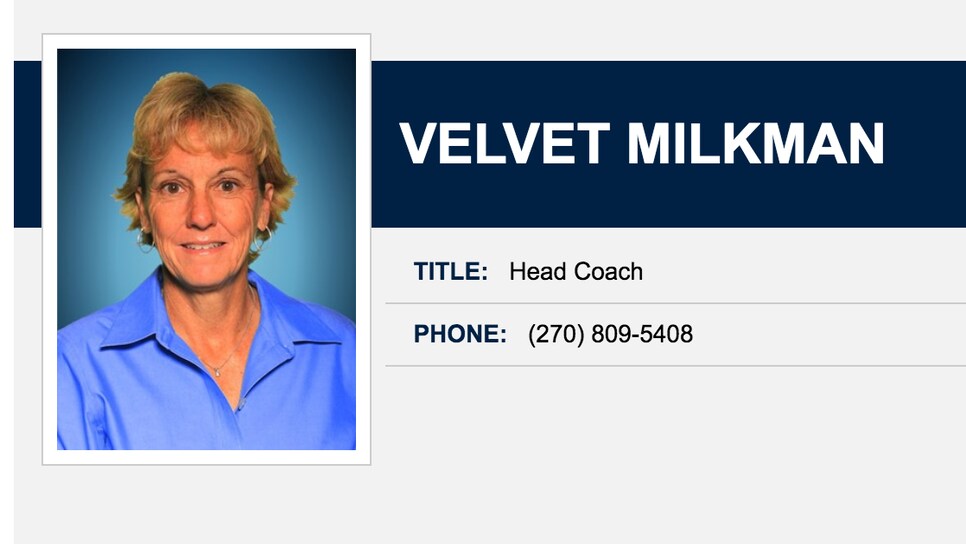 This, this is the real Velvet Milkman, not Milkwoman, and she has been the women's golf coach at Murray State since 1993, when she started the program herself. With Ward's resignation, she has been named the interim Athletic Director, and not just because of her moniker. Milkman has been named Coach of the Year in the Ohio Valley Conference 12 times and led the Racers to 11 team titles, in addition five appearances in the NCAA regionals. Murray State University President Bob Davies couldn't have asked for a better person for the job, calling Milkman "a proven and natural leader who has tremendous respect throughout the University, our community and our athletic conference. She was the natural and obvious choice to serve in this leadership role as we conduct a national search."
Legendary coach, legendary name, and now, a legendary interim Athletic Director. We hope Milkman delivers in her new role and wish her all the best.