The Loop
Vegas likes his chances in Atlanta heat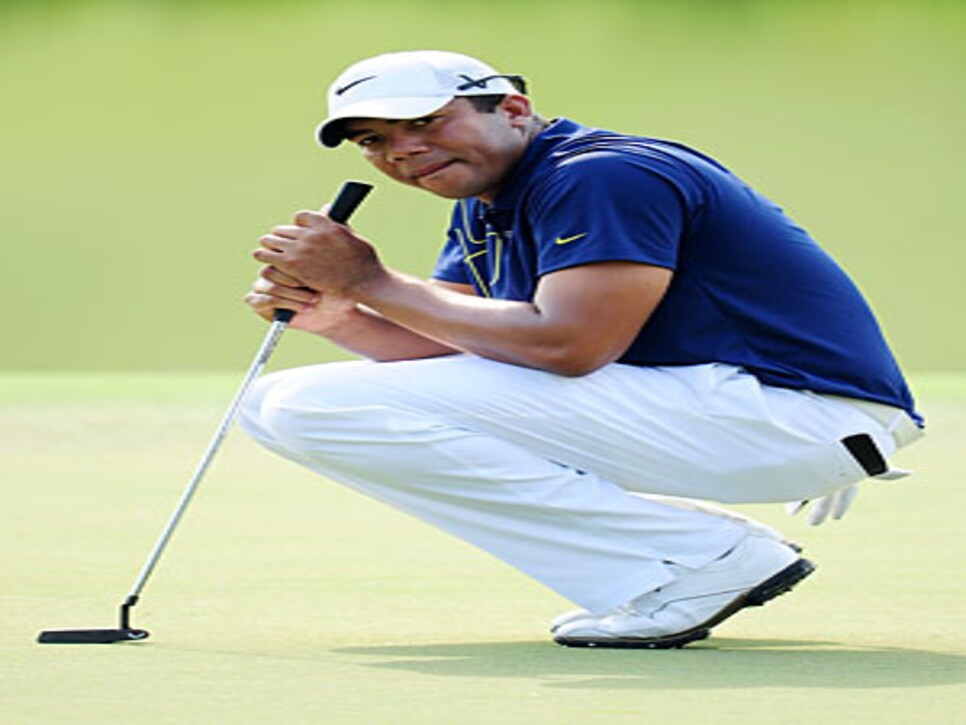 JOHNS CREEK, Ga. -- Jhonattan Vegas could win this PGA. Not the town, Vegas, the kid. Remember him? Young guy, 26 years old. Big, 6-foot-2, 230 pounds, but big in a smiling teddy-bear way, more baby fat than six-pack iron. From Venezuela and the University of Texas, up from the bush leagues to the PGA Tour full-time this season, he wins the second tournament he plays, the Bob Hope Classic, after which he admitted he had no idea who Bob Hope was. "But I guess I know now," he said, "and I'll know him forever."
With a Friday round of 68 after opening with 70, Vegas is two under par on a punishing Atlanta Athletic Club course that will take no prisoners on the weekend. Anyone at or under par halfway through has done the kind of good work that a champion must. Vegas was quick to say, "A great round, 68, four birdies, I played really, really well. I'm pleased with where I am, two under, that's absolutely great, and I should be just a few shots behind going to tomorrow."
Vegas's season has been meteoric, truly. That unexpected, mysterious flash across the sky in January -- suddenly, someone named Jhonattan Vegas rises from the Nationwide Tour, where he'd won once in 41 starts, to win the Hope, one of the Tour's classic events. The next week, he finished T-3 in the Farmers Insurance. And then -- then the meteor burned out, lost to sight, only a pretty memory. At one point, Vegas missed cuts six times in seven weeks.  In 17 tournaments after the Farmers, he finished in the top 20 only three times. Statistics tell us Vegas does everything as well as most pros, everything that can be measured, anyway. It's the immeasureables that have bedeviled him. "I've been worrying about making bad shots more than I've been aggressive in making good ones," he said. "I've been better about that this week than usual." His work Friday was proof: birdies set up by a 9-iron 159 yards to six feet, a 4-iron 224 yards to five feet, a lob wedge 128 yards to 18 inches, a wedge chip to an inch on a par-5.
One thing more. The PGA of America hands its champion the Wanamaker Trophy. So here's a tip for Jhonattan Vegas: Don't worry about a pop quiz this time.  Only direct descendants of the early-20th-century department store owner ever heard of Rodman Wanamaker.
(Photo: Stuart Franklin/Getty Images)