Varied, strong reaction to the ban on anchored strokes
Almost six months after golf's ruling bodies announced their proposed rule change, it's official: Anchored strokes are now prohibited by the Rules of Golf, per Rule 14-1b, announced by the USGA and R&A on Tuesday morning.
It's a polarizing issue, so reaction from golfers around the world is accordingly strong and varied. As the decision became official, we asked our Golf Digest Facebook fans, Twitter followers and our Instagram followers, whether they were for or against it.
The majority of our readers are against the move, but others feel strongly that anchoring is in fact cheating. In a GolfDigest.com poll, 54 percent of voters said they'd still anchor their putter after the rule is in effect.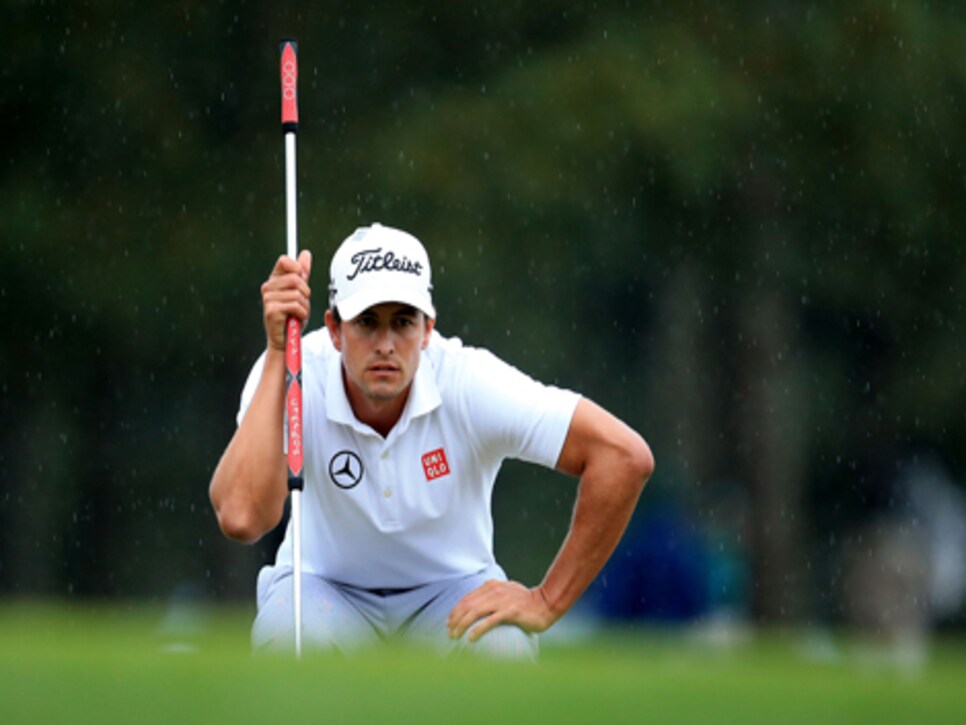 Adam Scott made it four out of six for the long putter in majors after winning this year's Masters.
Here's some more response from our social-media channels:
__ Mark H. Friedman in Birmingham, Ala. on Golf Digest's Facebook page__: "Rather than ending the controversy, I predict this rule will foster more disregard for the rules."
__ Bill James in Minneapolis on Golf Digest's Facebook page__: "So tell me this: In a sport that is declining in new golfers coming into the sport, how does this help to grow the game of golf? People who want to play and have fun and nothing more will still play with anchored putters. This really only affects a small percentage of players in the world."
__ From @dallas_wade81 on Golf Digest's Instagram page__: "Players have grown up their entire careers using these putters. Now the [ruling bodies] are taking them away. Not cool."
__ From @chefboyerb in response to a tweet from @GolfDigestMag__: "Rule 14-1b ruined golf for the guy who wants to play for $5 on sat who battles the yips, good work pushing people out of golf."
__ David John Tease, Shellharbour, New South Wales__: "Against, we can have aerodynamically designed clubs, balls that have multiple covers, multiple polymer shafts that can get enough kick into the point of impact that can launch a ball over 300 yards, but we can't have an ungainly action that does not do much more than just give some the confidence to go hole a few putts."
__ From @emeeker in response to a tweet from @GolfDigestMag:__ "I think it's great. It's a golf swing. I hate seeing young kids using belly putters."
__ Geoff Lee, Carlsbad, Calif. on Golf Digest's Facebook page__: "I'm against it. Like others have said, if its such an advantage, then why isn't everyone on tour doing it? If anything, its taking a lot of people away from the game. As a PGA member, our overall goal is to promote and grow the game as a business/industry, not deter people away from it because of frustration."
__ Jay Houk in Rogers, Ark. on Golf Digest's Facebook page__: "I think it's ridiculous. Go after the technology in clubs and balls and scale those back. But they won't, because that would affect the people who give them money. These have been on tour for over 20 years. And now they are gunna be illegal??? This is just a rules committee besting their chest and saying we can do what we want."
__ John Martin on Golf Digest's Facebook page__: "This is a ridiculous rule that hinders the growth of the game. Typical USGA and R&A ruling that shows that they don't really care about growing the game. They only care about the power they can exert."
__ From @patricklaw9 on Golf Digest's Instagram page__: "If it's such an advantage, why doesn't everyone do it? Why now? Why not 30 years ago? #joke"
__ Ken Carter in Traverse City, Mich. on Golf Digest's Facebook page__: "I think there are going to be a LOT of problems enforcing the ban, and it will create nightmares for rules officials and the players. This is because it is possible for a player to hold a long putter 1/1000 of an inch away from his chest, which is technically legal -- but NO ONE will be able to discern whether he is actually anchoring or not. Of course, if you hold a long putter that close, you will be touching your shirt....and players will be accused of breaching the rule and cheating -- but they aren't. So it will be essentially unenforceable."
__ Andy Hartle on Golf Digest's Facebook page__: "For all of you who say it's cheating, you really do need to do more research. If you had any clue what you are talking about you would know that there is no evidence that shows using a long putter gives you an advantage."
__ From @choff77 on Golf Digest's Instagram page__: "So they don't players to use something that gives them an "advantage" over other players. So does that mean hybrids and adjustable drivers are next to be banned? Last time I checked not every player uses one of them."
__ Dennis J McDonald, Seabrook Island, S.C., on Golf Digest's Facebook page__: "It is a game. It is supposed to be fun. Shouldn't the R & A and USGA be more involved in growing the game instead of exiling some of us? Fortunately for me there is a disk golf course nearby. It looks like a fun game. Quicker, still social and FUN."
__ Robert Baggett on Golf Digest's Facebook page__: "Waiting til 2016 just creates opportunity for controversy and bad PR for the game. Should've been 2014."
__ Eric Figueroa on Golf Digest's Facebook page__: A golf pro shouldn't have to rely on a crutch to stay competitive. Amateur golfers need all of the help they can get. There should be 2 sets of rules & that would solve the problem.
From those FOR the decision:
__ From @TitoHungry in response to a tweet from @GolfDigestMag__: "If you're a rec player complaining then you're idiot. You probably don't follow 99% of the rules now & the putter is just an excuse."
__ Randell Hiltbrunner of Aledo, Texas on Golf Digest's Facebook page__: "If the argument is that the long putter is no advantage, then changing back to a real putter should be no big deal, right?"
__ From @TomasGreyhound in response to a tweet from @GolfDigestMag__: "Most golfers take mulligans, take 5 foot gimmes anyway - in short, they are already cheaters."
__ From @MattGibb in response to a tweet from @GolfDigestMag__: "Golf absolutely won today. Club companies are just annoyed they have one less club to sell!!"
Photo: Andrew Redington/Getty Images