Vanderbilt earns top seed at NCAAs, hopes to end the doubt about whether a No. 1 seed can win it all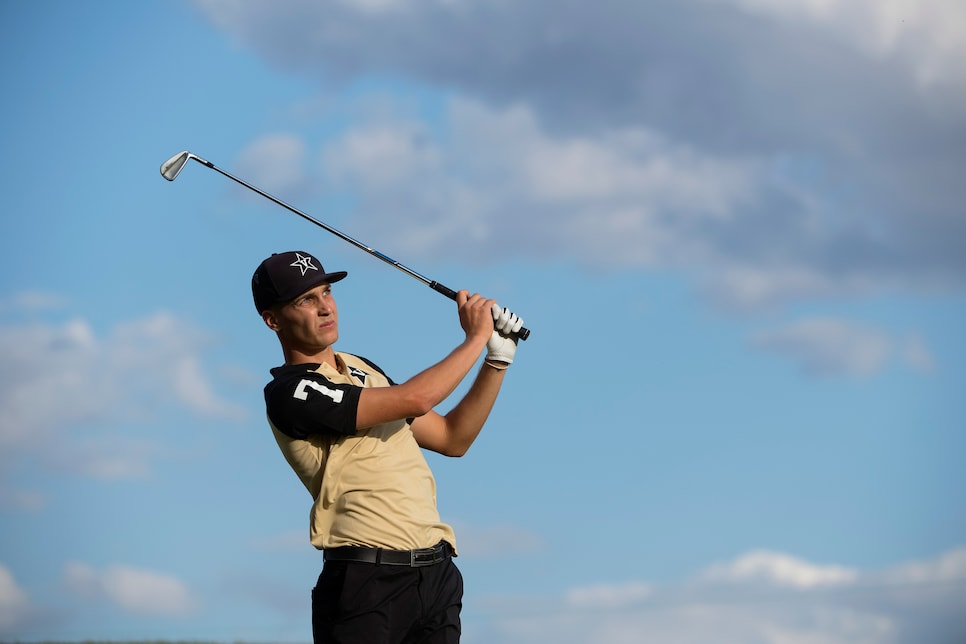 Congratulations Vanderbilt! Well, at least we think.
With a five-over 293, the low round Monday at Rich Harvest Farms outside Chicago, the SEC champions and No. 4 ranked team in the country ran away from the rest of the 30-team field for 72 holes of stroke play, shooting a 13-under 1,139. Vandy outpaced runner-up Oklahoma by 12 strokes to gain the top seed entering the match-play portion of the championship, where the Commodores face UNLV in the Tuesday morning quarterfinals tilt.
"We got off to a good start, and I thought that was really important," said Vanderbilt men's coach Scott Limbaugh. "In these final rounds of tournaments you really want to get your feet on the ground. We came into the final round in a good spot, but you still don't want to be in a position where it is a dog fight the whole way, so I was proud of how we hung in there."
Theo Humphrey shot the team's low round (70) en route to a T-3 finish individually, while John Augenstein posted a 72. First-team All-American Matthias Schwab shot a 75 to also finish T-3 for the championship and WIll Gordon shot a 76.
Before just allowing Limbaugh's squad to parade into the championship match, however, it's important to note this not so coincidental (perhaps) fact: since match play was adopted to determine the team champion in 2009, no top seed after stroke play has actually ever won the title.
While such history is likely to get Vanderbilt's attention, there are multiple reasons for the Commodores to feel they have the edge moving along in match play. Vandy won its first SEC title last month with the tournament using match play for the first time to determine its champion. This is also the third straight season in which Vandy has reached match play at NCAAs, providing a comfort level that could prove helpful the next two days.
Interestingly, of the eight schools advancing on Monday—Oklahoma, Illinois, Oklahoma State, Oregon, USC, Baylor and UNLV joining Vandy—all but Baylor has previously gotten reached match play at nationals.
Illinois is making match play for a record fifth straight year, and playing just a couple hours from campus, the Illini anticipate having the largest crowds of any of the remaining teams.
Arguably the squad with the most momentum, though, is the one looking to defend its 2016 NCAA title. Oregon earned the crown last year on its home course in Eugene, and saw 2016 NCAA medalist Aaron Wise turn pro after his victory. But the Ducks mounted a furious rally on Monday, led by Ryan Gronlund, who made birdies on his four final holes, to help push themselves back into match play with a closing five-over 293 of its own, jumping from T-13 into the final eight (T-5) at the expense of Virginia.
"It was incredibly clutch. … We got a little magic out there this afternoon," said Oregon men's coach Casey Martin. "[Gronlund] really put the team on his back … [and] we battled even without the top player in the country [Wyndham Clark] playing well."
Indeed, Clark, the Pac-12 player of the year and a finalist for several national player-of-the-year awards, shot an unexpected closing 81 to be the dropped score for Oregon on Monday. A turn-around from the senior can only enhance Oregon's chances the next few days.
NCAA Championship Quarterfinals
1 Vanderbilt vs. 8 UNLV
4 Oklahoma State vs. 5 Oregon
2 Oklahoma vs. 7 Baylor
3 Illinois vs. USC