The Loop
Vandals torch 20 golf carts at Maine course, nearly burn down clubhouse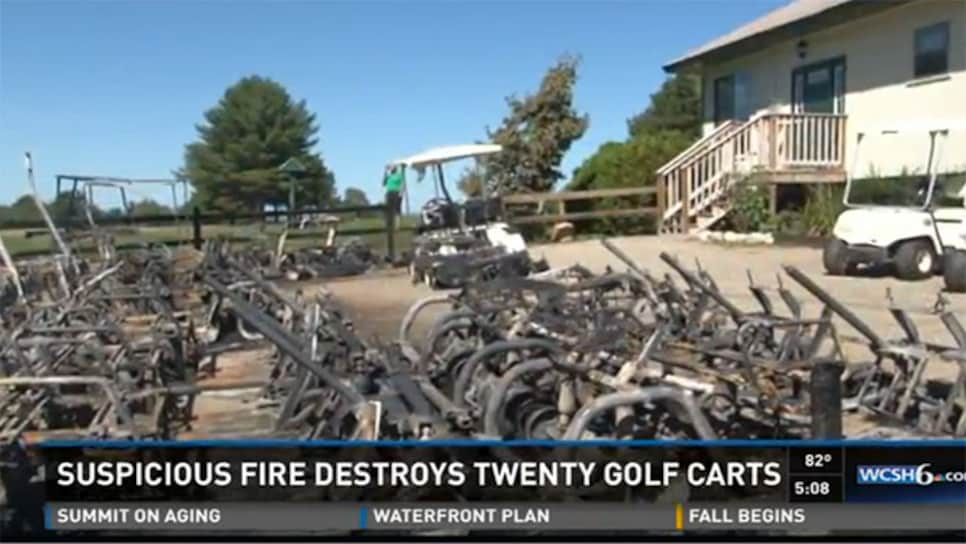 A Maine golf course is still operating this week despite being the target of vandals for the second time in a month. This time, Summit Spring Golf Course had 20 golf carts torched early Wednesday morning, according to WCSH6.
In addition to the destroyed fleet of golf carts, the senseless act of vandalism will require the fixing of some cables, fences and cracked windows. It was almost much worse, though. Had neighbors not heard the sounds of carts crackling and tires popping in the flames, the local fire department probably wouldn't have arrived at the scene on time to save the clubhouse. Here's a TV report of the incident before authorities officially deemed the fire to be intentionally set:
Three weeks prior, the course had a golf cart and other items stolen as well as four of its greens torn up. Police don't know if the crimes are connected or why this public course in Poland, Maine, has become such a target. There was also an incident in the spring in which someone drove a truck onto a fairway and caused minor damage.
Thirteen of the golf carts were leased by the course, while seven were privately owned. Course manager Mary Rich estimated the value of each cart between $2,500 and $3,500. She also said that the course plans to install security cameras. Sadly, that seems like a good call.