Brooks Koepka is off to an auspicious start at the Valspar Championship thanks to a four-under, bogey-free performance Thursday. "I felt like I played pretty solid. It was very, very easy. No stress. Stress-free," said Koepka, making his first appearance in the event since 2014. "Three more of those, I should be right there." But, in all due respect to the fine folks at Innisbrook Resort outside Tampa, Koepka is not a man judged by Valspar titles. He is that rare player who is judged by majors and majors alone.
At last check he owns four titles and has finished T-7 or better in nine of his last 11 major appearances. That includes a T-2 at last year's PGA Championship, a T-4 at the U.S. Open and T-6 at the Open Championship. What makes that last sentence impressive is not necessarily the consistency but that Koepka accomplished as much on essentially one knee, one that was so banged up he can't fully bend down to read putts.
Which is why the following comments should make Koepka's opponents quake in fear.
With the Masters just three weeks out, Koepka was asked a question about Augusta National, which lead to a follow-up about the reverence many in the game have for the venerable Georgia property. Koepka took a slight detour, talking about the pressures inherent in all major championships before dropping this nugget.
"I was actually thinking about it today," Koepka said. "It would be one of the first times in like five years I've been healthy. I think I missed it in 2017 or 2018, my wrist; 2019, I was healthy; 2020, my left knee. And then my right knee. And then it's like, all right, I'm just ready to be healthy to play it."
Koepka continued that, in hindsight, he was physically limited last year (leading to a missed cut, his first at a major since the 2013 Open) and he came back too soon. But as of this moment, all pistons are firing.
"Yeah, I'm playing fine," Koepka said. "So I'm fine with where I'm at."
In short, battered Brooks is gone. Brooks, Destroyer of Worlds, is back. Adjust your bets accordingly.
Four other observations from Day 1 at the Valspar Championship.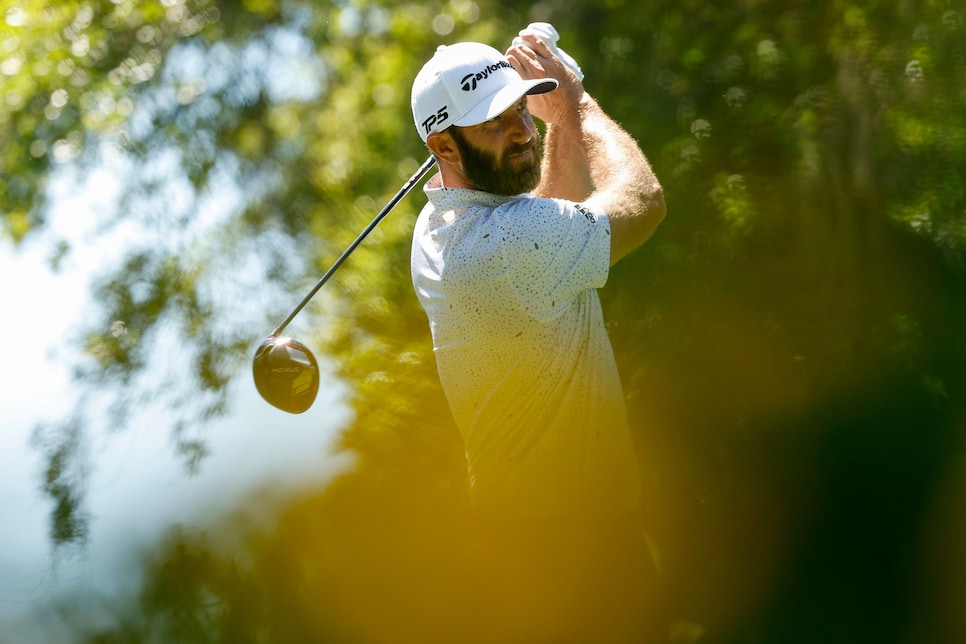 This time last week Dustin Johnson was outside the FedEx Cup top 200. While it's a fair point not to get too concerned with these standings before the majors begin, the tour season is also nearly at the halfway point, and Johnson is a player, no matter the time of the year, you don't expect to see that far down the list.
However, thanks to a bounce-back effort on the final day at TPC Sawgrass—which saw Johnson tied the course record with a nine-under 63—the former World No. 1 showed signs of moving in the right direction and continued that trend Thursday at Innisbrook with a four-under 67.
"It could have been a couple better," Johnson said afterwards. "I hit it really nicely, drove it pretty good, just, I don't know, I struggled with the speed on the greens."
To be fair, it's not that Johnson has struggled; his standing is more predicated by the fact that he hasn't really played; four events total as he now sits No. 142 in the ranking. In that same breath, Johnson has not won since his triumph in Augusta two falls ago, and compared to the Johnson we've seen over the past decade—which is to say, one of the most dominant players this century—his play since the 2020 Masters has been very un-Johnson-like.
Johnson was also correct; His short game wasn't great Thursday, losing nearly a stroke to the field in putting. He also gained almost four strokes tee-to-green. It's been some time since Johnson has strung together four sound days together, but with Monday's round combined with Thursday's show there's hope that may be on the horizon.
Vegas hits jackpot in Round 1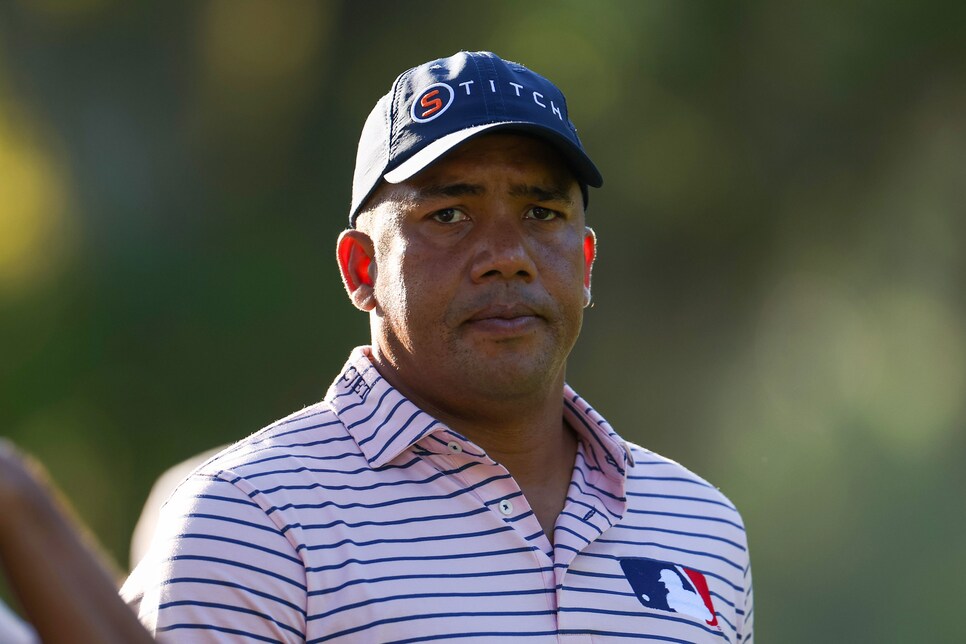 Jhonattan Vegas had a sneaky-solid campaign last season, posting three runner-ups, finishing sixth in strokes gained/off-the-tee and ranking 42nd in scoring average. The reason you didn't hear his name on a more consistent basis, however, lies with his flat stick. Vegas was 146th in SG/putting last season, and frankly it hasn't been much better this go-around, entering the Valspar 120th in the category.
Thursday was a different day for Vegas. The three-time tour winner gained more than 3.5 strokes on the field with the putter in Round 1, third best on the day, and because of that display he finds himself atop the leader board with a seven-under 64.
"Absolutely great. Exactly what I needed after last week," Vegas said, who shot a 78 in a wind-swept Round 2 at the Players Championship to miss the cut. "Game was there. I took advantage of the great conditions this morning. Greens are little softer, not much wind, absolutely a perfect day out here."
Of course to make putts one needs to find the green and Vegas did that and did that often Thursday, hitting 16 greens in regulation. Vegas credited the second-shot mastery to a switch to an old set of Mizuno MP-4 irons, a set Vegas believes were with him for two of his previous wins on tour.
"I just kind of have my feels back," Vegas explained. "I started hitting it good and solid again. Kind of a good flow started happening throughout the round. And I just feel like I hit my irons extremely well, especially at the end of the round, which is something that I'm really looking forward for the next three days."
Yes, there are still 54 holes to go against a loaded field and Vegas hasn't managed better than a T-12 this season. His track record at this tournament isn't great either, missing the cut twice in three previous appearances. But as Anirban Lahiri showed at Sawgrass, all you need is one week to spur a revival.
"Just one of those things, the moment you strike the golf ball you know exactly how far you're hitting it," Vegas said. "It just gives you that extra confidence that we all need out here, just to play well."
Ball doesn't drop for JT, still goes low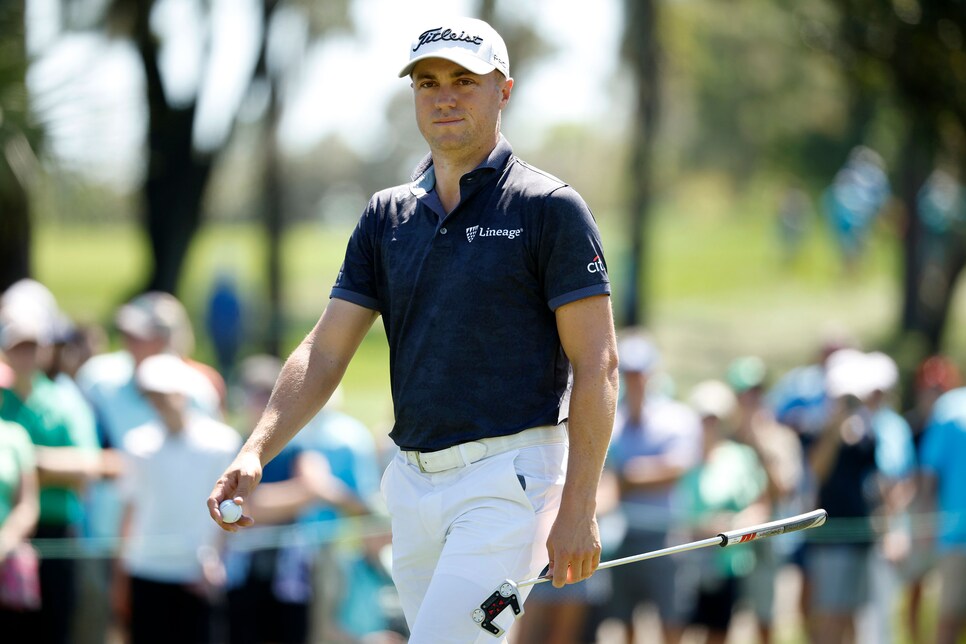 Listen, even the best players in the world have those days where the cup posts a "Sorry, we're closed" sign. Justin Thomas certainly qualifies as one of the world's best, and today was one of those days where there was a goalkeeper in front of the hole.
And when those days happen, we're usually discussing a round in the mid-70s. Only, somehow, Thomas turned in a five-under 66.
"These greens are very tough to read to where the grain is very subtle and it goes a lot of different ways," Thomas aid. "They do a great job with the pin positions of kind of putting them on little subtle spots that maybe stop breaking when they get to the hole or whatever. And man, I hit a lot of really, really good … I mean, probably five, six, seven putts today felt like that easily could have gone in that didn't."
Now, there's a tendency for all golfers, no matter their proficiency, to look back at a round and believe there could have been a few more putts that could've dropped, should've dropped. That's the nature of the beast. But Thomas isn't fooling. He lost 1.272 strokes to the field in putting Thursday, 112th in that category. Just to underline the expanse between the short game and the rest of his game, Thomas ranked first in Strokes Gained/tee-to-green at a 5.129 clip.
Granted, Thomas isn't the best of putters, ranking outside the top 100 players in SG/putting the past three seasons and well outside that barrier this campaign. But when he gets hot, the rolls usually drop.
Conversely, Innisbrook's greens are not the easiest to navigate, and Thursday did not spin Thomas into a crisis of confidence.
"I mean it was frustrating, but at the same time it wasn't because—I mean I was hitting them where I wanted to and I was hitting them the speed I wanted to," Thomas said. "Those are the two things you try to do on every putt, and especially when you're in the afternoon, I mean the greens are obviously going to be more beat up.
"And when [Kevin Kisner]—I'm playing with one of the best putters in golf and he's kind of confused on some putts, too, I mean that goes to show you, it's not—it's a stupid game that we play sometimes. I hit a lot of great putts inside of 12 feet that burned the edge and didn't go in and then I made a 64-footer. So sometimes it doesn't make sense."
Can't decide if "It's a stupid game that we play" or "sometimes it doesn't make sense" should be plastered on every first time around the world, but consider this an official motion to get that effort going. Still, Thomas founds himself just two back of the lead heading into Friday.
From club throw to hole-out
Charl Schwartzel is usually a model of equanimity. That model was broken Thursday afternoon.
The best part? The golf gods are unjust, but upon seeing that they broke Schwartzel, must have realized, "Boys … we went too far," thus rewarding him with the following shot a short time later…
Kudos to Dan Hicks for working "Slam dunk!" on the first day of March Madness. Sports synergy at its best.