News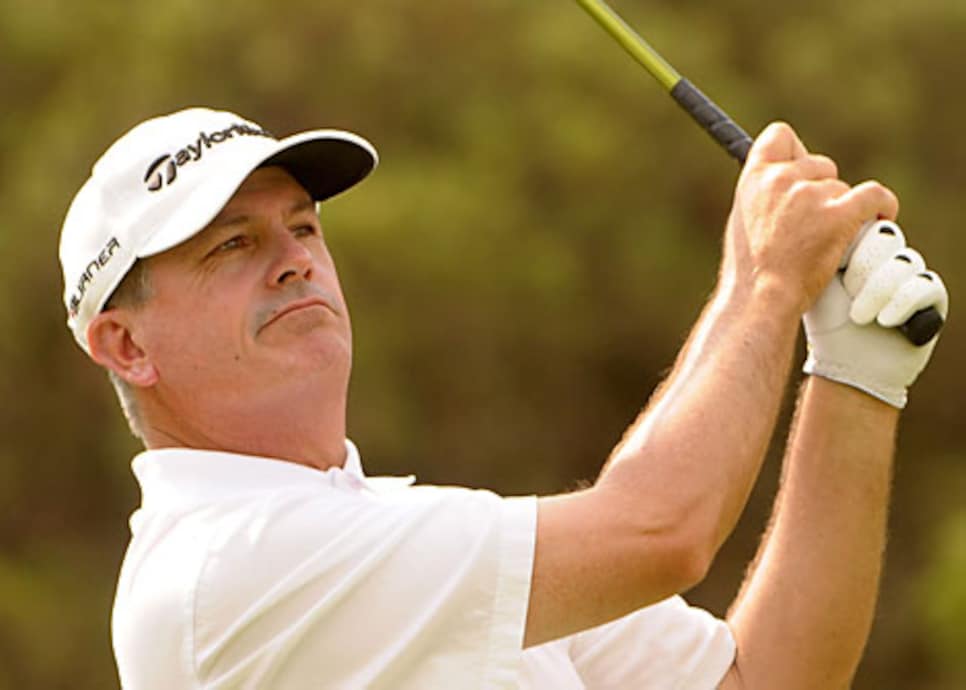 Goydos followed up Thursday's 63 with a round of six birdies and one bogey.
SAN ANTONIO (AP) -- Paul Goydos remembered hitting one mediocre shot Friday in the Texas Open, but not any bad ones.
Goydos followed his opening 7-under 63 with a 65 to reach 12 under 128 on the La Cantera Golf Club course - three strokes ahead of three-time champion Justin Leonard and four others. It's the biggest lead Goydos has ever had on the PGA Tour.
"It's just kind of like being the pace car, for lack of a better word," the 44-year-old Goydos said. "We're going to go out and play two more rounds of golf, but the tournament's going to be in front of me tomorrow, which is kind of cool."
Leonard, tied with Goydos after the first round, shot a 68 to join Scott Sterling (63), John Mallinger (64), Mathias Gronberg (65) and Ted Purdy (67) at 9 under.
Gronberg opened the tournament with a 66, then went to work quickly chasing Goydos. Using a pitching wedge, he holed out for eagle from 123 yards on the par-4 12th and followed with birdies on the next two holes.
"It's a good place for me," said Gronberg, who finished third in 2007. "Normally certain players play good in certain places, and this golf course has been very good to me over the years."
Defending champion Zach Johnson was seven strokes back after a 67.
"Maybe a little polishing on the weekend, and hopefully we can make a push," Johnson said.
David Duval shot a 69 and was seven back, fading down the back nine after birdieing four of his first nine holes and getting within a stroke of the lead. Still, the world's former No. 1 made his first tournament cut in three months.
Trouble began for Duval, who hasn't won a tournament since 2001, when his tee shot on the par-4 11th hooked badly into the rough.
Duval and a rules official studied the ball, tucked around dry brush and rock, and Duval's options for about a minute. The 2001 British Open champion tried about every angle that might of given him a chance before resigning himself to take a penalty stroke and start over.
He sputtered to another bogey two holes later, when he missed a 12-footer on No. 13. The 37-year-old rebounded with a birdie on the next hole, but finished the round with by missing a 7-footer that would have saved par.
"I feel like I've been playing exponentially better than my scores have been," Duval said. "I'm finally getting closer to scores I think are representative of how I'm playing. ... I'm trying to have a chance to win golf tournaments."
Among those not making the cut was Jesper Parnevik - or his caddie, Lance Ten Broeck. In a rarity that PGA Tour officials in San Antonio believed hadn't happened on the tour in years, Ten Broeck caddied and played in the tournament when he filled in as an alternate.
The 53-year-old former tour regular shot an even-par 70 on Friday before toting Parnevik's bag the rest of the afternoon. He pulled the same double-duty Thursday, and was so unprepared that he was driven to a nearby mall to buy pants. Ten Broeck also had to borrow clubs both days.
He finished at 1-over 141 to miss the cut by two strokes.
But he finished ahead of Parnevik, who was 4 over.
"Physically, I'm fine," Ten Broeck said. "I'm just disappointed that I didn't play any better. I know I was close."