The Loop
Valero Texas Open winner Charley Hoffman enjoyed week even more than #SB2K16 boys
It has been quite an eventful week in golf, what with Tiger's glutes apparently beginning to fire again and the frat brothers — Spieth, Thomas, Kaufman, Fowler and Blutarski — doing #SB2K16, as they called it, or the fifth major, as we know it.
Tiger Woods put on a clinic, albeit not the kind for which he was renowned, and the fun bunch put on a show — Bahamas, Bros and Beers — that played out on Snapchat to rave reviews.
But lost amid the good news and good fun was the fact that an actual golf competition was taking place, the Valero Texas Open.
Suffice it to say that it was irrelevant to Charley Hoffman that it was largely played in a vacuum. When his nine-foot birdie putt on the 18th hole on the AT&T Oaks Course at TPC San Antonio fell on Sunday, his elation was evident and was reinforced by two simple words.
"About time," he said of this, his fourth PGA Tour victory.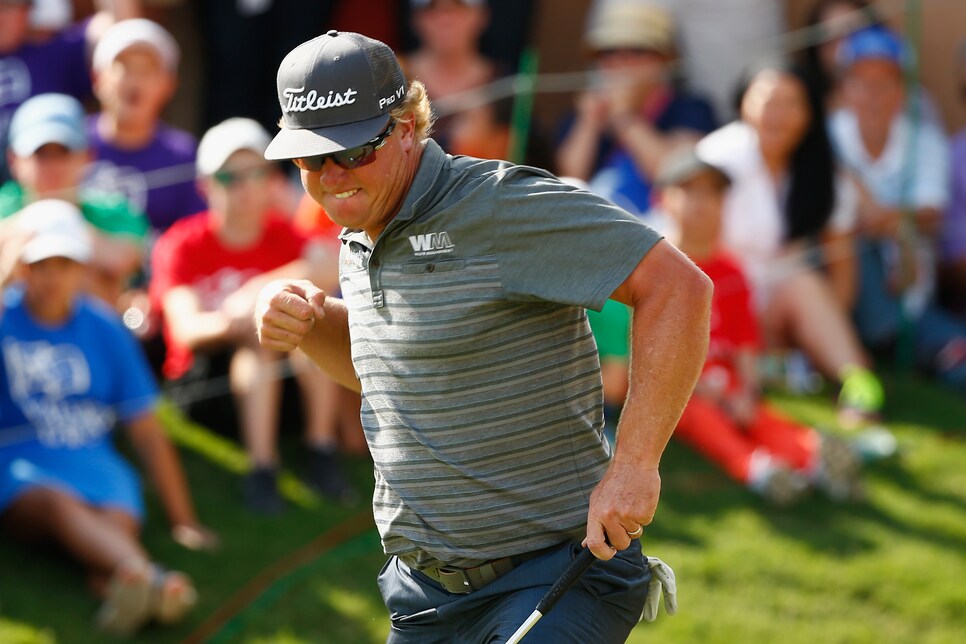 It came in the wake of a series of regrettable Sundays that foiled bids to win. Entering the Valero Texas Open, Hoffman ranked 200th in the final-round scoring (74.75). This time, he closed with a three-under par 69 that matched the two who finished second and third, Patrick Reed and Chad Collins, one and two strokes in arrears.
"Being in contention every Sunday and not closing the door is not me," an emotional Hoffman said alluding to recent performances. "It's nice to make that putt, that's for sure."
This time the hole stood still for him. For most of the year, tfrom inside 10 feet, it has represented a moving target, hence his ranking 189th on the PGA Tour from that range. On nine-foot putts, he ranked 160th.
Yet on this Sunday he found his range. He made a nine-footer for birdie on the 11th hole, a six-footer for birdie at 14, and five and seven-foot putts to save pars at 16 and 17.
At the par-5 18th hole, Reed nearly holed an eagle chip and had a tap-in birdie that seemed likely to send him and Hoffman to a playoff, given the latter's trouble from that distance. Instead, Hoffman hit a perfect putt, center cut, as they say, that won't appear on Snapchat. No matter.
Incidentally, #SB2K16 was like the Masters, invitation only. But rather than too many rules, as Augusta National has, there were no rules. No green jackets, either. For that matter, no shirts. Or shoes.
The frat boys had a great time last week. But Charley Hoffman had a better time.