Editor's Letter
Valentino Dixon will draw your course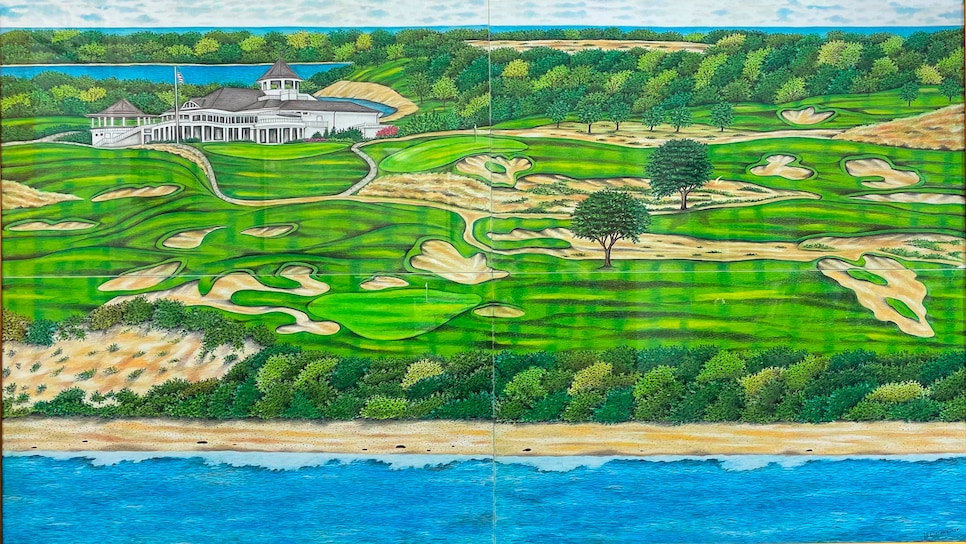 VIVID DETAIL Dixon uses colored pencils to create his meticulous golfscapes.
Pascucci got Dixon's number from his golf buddy, Bryant Gumbel, who happened to be the host of the segment on HBO Real Sports. Next he mailed several photos of his beloved Long Island links to Dixon and told him to pick one. Dixon did, and he recommended a large size across four panels (a retained workaround technique he developed for creating large art in a cramped cell) and named his price.
"I said you got it. But he refused any money upfront," Pascucci says. "I asked him, 'How do you know I'm good for it?' "
Dixon has been exonerated and out for more than two years and lives with his grandmother in Buffalo. Among many new skills of the modern world, he has learned to use a smartphone and could have Googled Pascucci to know that he is a businessman of integrity with his own remarkable journey. But the truth is, 27 years looking over his shoulder in a dangerous environment cultivated within Dixon a sixth sense for judging character quickly.
The drawing took three months to complete. In this time Dixon also sold a piece to Michelle Obama. He told me about it right away, and during the holidays I had fun dropping to friends and family that I knew what Barack Obama was getting for Christmas, even though he didn't. Recently, tennis great John McEnroe commissioned work, asking Dixon to apply his green pencils toward rendering the grasses of Wimbledon.
But not all collectors of Valentino Dixons are high-profile. Dr. Christian Daniel is a family-care physician practicing in Wilmington, N.C. He hasn't played golf since he was a kid but has a passion for outsider art. "The label 'outsider' applies to self-taught or untrained artists who aren't making work predicated on art historical references," says Andrew Edlin, owner of The Outsider Art Fair and the man who arranged the sale with McEnroe. Often, they come from the fringes of society and create art out of necessity. Daniels recently completed a major sale to a museum of a Minnie Evans piece he picked up for close to nothing. The late Evans was a Black domestic worker on an estate in Wilmington who often gave away her psychedelic crayon drawings for free.
"In the outsider world, you appreciate the art but often it's the story that gets you," Daniel says. "Like Evans, Dixon's art speaks for itself. You don't have to give a damn about his story to be wowed by the talent and beauty." Daniel actually gives much more than a damn. He has hosted Dixon in his home and has advised him on his potential to be a social-justice advocate.
Daniel owns more than 20 Dixons, mostly the 7-by-9-inch size that were the first experiments in prison. "They're so much better in person, tight and small, clearly done by a guy who had all the time in the world to make them perfect." The packaging, however, nearly gave Daniel a coronary. "He'd stuck the drawing between two sheets of printer paper and put it in a priority-mail envelope."
Worry no more. Dixon has since upped his shipping game to a pro level.
Watch our fun 'Off-Course' video with Spieth below:
As the writer who introduced Dixon's case to the golf world, I've facilitated a handful of art sales in the way Gumbel did for Pascucci. I've always done so with slight unease, as there's a saying in journalism that we're not here to put people in business or out of business. The humanity here probably transcends that rule, but I have no desire to be an art broker. I simply want to announce that Valentino Dixon is set up to fulfill commissions. You can email his assistant at Liz@ValentinoDixon.com. Prices begin at $3,000, and delivery will fluctuate according to demand.