The Loop
Vagaries of match play can't keep USC women from their No. 1 ranking
](http://www.golfdigest.com/contributors/ryan-herrington)__
Could match play unfairly level the playing field among college golf's top women's teams? That's the fear some have when the NCAA Women's Division I Championship committee agreed to add match play to help determine the team winner at nationals starting in 2015. If a certain team is the dominant force in stroke play thanks to its depth, but finds the vagaries of match play working against them, is that really how you want to determine the best team in college golf?
Yet the USC women did they best to prove that the vagaries of match play don't always work against the best teams. Playing at the Liz Murphey Collegiate last month in Athens, Ga., (sight of their 2013 NCAA title), the Trojans finished fourth in the 18-hole stroke-play qualifier, yet marched through the match play bracket to win their eighth title of the 2013-14 season. When you're good, you're good, no matter what format you play an event (and kudos to Georgia and coach Josh Brewer for deciding to try match play, providing a nice chance for top teams to give the format an early look before it goes into place next season).
After knocking off Arkansas in the championship match, USC remained the unanimous choice of the 20 voting coaches in the latest Golf World/WGCA women's Division I college coaches' poll.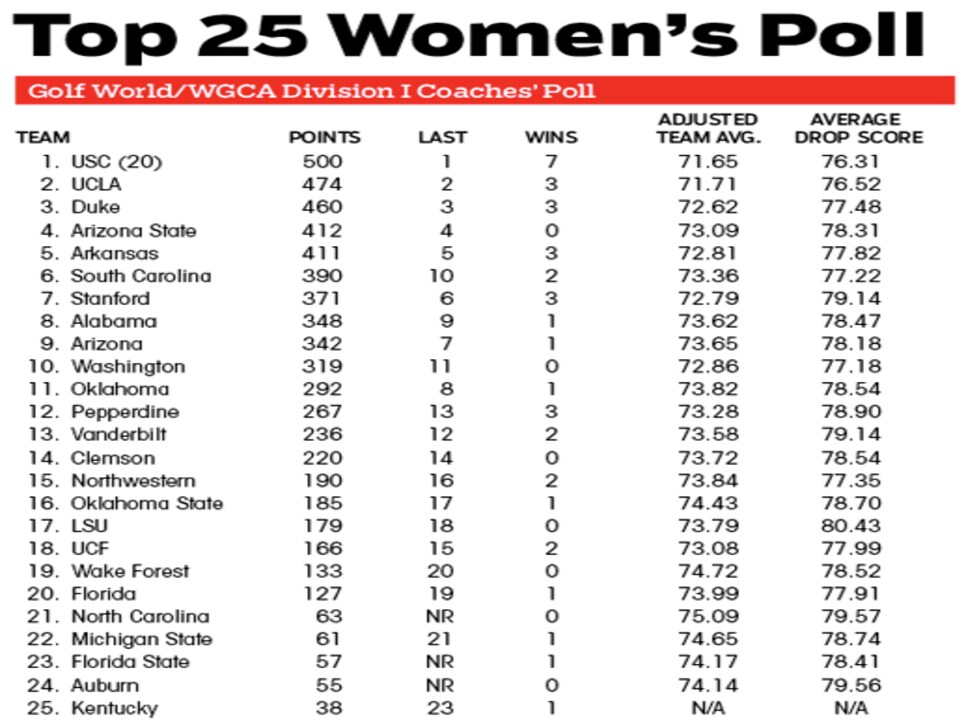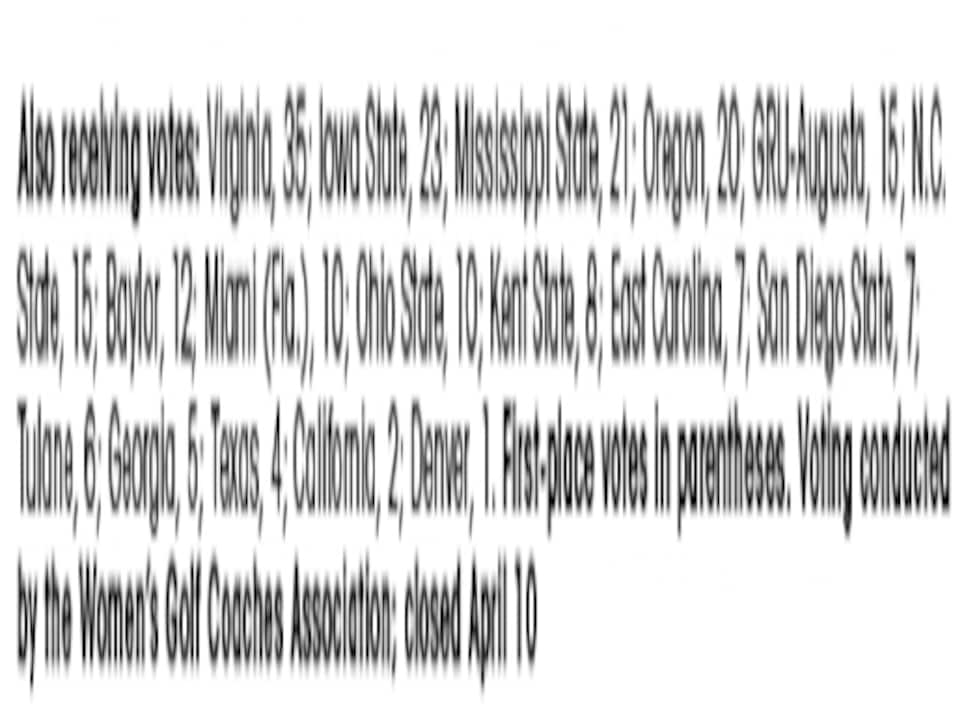 A few tidbits from the latest D-I poll: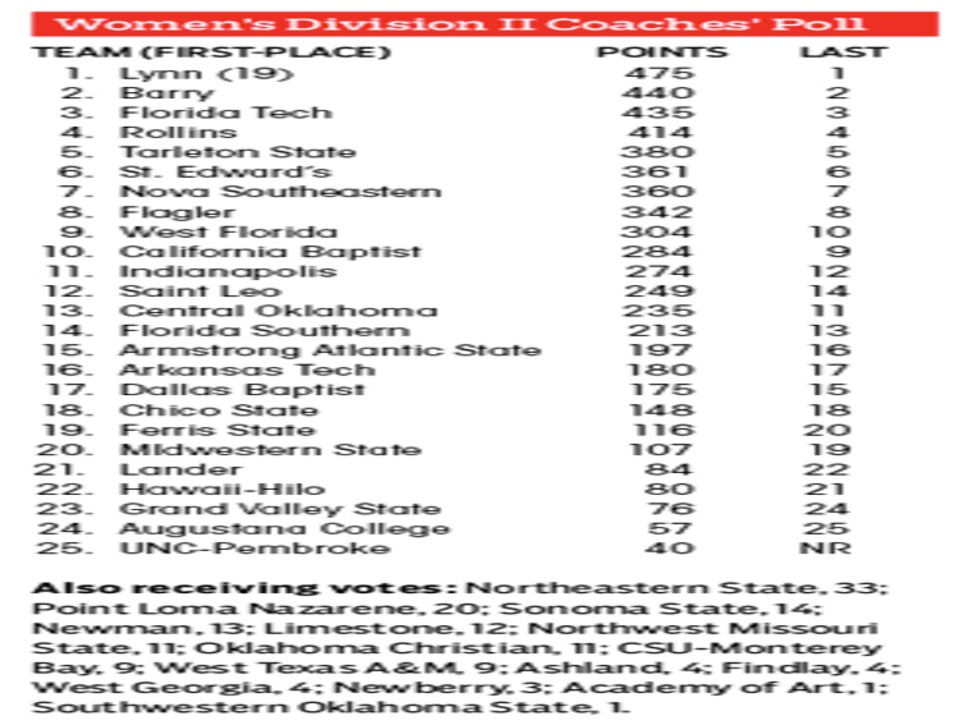 Lynn University remained the unanimous No. 1 team in the latest Division II coaches' poll. The Fighting Knights claimed their eighth team title of the 2013-14 season at the Bash at the Beach en route to receiving all 19 first-place votes. After the voting closed, the squad claimed its ninth victory, winning the Sunshine State Conference title by four strokes. The team takes this momentum into the NCAA postseason where it will try to defending its 2013 national title.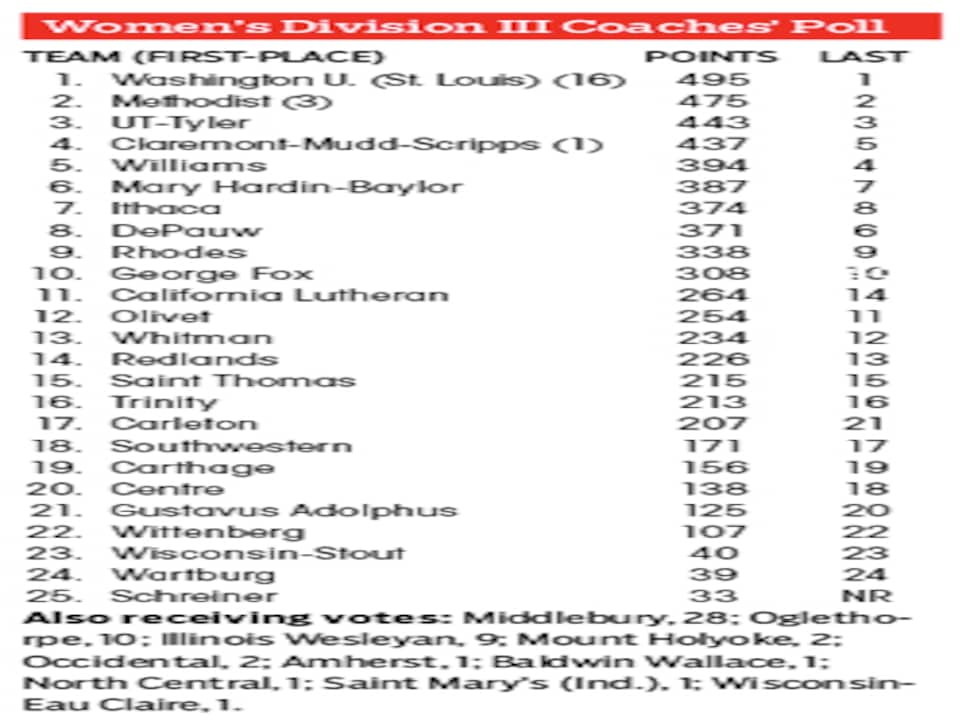 Washington U. of St. Louis held strong to the top spot in the latest Division III coaches' poll. The Bears earned 16 of the 20 available first-place votes after winning four of their eight tournament starts. After the voting closed the squad claimed its fifth victory of the 2013-14 campaign with at the Illinois Wesleyan Spring Fling.
Methodist remained No. 2 in the poll, earning three first-place votes, with UT-Tyler hang in on to the No. 3 spot in the poll. Claremont-Mudd-Scripps moved up to No. 4 spot, earning the other first-place vote, with Williams rounding out the top five.