Short Game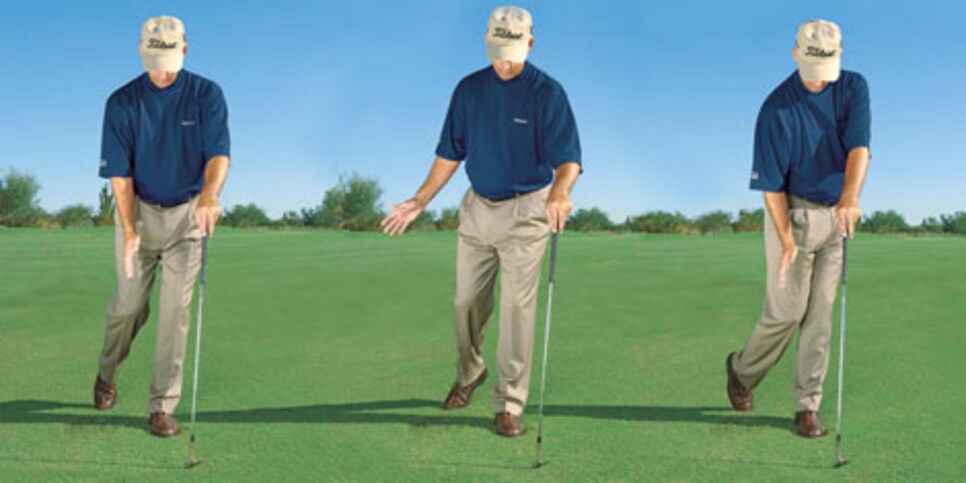 DON'T TILT: The left side of your belt shouldn't pull up on the downswing.
KEEP YOUR WEIGHT TOWARD THE TARGET
On virtually every short-game shot, you want to start with your weight forward and keep it there. To feel this, put all of your weight on your left foot and move your right foot back so only the tip of your shoe is on the ground. Hold the club in your left hand and balance yourself with it. Now, simply turn your right hip back, keeping your shoulders and hips level. Stay on your left side as you turn through. You'll get a sensation of rotary action on top of a single axis, not a slide or a tilt.
WHAT WEDGES DO YOU NEED IN YOUR BAG?
Bounce—the part of the clubhead that hangs down behind the leading edge and allows the club to skid instead of dig—makes wedges play differently. A 58-degree club with 12 degrees of bounce offers the most flexibility from sand and grass. I also carry a 52-degree gap wedge and a pitching wedge, but the 58 gets most of the action around the green. It's a more useful club than a 60-degree with no bounce (right), which is harder to hit from sand.