News
U.S. Women's Open 2020: There's another wall causing a stir in an LPGA major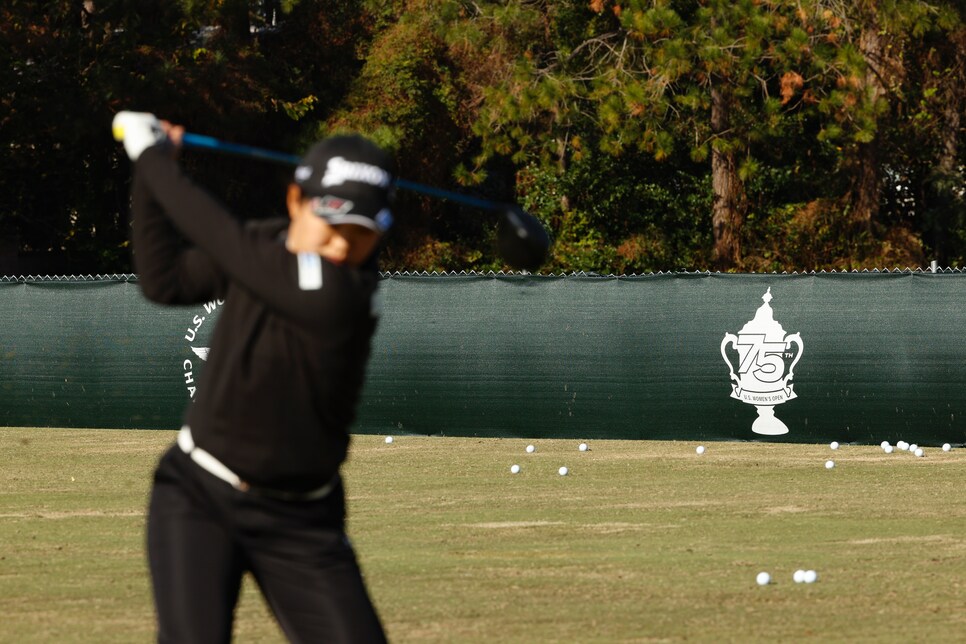 In the foreground, Nasa Hataoka hits shots on the Champions Golf Club driving range, which has been divided in half this week by a fence.
Chris Keane
HOUSTON—Another LPGA major, another wall.
This one won't impact the outcome of the tournament at least.
At this week's U.S. Women's Open there is temporary fencing that runs most of the width of the driving range at Champions Golf Club. With a 156-player field, the wall is there so both ends of the double-sided range can be used at the same time, and to prevent balls from a handful of long hitters rolling up near players on the opposite side.
The range is 300 yards long, and the fencing on each side is only about 30 yards in front of where players are teeing off, meaning it makes for not just an awkward look, but awkward shots, too.
"I'm not thrilled about it, to be honest with you," said Danielle Kang, who is making her first start since a runner-up finish at the LPGA Drive On Championship-Reynolds Lake Oconee in late October. "I do a lot of wedge work. I do my wedge numbers with head covers every single day, so that's kind of bringing in a lot of obstacles for me."
When Kang first arrived this week and saw the fencing, she thought it was temporary. Then she found out it would be there all week.
"So I've been going into tents and trying to hit wedges," she said. "I went over there, behind the trees, and tried to hit it. I went across the range. I'm trying to find places where I do it, because routine is very important for me, and I want to be able to hit wedges.
"We actually scouted the entire range on where I could hit wedges without interfering with other players' practice, because I have to dial in my numbers. Every single day it's different, and that's very important to me."
The good news is that this one's not on the course and shouldn't cause any controversy.
At the ANA Inspiration at Mission Hills Country Club in in October, a now-infamous blue wall was placed behind the 18th island green in lieu of a grandstand when no fans were allowed at the tournament. It provided an advertising opportunity for the sponsor, but it also allowed players to use it as a backstop on the par 5. That included in the final round, when Mirim Lee's second shot banged into it, she got relief from the obstruction and chipped in for eagle. Without the wall there, it's likely her approach would have tumbled into the water behind the green. Lee went on to win the tournament in a playoff for her first career major.