News
U.S. Women's Open 2020: An amateur stalks the lead, and she's not alone in pursuit of history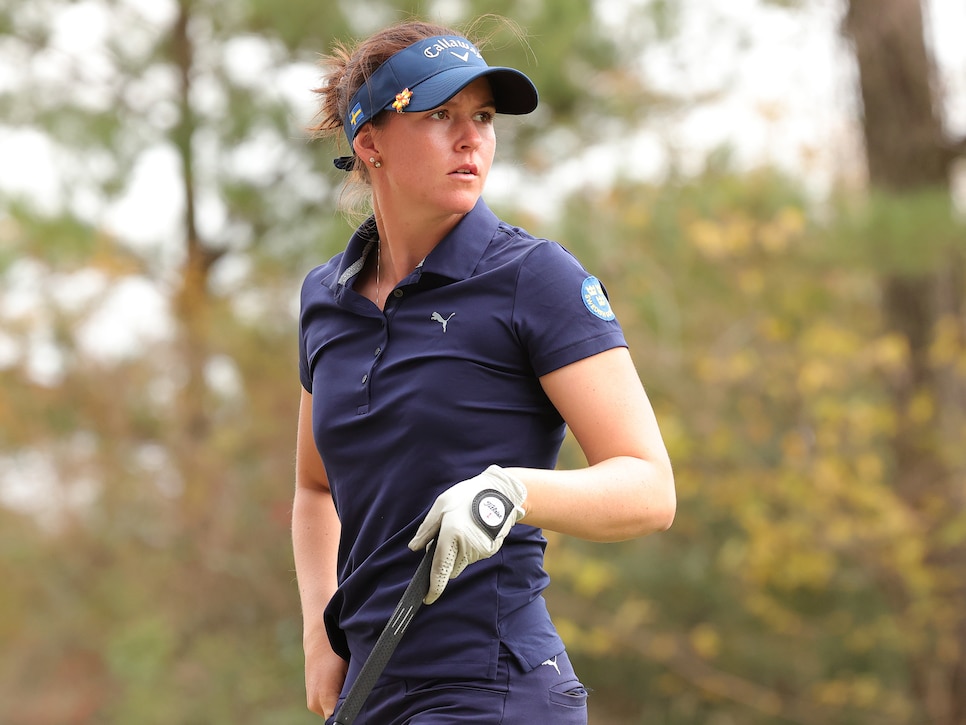 Amateur Linn Grant looks on from the 17th tee during the second round of the 75th U.S. Women's Open.
Carmen Mandato
HOUSTON — Only once in the 74 editions of the U.S. Women's Open has an amateur won the tournament. That was in 1967, when Catherine Lacoste built a five-stroke lead through 54 holes, then shot a final-round 79 and held on by two at The Homestead.
(In comparison, it has happened eight times in the men's game, though not since 1933, when Johnny Goodman was the last to do it.)
More than a half-century since Lacoste's seminal moment, before she went on to serve on the board of the fashion company founded by her father, Sweden's Linn Grant hopes to become the second. A 21-year-old redshirt sophomore at Arizona State, Grant enters the weekend at Champions Golf Club in solo second after a second-straight 69 on Friday, leaving her just three strokes off the lead of Japan's Hinako Shibuno.
Grant is hardly alone in her pursuit of history.
Another stroke back, and the third player in Saturday's lead grouping, is University of Texas senior Kaitlyn Papp. Four other amateurs, including two more from Sweden, are in the top 30 and within eight of the lead.
That a number of amateurs are playing well so far this week isn't a terribly big surprise. Seven times in the tournament's history an amateur has finished in second. Hye-Jin Choi was the last to do it just three years ago. And only two years ago, Grant was tied for fourth entering the weekend at Shoal Creek before flaming out and finishing T-57.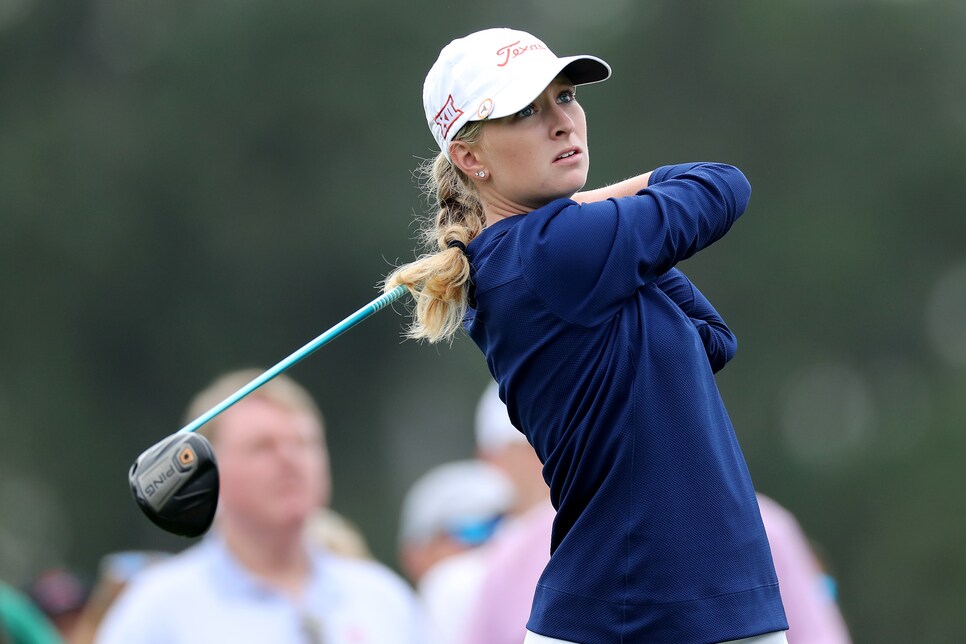 Kaitlyn Papp, shown playiong in the inaugural Augusta National Women's Amateur, said the experience that college players are getting is a key to them contending in pro events.
DC
Still, it begs the question: Why?
"I think a lot of it has to do with college golf," Papp offered after her 68 on Friday. "I feel like college golf really prepares us for the next level and to play well in championships like this. And for the girls who are coming from overseas, there's been a lot of playing opportunities. I feel like with this whole COVID year we've all had the chance to get better at our golf games."
Of the aforementioned group, however, Grant seems perhaps most likely to break the drought and join Lacoste.
A product of a government-subsidized elite sports training program in Sweden, Grant became an accomplished player at early age. In 2016, she represented the country at the European Girls' Team Championship, leading Sweden to a runner-up finish that year and a victory the following year. She also won the 2017 Ladies British Amateur Stroke Play Championship at North Berwick, then helped carry Sweden to a record three titles (2018-'20) in the European Ladies' Team Championship.
Grant also won a slew of individual amateur titles, and as a redshirt freshman at ASU in 2019-'20, she finished in the top 10 in five of her seven events and had one victory.
The game is also in Grant's blood. Her grandfather, James, was a Scottish golf professional who had an offer to continue his playing career in the United States, but ultimately chose the security of a job offer to be a teaching pro in Sweden. And her father, John, played collegiately at West Florida before also briefly playing professionally.
It's little wonder then that Grant feels comfortable with the position she's in heading into the weekend in Houston. A complete payer with a deft short game, her skills are also well-suited for the difficult Champions Golf Club, where only 19 players in the 156-player field are under par after two rounds.
"I think we've been raised looking at a lot of good players, and we've been able to look at them through Instagram and see what they do, and we just copy what they do," Grant said in offering yet another explanation as to why the amateurs continue to play so well. "When we feel that we've reached that level, we kind of move on, and I think it's the same for the generations coming after us. I think people are just going to get better."
She also remembers her experience two years ago at Shoal Creek, where playing in the second-to-last group in the third round, her father, who was caddieing for her as he is this week, misread the yardage marker to be 89 yards when it was actually 68 yards. She flew her wedge flew 20 yards over the green, shot 78, and was even worse the next day with an 81.
"That was probably the worst thing that could happen," she said. "I feel like I've experienced that now, being in that position that I was back there. So I feel like I can do better this time for sure."