Golf Digest U.S. Open Contest: The Final Four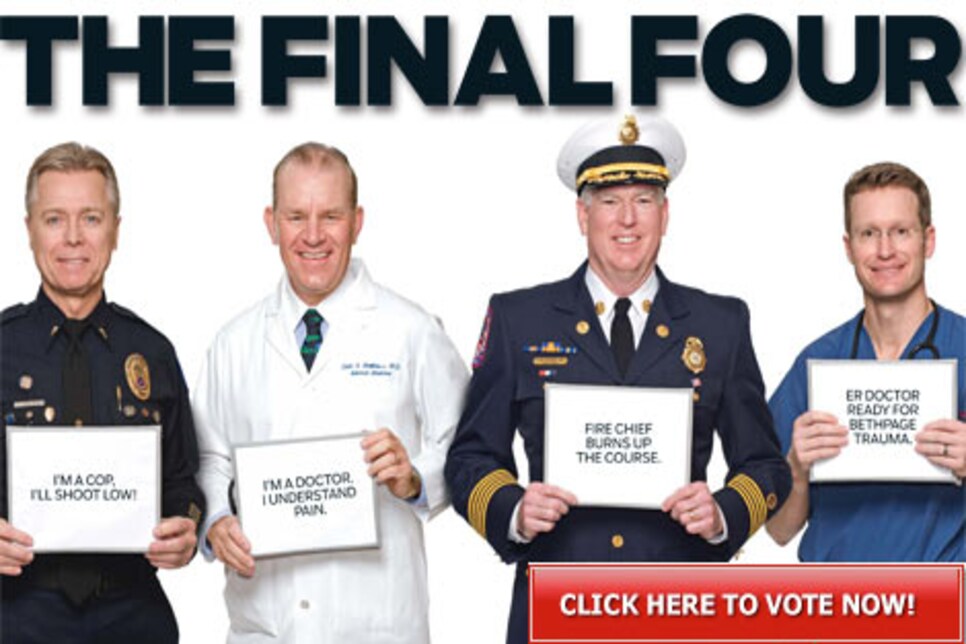 You've overwhelmed us again.
From 56,374 entries last year to 73,581 in Year 2, the Golf Digest U.S. Open Challenge has generated more response and excitement than anything we've ever attempted. And now from the stacks of six-word essays and deserving author-golfers behind them, we've found a police lieutenant from Scottsdale, an internal-medicine doctor from Virginia, a fire chief from Maryland and an ER trauma physician from outside Philadelphia. All of them are average American golfers who told us in six words why they should be the one who gets to play with Michael Jordan and two other celebrities in June at Bethpage Black in the second U.S. Open Challenge.
From here the choice is yours, and by taking a moment to vote for a winner online, you'll be eligible to win some pretty amazing prizes. Between March 19 and May 1, anyone 18 or older can click on gdopencontest.com, watch videos of the four finalists and vote for the player you'd most like to represent average golfers by playing a count-every-stroke round on the U.S. Open course. You can vote once a day, and the more times you vote, the more chances you'll have to win.
The two Grand Prizes are tickets for the week and a trip for you and a friend to the 2010 U.S. Open at Pebble Beach. Another sweepstakes winner will receive a trip for your foursome to Myrtle Beach. Additionally, one voter a day will win a $50 American Express gift card.
We'll assume for a moment that you're reading about the Challenge for the first time, so here's the background. A little over a year ago, Golf Digest joined forces with the United States Golf Association and NBC Sports to create a first-of-its-kind event in which an average Joe golfer would get to find out just how high he'd shoot on the same course that U.S. Open competitors play, with a USGA rules official observing. The round would be played in the company of three celebrities, and NBC Sports would record every shot for a nationally-televised broadcast on U.S. Open Sunday. You might recall at Oakmont in 2007, when Tiger Woods said of that U.S. Open setup, "A 10-handicapper isn't breaking 100 out there."
__IT'S EASY TO GET A USGA
Phoenix police lieutenant Larry Giebelhausen was the only finalist who didn't have a USGA Handicap Index, so he decided to get one. With help from Susie Womack, the head pro at Kierland Golf Club in Scottsdale, and Assistant Pro John McSwain, Larry completed a form, paid $35 and learned that after he posts five scores he'll have a USGA Handicap Index through the Arizona Golf Association. Giebelhausen guesses that he'll have an Index of about 8.0 because he usually shoots in the 80s. By April 1 he'll have a USGA Handicap Index that can be converted to a Course Handicap at the courses he plays during the year.
At Torrey Pines last June, the USGA arranged for our foursome of John Atkinson, an 8-handicapper from Omaha, and celebrities Justin Timberlake, Tony Romo and Matt Lauer to play the 7,643-yard Torrey Pines South Course from the same tees and to many of the same Sunday hole locations that Tiger and Rocco would face a little more than a week later. The results weren't pretty. Atkinson shot 114; Lauer, a 6-handicapper, shot 100; Timberlake, also a 6, shot 98; and Romo, a 2-handicapper, shot 84.
This time, we asked entrants to tell us in exactly six words (down from 100 words in Year 1) why they should be the one to represent average American golfers in the second U.S. Open Challenge, playing with Jordan and two other celebrities at Bethpage, with NBC recording it for a 90-minute special that will air immediately preceding the network's final-round coverage of the 2009 U.S. Open.
Not surprisingly, we didn't hear from many Hemingways or Shakespeares (and we read every entry twice), but we did learn enough from several hundred of you to advance a group to Phase 2. "The Marine Corps wasn't hard enough," wrote one. "Heart surgeon looking for bigger challenge," came another. And one of our favorites: "Let's be honest, Tiger was right." That narrowed the field from 73,581 to 581, and from there we began looking into the golf skills of our authors. We can debate the level of an average golfer, but there's no disputing the agony of putting an inadequate golfer on a U.S. Open course with celebrities, TV cameras and a gallery.
From the remaining 581, we identified 81 candidates and began working the phones. Next came a whirlwind tour of various U.S. airports and nearby hotel lobbies, where we met dozens of golfers who were amazed we'd called their number. From that group we invited 11 semifinalists to join us for an all-expenses-paid stay at PGA National Resort & Spa, home of the PGA Tour's Honda Classic, where we spent a couple of days evaluating our potential finalists' golf competence, personalities and ability to handle the pressure of playing golf and talking in front of cameras.
We're left with four guys, three of them 50something golfers who are our answer to the complaints last year that our 30something finalists were too young. Visit gdopencontest.com today and begin voting for the player you think will best represent average American golfers and has the best chance to break 100 on the U.S. Open setup at Bethpage Black in June.