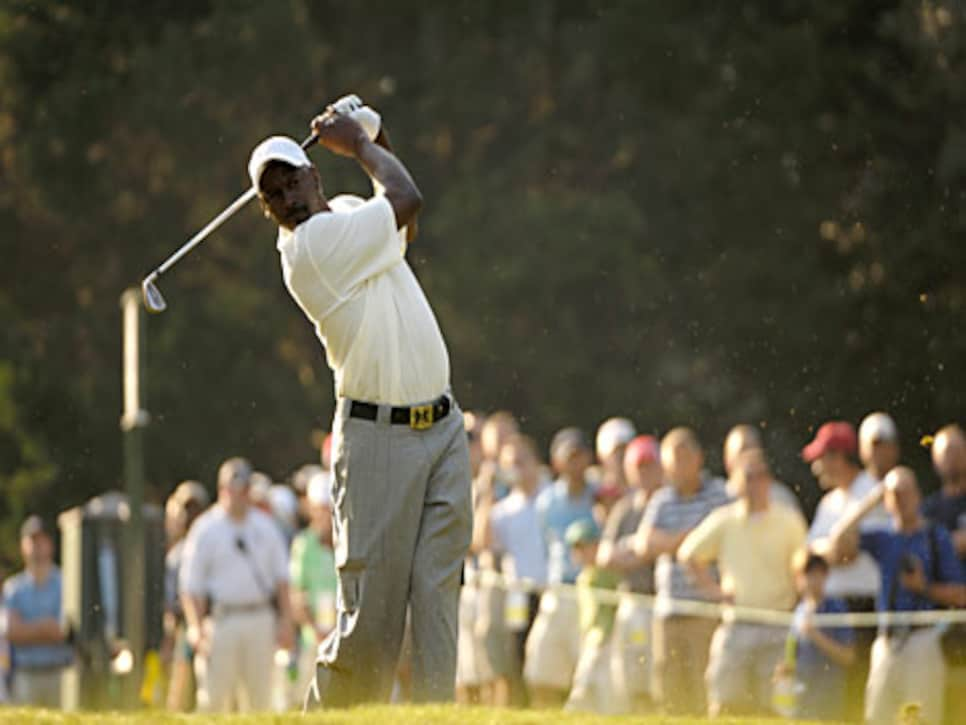 To enter click gdopencontest.com and submit your six-word essay on why you should represent all average American golfers in the 2009 Golf Digest U.S. Open Challenge.
Why do this? What possible upside is there in testing your golf game on an intimidating U.S. Open setup under USGA rules and having to post a score for everyone -- including anationwide NBC-TV audience -- to see? If that's a question you're struggling with and the reason you haven't entered our contest to play in the 2009 Golf Digest U.S. Open Challenge, you'll be comforted to learn that Michael Jordan wondered that, too.
"Oh, this was a difficult yes," says Jordan. "I've been in a little slump with my golf swing and haven't been playing well for the last couple of years. I had the shanks -- real bad. Now that I've gotten rid of them, I finally feel comfortable over the ball again. This will be another great challenge for my competitive nature."
Jordan is the first of three celebrities announced by Golf Digest, the USGA and NBC Sports who'll be in our foursome playing Bethpage Black a few days before the U.S. Open begins in June on New York's Long Island. Just as Tony Romo, Justin Timberlake, Matt Lauer and inaugural contest winner John Atkinson did last June at Torrey Pines, Jordan's group will be playing an 18-hole, count-every-stroke round with a USGA official following to call the rules. And NBC will be recording every shot for a show to be broadcast on Sunday before the Open's final round.
You could be the fourth member of the foursome by winning our six-word contest. So if you think you can break 100 at Bethpage, and you'd like to join Jordan and the others on the same course and play under the same conditions that Tiger Woods, Phil Mickelson and the rest of the Open field will face a few days later, you can enter at gdopencontest.com. Just tell us in exactly six words why you should be the average American golfer in the foursome. You can also submit a very short video to bring your words to life. For inspiration, you'll find sample videos at gdopencontest.com.
Jordan wasn't required to submit an entry, but his most telling words in discussing the Challenge were: "I'm not going to be embarrassed." His USGA Handicap Index is the same (1.4) it was when he last posted a score in spring 2007, but Jordan says his goal will be to shoot 85 or better. "Tiger doesn't know anything about me doing this," says Jordan. "I don't need his advice ... yet."
Jordan says he has never played at Bethpage, but he has told his good buddy Fred Couples that they need to play the course several times in the weeks leading up to the Open. Couples has volunteered to caddie for Jordan in the event.
"I love being around Freddie," Jordan says, "and for him to even suggest that he'd caddie for me in this ... Instead of my tour bag, I think I'll bring a little bag for Freddie."
Jordan has never played a course under major-championship conditions, but he has played many of golf's great courses from all the way back. "If I shoot anything surprisingly good, it'll only help my confidence," he says, "and if I shoot anything over 100, I might as well put my game in the bag. If Justin Timberlake can break 100, I know damn well I can."