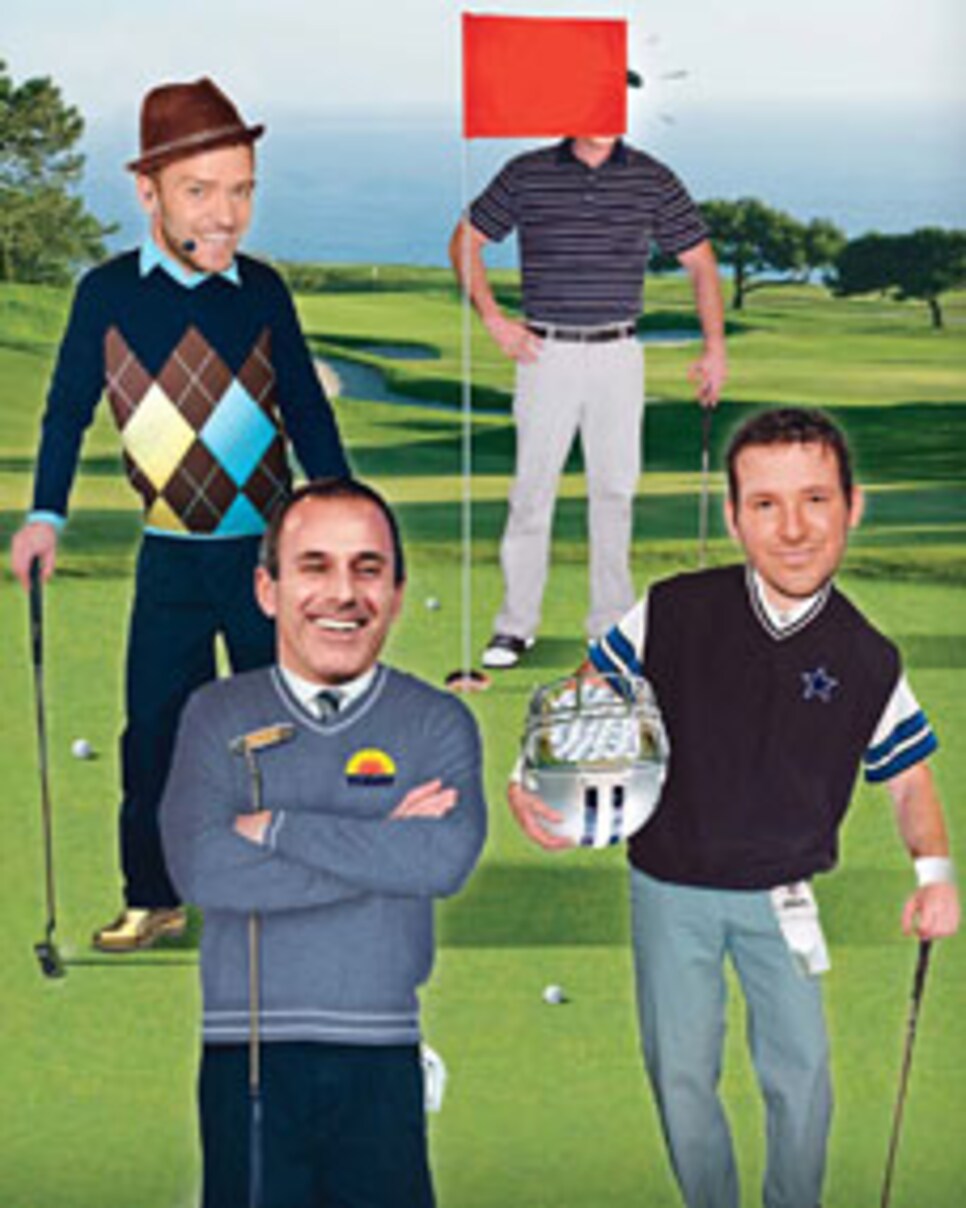 Think Matt Lauer, Justin Timberlake And Tony Romo won't be as rattled as John Atkinson when Golf Digest's U.S. Open Challenge is played before millions of viewers on NBC? "Oh, I'll definitely feel pressure," says Romo, one of three celebrities joining our contest winner. "Pressure is what you feel when you aren't confident in what you're doing and you've got people watching you." Our four players are good golfers capable of breaking 80 on a normal course. This might be a little different.
Tour player Scott Gutschewski is an authority on Timberlake's golf game, having partnered with the singer/actor at the '06 AT&T at Pebble Beach. "Justin's athletic, hits it solid -- nice and high, too. Doubt he breaks 80 often, but he's definitely capable. If he doubles every hole at Torrey, under Open conditions, how many is that? ... I'll put the over-under at 107." Timberlake has played Torrey Pines once, and he remembers how long it played then. "I'll be there for comic relief," Timberlake says. "I just hope Jessica Simpson doesn't show up so Tony does well."
As co-anchor of NBC's "Today" show for the past 11 years, Lauer has remained a single-digit handicapper by playing summer-afternoon rounds on Long Island and taking the occasional trip to Florida. Because he had wrist surgery last year and elbow surgery in January, Lauer says his 5.6 USGA Handicap Index is bound to climb before he arrives at Torrey Pines. "My goal is to break 100," he says. "If you look at Tiger's comment, it was that a guy of my handicap probably couldn't break 100 on a U.S. Open setup. I want to prove that wrong. Not Tiger, but the concept."
Break 100 at Torrey? The Cowboys quarterback says he'll be very disappointed if he doesn't break 80. "If it's really windy, you can add a big number to that." Romo, who shot a 69 in U.S. Open qualifying in 2005, played in the prestigious Azalea Invitational in Charleston, S.C., this past March. His scores: 73-80-69-81.