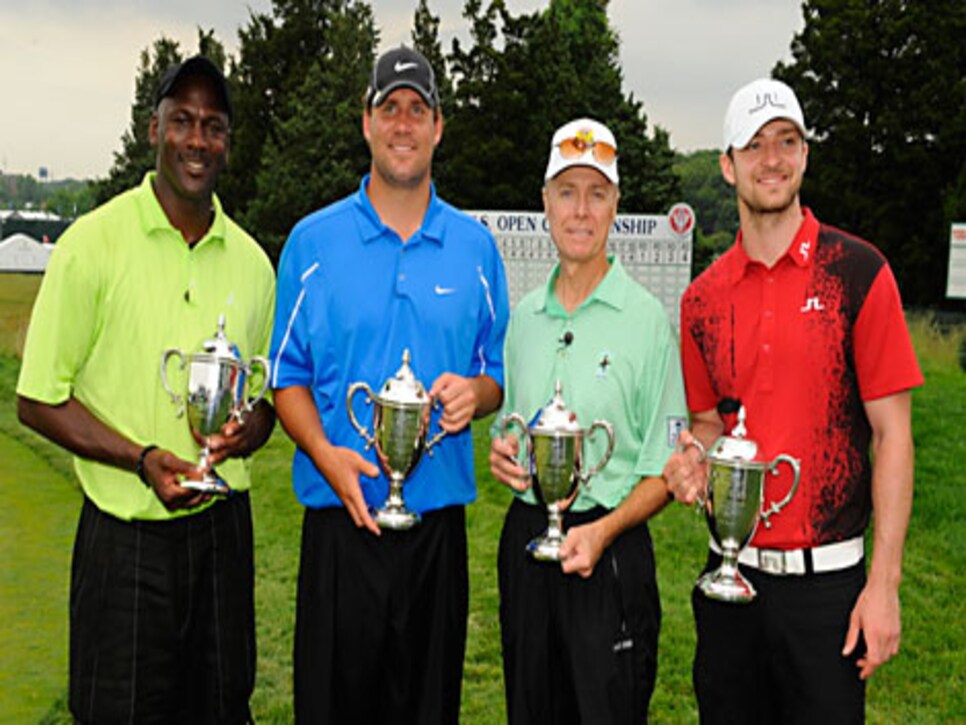 According to Roethlisberger, every other golf course will seem easy after playing Bethpage Black.
FARMINGDALE, NY -- As rain gave way to sun, and morning dragged into late afternoon, nothing about Bethpage Black got any easier for the four players in Friday's Golf Digest U.S. Open Challenge. Sure, the nerves settled a bit, and after a while you no longer felt like you were going to need an advanced degree in calculus to tabulate the day's scores (see scorecard below). But the same, punishing course that greeted Michael Jordan, Justin Timberlake, Ben Roethlisberger, and amateur contest winner Larry Giebelhausen on the first tee of next week's U.S. Open venue never let up until the final putts were holed.
"Every golf course we play from now on will seem easy," Roethlisberger said later.
The scores suggest as much. In the second edition of the Challenge, a joint venture with the USGA and NBC in which otherwise respectable golfers test the U.S. Open course under tournament conditions, Roethlisberger's 11-over 81 was the day's low, followed by Jordan's 86, Timberlake's 88, and Giebelhausen's 101. The six-hour, 20-minute epic, which will be televised on Father's Day, only seemed to underscore the giant chasm between recreational players and the professionals who will patrol the fairways here. And yet perhaps most remarkable is even with the inevitable blotches on their respective scorecards, each player managed to sprinkle in some decent golf.
Start with Jordan. He is arguably the greatest athlete of all-time, with six NBA championship rings to his credit, and scores of awed fans following his every move Friday. And yet even his close friend Tiger Woods bet Jordan he couldn't break 92 on the Black; and when the basketball legend approached the first tee, he admitted later he was a wreck.
"Because I'm playing a game that I'm not a professional at," he said. "If we're playing basketball, you could turn the camera guys on all day. But when you step outside your field, it's a whole different atmosphere. You become human, and I was nervous."
Still, Jordan managed to settle himself. After pulling his tee shot into the high fescue on the first hole en route to a triple-bogey 7, Jordan found himself eight-over par through his first four holes. But with caddie and friend Fred Couples helping to calm him down, Jordan managed to find something resembling a rhythm.
"Early on it was a very nerve-wracking experience," Jordan said. "But after a while, I said, 'I'm an athlete. I love playing the game of golf, so enjoy it. Whatever happens, happens.'"
In playing the final 14 holes in eight-over par, Jordan not only claimed second place behind Roethlisberger, but he also won his bet with Woods. His message to his friend in Orlando?
"I don't take checks," Jordan said to laughs.
Giebelhausen wasn't as fortunate in his own goal to break 100. Picked from 73,581 entrants for this year's Challenge, the 59-year-old Phoenix police officer started with a triple-bogey 7 on the first hole and fought nerves all day. But even then, he still played well enough through the meat of his round that it took a disastrous 10 on the par-4 16th to seal his fate.
"People will say the golf course was tough, and it is," Giebelhausen said. "And they'll say the golf course was long, and it is. And the golf course beat them, well, some might say that. But I think I kind of beat myself. But that's the way it is. Life goes on."
More important to Giebelhausen was that he gained new friends from the experience, from his three playing partners to their celebrity caddies: Couples for Jordan; Rocco Mediate for Roethlisberger, and Anthony Kim for Justin Timberlake.
"Hopefully I've got some friends for years to come," Giebelhausen said. "Hopefully they'll come through Scottsdale, Arizona. There's a lot of nice golf courses out there. Maybe we can tee it up under less stressful circumstances."
Granted, not everyone wilted in the conditions. Timberlake and Roethlisberger spent the early part of the day trading pars and within reach of one another for the lead. But while Timberlake faded late, Roethlisberger flourished. He rolled in the first birdie in the history of the Challenge -- last year at Torrey Pines there were none -- on the par-4 10th; and then followed that up with an otherworldly 4-iron out of the rough on the par-4 15th that set up another.
Roethlisberger's 81 bested by three his quarterback counterpart Tony Romo, who won last year's event; and won over a new legion of admirers in the process.
"I've never seen a bigger swing with that kind of control," Timberlake said of Roethlisberger. "The only guy who has that big of a swing with that kind of control is John Daly."