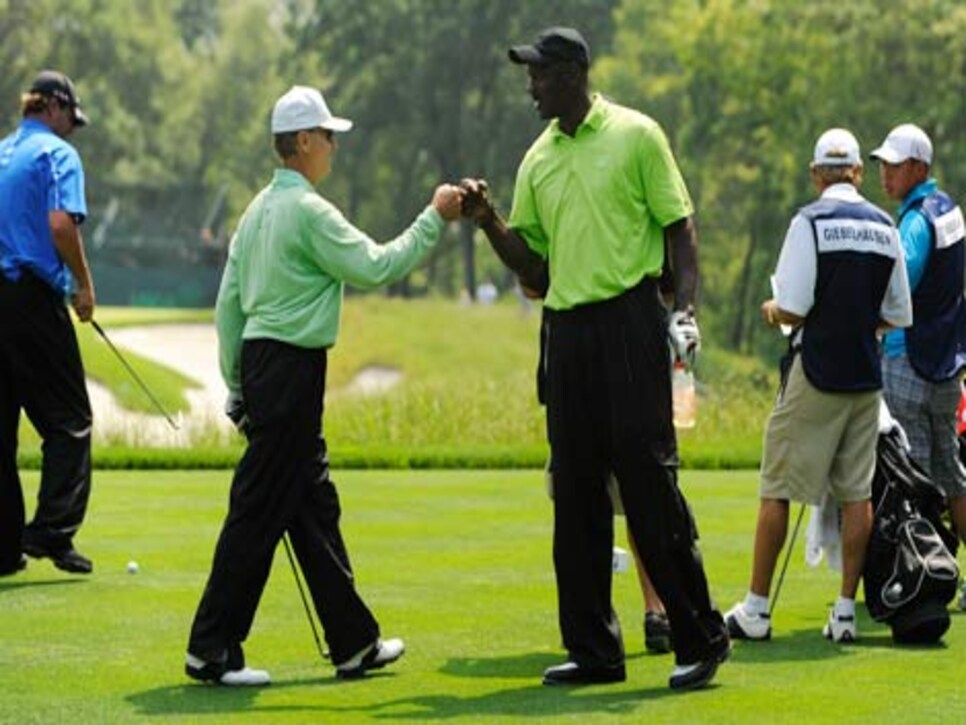 Rare Air: After each had hit great tee balls on the par-3 14th, Giebelhausen and Jordan celebrated the moment.
As made-for-TV, reality-show fare goes, the second edition of the Golf Digest U.S. Open Challenge was a bit of a letdown. Nobody cried. Nobody was fired. Nobody got tossed off an island, broke off an engagement or bad-mouthed a competitor for his crab ceviche.
That's not to suggest that NBC's June 12 taping for its June 21 airing of a 90-minute lead-in to fourth-round coverage of this year's U.S. Open lacked for entertainment, story lines or in any way failed to deliver the range of emotions and plot twists 18 holes can provide.
How could it miss? The basics were there: four golf junkies (tended to by an all-star lot of caddies) and 7,426 yards of Bethpage Black, complete with all the trimmings the USGA rolls out every third week of June: scorers, scoreboards, rules officials, television cameras, a few hundred family, friends and hangers-on -- and a brute of a course set up for a major championship.
Six hours and 17 minutes after Michael Jordan of Chicago, Illinois (that Michael Jordan) struck the first of the Challenge foursome's 356 blows (technically, 353; there was a lost ball and an unplayable -- the latter by Jordan after his opening foozle) the marathon ended when Justin Timberlake (that Justin Timberlake) tapped in for 4 on the par-70 Black's 411-yard 18th.
Amid the two birdies, 24 pars, 28 bogeys, nine doubles, seven triples, one quintuple and one sextuple, there were some quality shots. Larry Giebelhausen, the 59-year-old Phoenix police officer who earned the people's-choice slot in the foursome as the top vote-getter in Golf Digest U.S. Open Challenge balloting this spring, pured a 15-degree 3-wood on the uphill, par-3 17th. The blow was particularly noteworthy because it came on the sore heels of his 10 on the par-4 16th, a leg-weary implosion that headed Lieutenant Larry toward his final count of 101, just shy of the number that inspired the Challenge -- Tiger Woods' noting that a 10-handicapper couldn't break 100 on the 2007 U.S. Open set-up at Oakmont.
Timberlake, the only member of the foursome who played in last year's maiden Challenge at Torrey Pines and, by all accounts, a most improved player, had an 88, bookended by a dandy 80-foot bunker shot to three feet on the first hole and a sweet near hole-out from the hillside rough behind 18 green. Jordan, gracious and engaging throughout, but clearly nervous for the opening holes, settled down after making his first par on the par-3 eighth and played his final 11 holes in five over to land at 86 -- six whacks lower than the over/under 92 bet he had with Nike mate Woods ("I don't take checks," cracked Jordan afterward.) The best and most of the quality shots belonged to Ben Roethlisberger, the Pittsburgh Steelers quarterback and low single-digit handicapper, who had 81. Big Ben especially wowed caddie Rocco Mediate, himself no stranger to U.S. Open pressure and conditions, with birdies on Nos. 10 and 15, two of the toughest tests when the Open was at Bethpage seven years ago. The first was set up by a towering hybrid approach, the second by a 201-yard 4-iron from gnarly rough right of the fairway to an elevated green guarded by cavernous bunkers.
"The 4-iron on 15 was silly," said Mediate, who was joined in the caddie corps by Fred Couples (Jordan), Anthony Kim (Timberlake) and Mike LaBauve, a top-50 instructor from Scottsdale who prepped Giebelhausen for the event. "If I hit a 4 [-iron] there, it would have come up in the bunker. I'd never have made it. And I don't know if I could have hit a 3-iron solid enough from there. I couldn't have hit that shot. No way. He's just strong. Ben wanted to lay up on 10 and 15. I told him: 'Don't you dare.' "
To ready Roethlisberger, diehard Steeler fan Mediate summoned images of Santonio Holmes in the right corner of an end zone in Tampa's Raymond James Stadium with 35 seconds to play last February: "On the first tee I said to him: 'Let me ask you a question: When you threw that last pass in the Super Bowl, were you thinking about technique or just an area where you wanted to throw? He said 'An area.' I said, '[The green] is your area. I don't care how you get it in there, just get it in there.' There's no time for technique, even in golf."
When it was done, Jordan, unblinking in the face of defenders, hostile crowds and NBA shot clocks over a 15-season career with the Bulls, said he enjoyed the Challenge, but it was a challenge. "Early on, man, I was so tight it was amazing," he said. "I could not get loose to save my life. … I'm playing a game that I am not a professional at. If it's basketball, I can sit here and talk to you all day, or the cameras can be on all day. But when you step outside your field, it's a whole different atmosphere. You become human."
The fallible four had a team best-ball of one-over 71 (in contrast to a worst-ball 111). Giebelhausen's disappointment in his score was offset by the overall experience. "Friendships and relationships," he said, "that's what I'll take from this." For Roethlisberger the payoff took another form. "Mike and I were walking down the last fairway," recalled Big Ben. "We were saying: Every golf course we play from now on will seem kind of easy."