News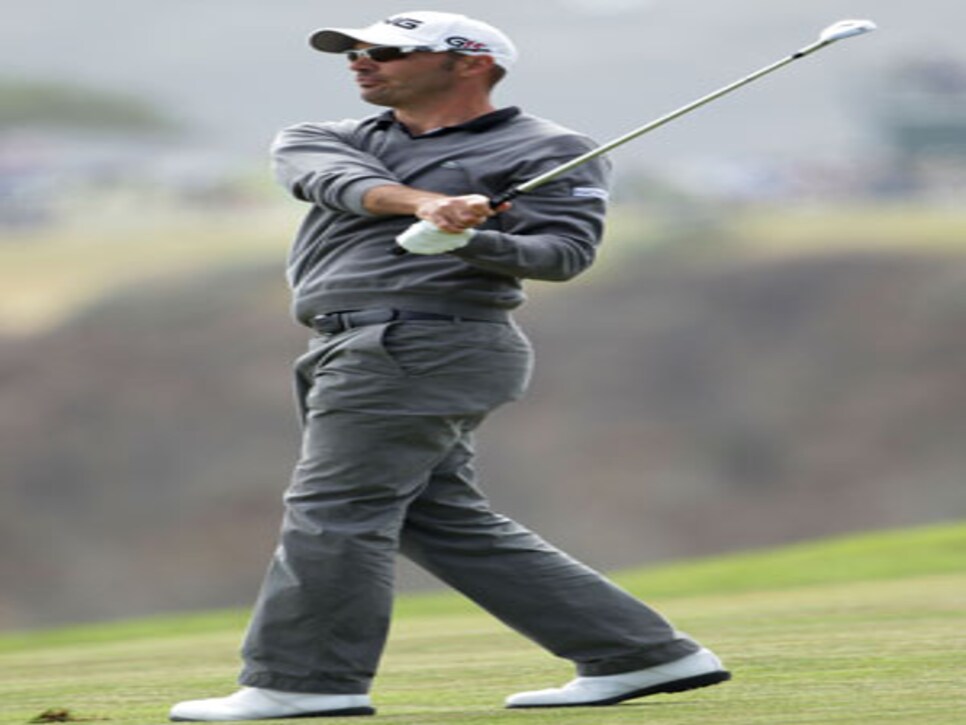 Favret had the lowest score of anyone playing in the final four groups.
PEBBLE BEACH -- THE 110th U.S. Open is in the books and if you had Graeme McDowell hoisting the trophy at week's end, you're clearly smarter than the rest of us. Who were the winners and losers on a dramatic Sunday at Pebble Beach? Let's roll out our final-round edition of birdies and bogeys.
__BIRDIE:__Graeme McDowell -- His final-round 74 wasn't always pretty, but the end result was a masterpiece. When everyone else around him was flailing about Pebble Beach, McDowell held it together enough during a brutal day to become the first European winner of a U.S. Open in 40 years. Without a win in the U.S. to his credit, McDowell might not have the pedigree of previous Open winners here such as Nicklaus, Watson, or Woods. But give him time. This might only be the beginning.
BOGEY:: Tiger Woods -- Whatever magic Woods summoned during his back nine on Saturday was gone by the time he left the first green. On a day when even par wins a fourth Open, Woods bogeyed five of his first 10 holes and never recovered. Ten years after his resounding win at Pebble Beach, this Woods fittingly lost to 2000 Tiger by 15 strokes.
BIRDIE:: Tiger Woods -- For a guy who was utterly adrift a month ago, Woods still scraped together another top-5 finish in a major with well short of his best stuff. One has to think he's only going to build on this, and guess what? He heads back to St. Andrews in less than a month.
BOGEY:: Dustin Johnson -- Well, look on the bright side, he almost broke 40 on the back. Otherwise, Sunday was a nightmare for the 54-hole leader, with his score 16 strokes higher than his commanding performance the day before. Some people pay $495 for the memory of playing Pebble Beach. Johnson might pay a lot more to have this memory erased.
BIRDIE:: Tom Watson -- In what was likely his final U.S. Open round, the 60-year-old former champion almost went out in style, missing a short birdie putt on 18. Strike that. Watson did go out in style. At that point, the putt was irrelevant.
BOGEY:: Phil Mickelson and Ernie Els -- Neither coughed up the Open as much as they both let it slip from their grasp during a long afternoon. The good news is both players gave themselves a chance when it looked as if the Open was out of reach. The bad news is with both players now north of 40, they might not have many of those chances left.
BIRDIE:: Gregory Havret -- The world's 391st ranked player was looking to become the first Frenchman since Arnaud Massy at the 1907 Open Championship to win a major, but instead joins the likes of Stephen Leaney (2003), Jason Gore (2005), and Kenneth Ferrie (2006) as one of the Open's more obscure recent contenders. Of all the players on the leader board who could have imploded, the untested Havret was the most likely candidate. Instead he had the lowest score of anyone playing in the final four groups.
BOGEY:: Grand Slam hopes -- Not that we were really counting on it, but this will be the eighth consecutive year a player won't head overseas as the winner of the season's first two majors (Woods was the last in 2002). If nothing else, Mickelson's loss here spares us a lot of excess hype and hypothesizing about his chances at St. Andrews. Too bad. It actually sounds kind of fun.