News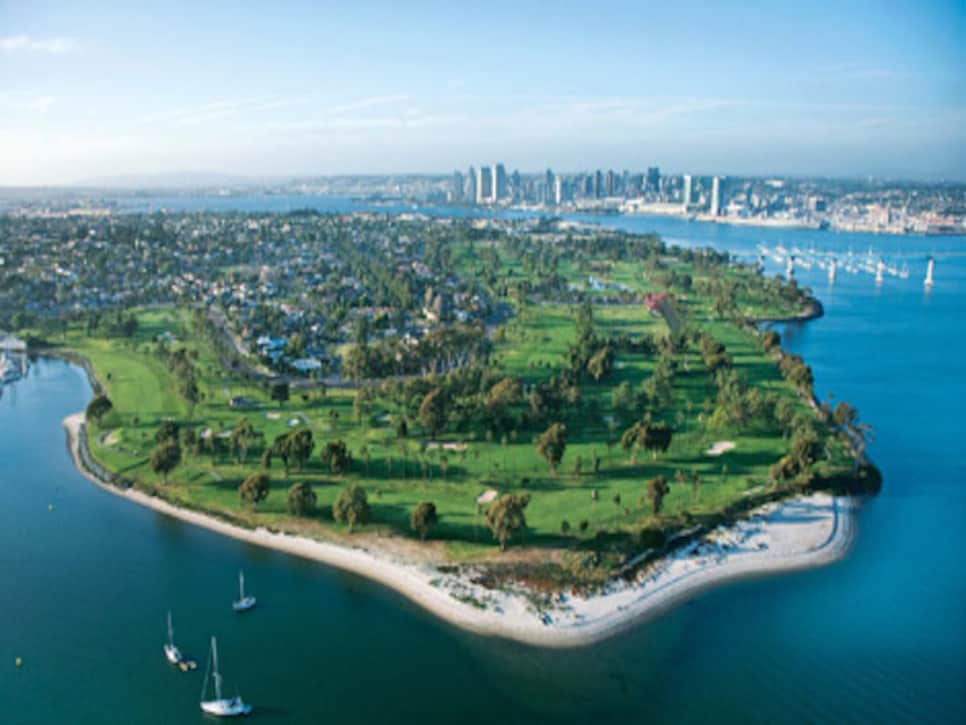 That epic golf trip is over. Now comes the sad flight home. Woe is me.
When my vacation ends, I fly home to San Diego. The next day I'm playing my local muny -- Torrey Pines. It's hard to summon self-pity as I stand atop the par-3 third hole of the South Course, the blue Pacific hovering behind the green like God's own vanishing-edge pool. Especially when my playing partner, some pasty dude just in from Minus Twenty, Minn., is begging me to take his photo. Yep, this is no place to mope.
Our golf season lasts the whole year. January or July, I tee it up in shorts and shirtsleeves, never breaking into a shiver or a sweat. My golf umbrella? I use it about as often as a 1-iron.
Some 80 public courses dot the county. Torrey Pines has the only two on the ocean, but don't despair. Our inland hills, valleys, mountains and deserts are as scenic as our beaches.
Over the next four pages you'll find a local golfer's guide to San Diego, where I've lived for 21 years. Follow my advice and your only regret about coming here will be that it hurts so much to leave.
Torrey Pines Golf Course South ½, North , La Jolla, $145-$181 South, $85-$106 North, sandiego.gov/torreypines, 877-581-7171.
Make no mistake, this is a municipal golf complex, right down to the bathrooms you haven't seen since junior high. I swap my flip-flops for FootJoys in the parking lot, warm up on a mats-only range and endure maintenance crews who zoom past on my backswing.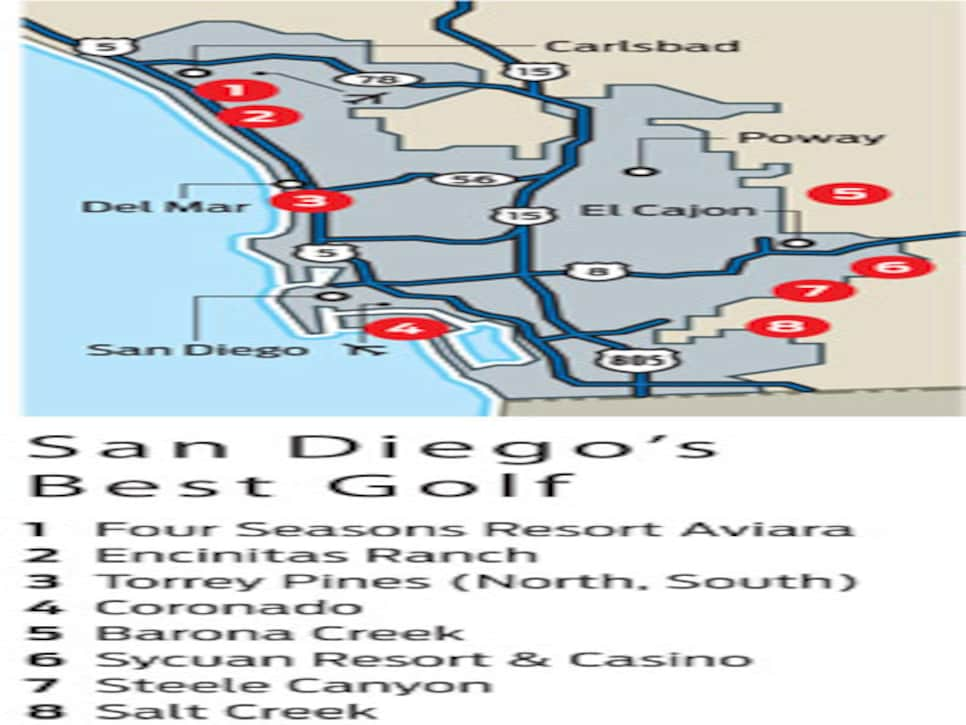 Is it worth it? There's nowhere else in San Diego I'd rather play. Sure, my resident green fee is a third of what you pay. But I play with tourists most of my 100 or so yearly rounds at Torrey, and I rarely hear a complaint. They're usually too stunned to utter anything beyond, "Wow!" The setting is spectacular: 36 holes perched on canyon-creased cliffs overlooking the Pacific Ocean. Hawks and hang gliders soar above as dolphins and boogie boarders ride the cresting waves below.
With the Open, the South is San Diego's must-play. It's the kind of course that can make you quit golf and take up photography -- a beautiful grind. Oh, there's loads of room to land your drives between the lovely Torrey pines. Trouble is that most of it is covered with hosel-strangling Kikuyu grass. Take care searching for your ball, because you can turn an ankle on other balls hidden in that hay. Once you reach the green -- perhaps after a shot or three from one of Rees Jones' bottomless bunkers -- remember that all putts break to the ocean.
At 6,601 yards, the North Course is shorter than the South, but more scenic. Besides the ocean, several holes skirt the Torrey Pines State Reserve, a 2,000-acre coastal wilderness of sandstone mesas and wind-sculpted pines. The snapshot moment comes at the downhill, par-3 sixth, with the Pacific and the tony seaside village of La Jolla shimmering in the background. For both courses, you can pay a $37-per-player surcharge and book tee times eight to 90 days in advance. The Lodge at Torrey Pines and the adjacent Hilton have several times for guests as well (see "Bed Time" below).
Or you can always join the Dawn Patrol. From sunup until 7:30 a.m., tee times are first come, first served. Singles and twosomes who arrive by 5 a.m. should get out on one of the courses by mid-morning. If you're a threesome or foursome, I'd recommend one of you getting there no later than 3 a.m. to have a great chance of playing. (As soon as the starter calls your name, your full group has to be there or you lose your spot.) Some turn up before midnight and sleep in their cars.
Weekdays, a golf bag left on the railing outside the starter's window holds your group's position. Weekends and holidays, the order is set in the parking lot. The guy who got there before you tells you your number in line, and you do the same for the next guy. Leave the property, lose your spot. Check the monthly schedule on the website to ensure there are no events the day you want to play. These will decrease your chances of getting out. (Note: The South reopens June 19, and the North resumes full 18-hole play Sept. 1.)
BED TIME: If you want to stroll to the first tee at Torrey Pines from your hotel, you have two options: the Craftsman-style Lodge at Torrey Pines (right; 858-453-4420, lodgetorreypines.com) and the Hilton La Jolla Torrey Pines (858-558-1500, www.lajollatorreypines.hilton.com).
The 170-room Lodge overlooks the 18th green of the South Course and is the pricier of the two. A stay-and-play package for two that includes two nights (the minimum) in a courtyard-facing room, one round of golf per person on either the South or North and daily breakfast costs $1,695; a room with a view of the course and, several fairways over, the ocean, is $2,150.
Down the 18th fairway, the Hilton has 394 rooms, all renovated last year, most with patios or balconies that face either the gardens or the course and the ocean in the distance. A room for two, golf on the South Course and breakfast starts at $799 per night; for the North Course, the price starts at $649 a night.
Barona Creek Golf Club ½, Lakeside, $120-$200, barona.com, 619-387-7018.
This course, host to last fall's Nationwide Tour Championship, thrills golfers with emerald fair-ways, 100-plus jagged-edged bunkers, wide swaths of native grass and harrying streams. The huge roller-coaster greens look like an earthquake designed them.
Barona's vast vistas make distances look longer and landing areas smaller, inviting you to overswing. Trust your yardage. Five sets of tees stretch the course from 5,296 to 7,393 yards, making this splendid layout a challenge for all. Sign up for free for the Club Barona card and save 20 percent off green fees.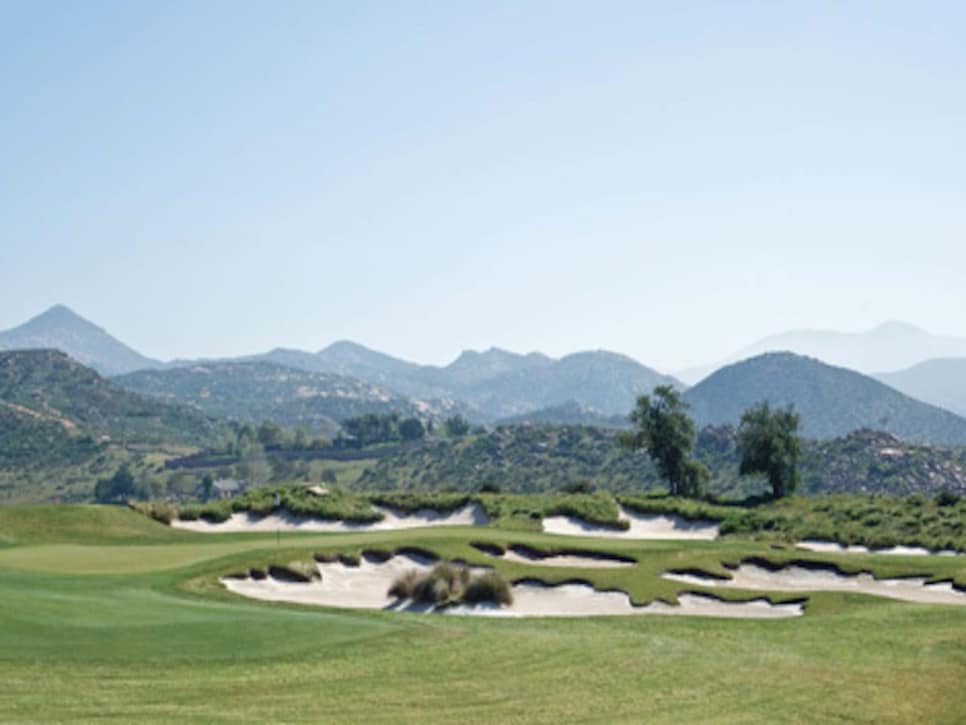 This palm-studded track on a peninsula across the bay from San Diego is one of the great bargains in golf. The $25 green fee applies whether you hail from Coronado or Corpus Christi.
At 6,590 yards, this is stress-free golf, with wide, lush fairways and big, manicured greens. Coronado's fit, tanned and relaxed residents appear to be stepping out of a spa as they walk off the 18th.
Former First Golfer Bill Clinton claims to have broken 80 for the first time here in 1996, but he was known to grant errant shots presidential pardons. Undisputed is the feat of local golfer Ian Langdon, who took only four strokes to play the par-4 12th and par-5 13th on April 11, 2005. A marble plaque in the 13th rough marks the spot from where he buried the last shot of his eagle-albatross.
This is the toughest tee time in town. Reservations are awarded two days in advance, either by lottery at the course starting at 6 a.m., or by phone starting at 7 a.m. For an additional $38 per foursome, you can bypass the speed dialers and secure a time three to 14 days out. It's still a steal.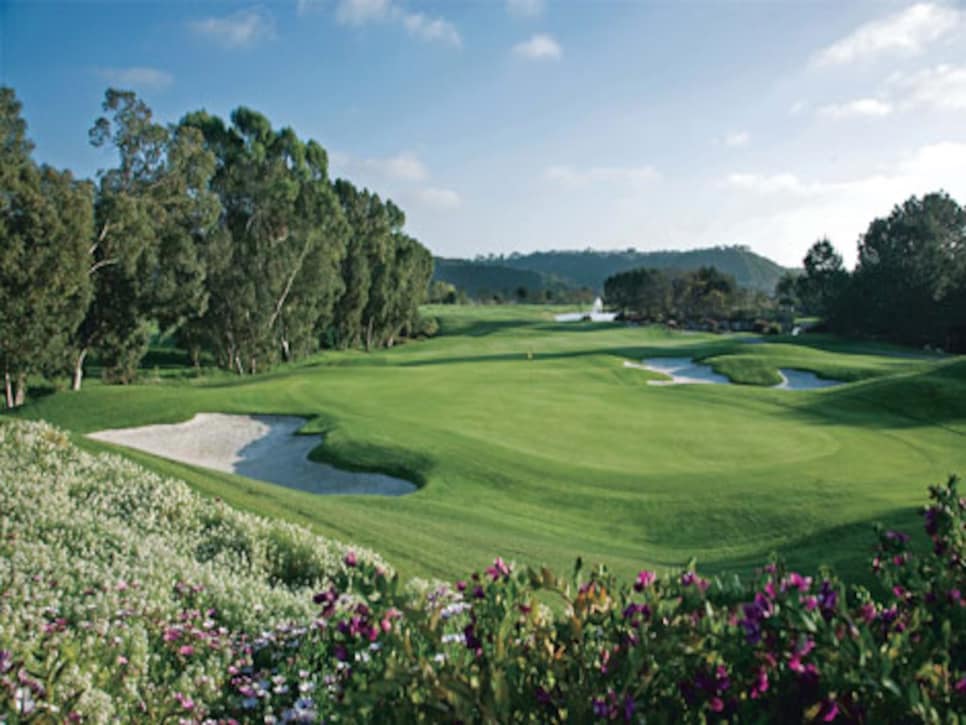 If you feel like a sucker playing this spendy course, the marshal passes out Tootsie Roll Pops on the front nine. It's one of the little luxuries lavished on you at this Arnold Palmer layout 30 miles north of downtown San Diego. The attentive staff sends you out with coffee and apples and welcomes you back with hot towels and cookies.
In between, carts with the latest GPS system carry you to 18 of the prettiest holes around. It's like playing golf through botanical gardens, each hole framed by exotic flowers that present a ceaseless riot of color. Towering eucalyptus trees lining the fairways add to the serenity and seclusion. Aviara's middle tees are only 6,054 yards but have a Slope Rating of 133. Elevation changes mean few flat lies, and the water hazards are big enough to sail on. Finding the massive greens is easy; sticking approaches within two-putt range is the trick.
You'll wear out the brakes on your cart traversing this steep, 27-hole Gary Player design carved from the rocky hillsides east of San Diego. The Canyon/Ranch 18 is the best of the three layouts.
Salt Creek Golf Club, not yet rated, Chula Vista, $90-$110, saltcreekgc.com, 619-482-4666.
This course southeast of San Diego features wide, fast-running fairways and large, firm greens routed over rolling terrain and wetlands.
Sycuan Resort , El Cajon, $70-$92 for Willow Glen and Oak Glen courses, $18-$24 for par-3 Pine Glen, sycuanresort.com, 619-442-3425.
Always well-tended, the two championship 18s at this low-key resort play through a river valley. It's traditional golf, with narrow, tree-lined fairways.
Encinitas Ranch Golf Club , $77-$97, Encinitas, jcgolf.com, 760-944-1936.
This fun, forgiving course is 20 minutes north of Torrey Pines, on a bluff with views of the Pacific.
San Diego has so much to do, no one could possibly list it all. But here are some of my favorite nongolf diversions.
PONIES: From mid-July to early September, the festive Del Mar Race Track is Where the Turf Meets the Surf, as its slogan promises.
OCEAN DWELLERS: From December to April, hop a boat to glimpse migrating gray whales. San Diego Harbor Excursion and Hornblower Cruises & Events depart the pier at the foot of Broadway for 3½-hour narrated tours.
SAND: Our beaches are always in season. For people-watching, rent bikes or inline skates and join the bikini-clad and tattooed throng cruising the boardwalk along Mission Beach, a dense district of bungalows, beach bars, restaurants and an amusement park. More peaceful, Coronado's Central Beach is a deep, sublime sweep of sand stretching nearly two miles, backed by dunes, mansions and the Hotel del Coronado.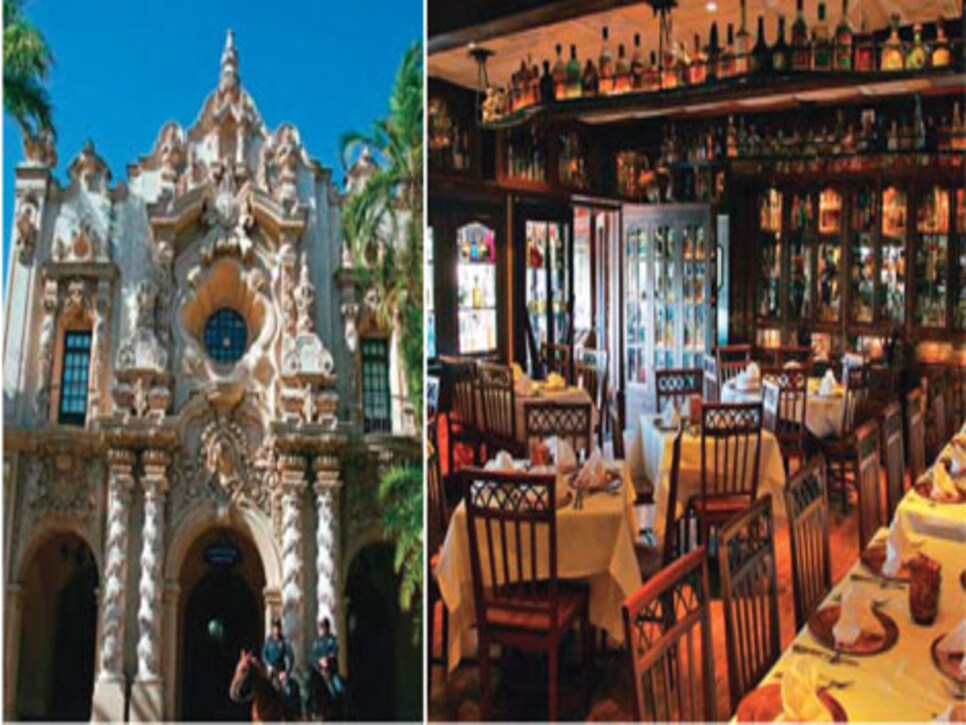 EATS: The fish taco has become shorthand for San Diego's Mexican cuisine, but that's not the whole enchilada. Though the chips-and-salsa crowd flock to the heart of Old Town, true gourmands venture several blocks south to El Agave. Don't be put off by its setting: above a liquor store next to a chiropractor's office. Inside a rustic dining room lined with more than 1,500 tequila bottles, feast on chicken or pork in sophisticated moles, filet mignon with goat cheese and a dark tequila sauce, and a killer fresh-cilantro soup. (619-220-0692).
San Diego teems with dive taco stands. Most of them are good, but La Posta de Acapulco, at Third and Washington, holds a special place in my stomach.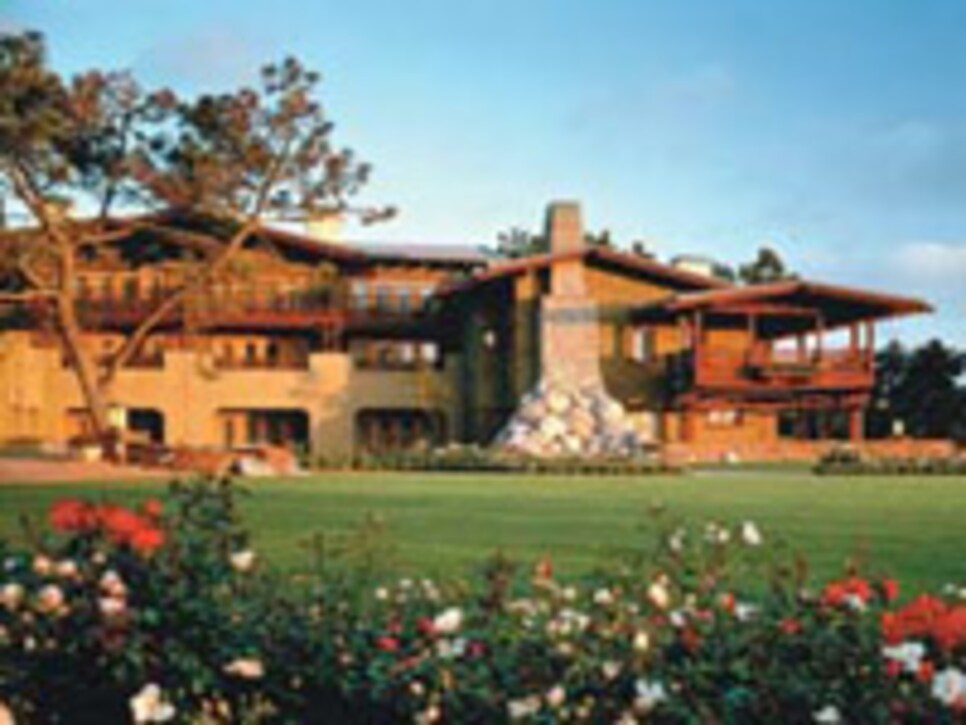 Mike McIntyre has written for the San Diego Union-Tribune, The Washington Post and the Los Angeles Times. This is his first article for Golf Digest.