News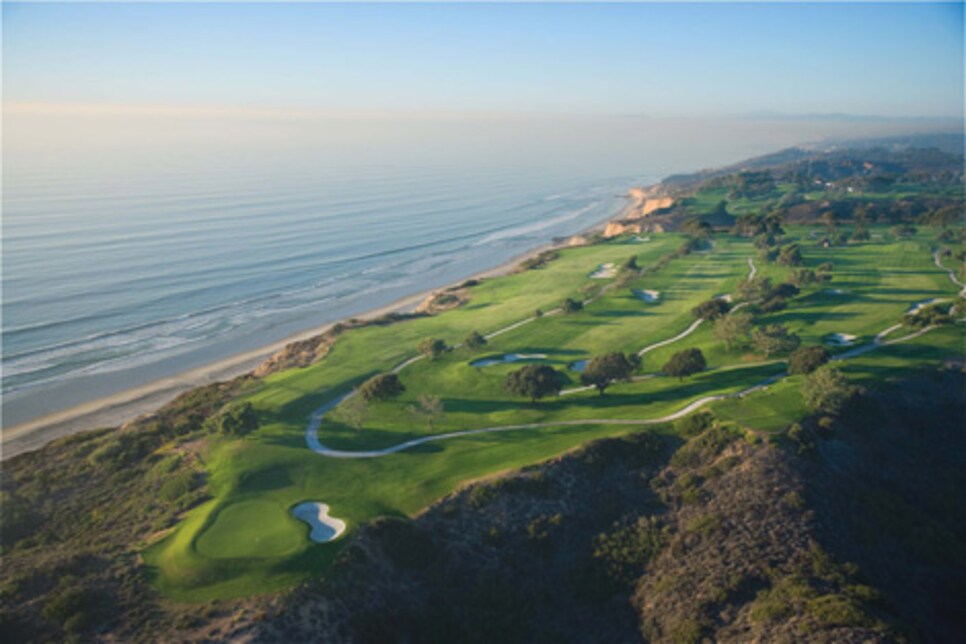 The first encounter with ocean canyons occurs on the par-3 third (foreground), which will play from 142 to 195 yards, almost always into the wind.
Hard to believe the USGA ripped some pages out of its rule book for this year's U.S. Open, but it did.
No, not that rule book. The Rules of Golf still apply. We're talking about the rules that decree that U.S. Opens must be played at grand old clubs founded no later than the Roosevelt administration -- preferably the Teddy Roosevelt administration -- and that courses must be set up to protect par at all cost, using ankle-deep rough; brutally narrow fairways; hard, fast greens; and tee markers pushed back to the fence lines.
The greens will be firm and fast for the U.S. Open, but that's about the only page that will be followed.
When the Open is played June 12-15 at the South Course at Torrey Pines Municipal near San Diego, the fairways will be mostly the same width as they were for the PGA Tour's Buick Invitational in January, the rough won't be much deeper than it was for the Buick and, though the tees will be pushed back, making Torrey Pines the longest Open course by more than 300 yards, they won't be way, way back. Torrey can be stretched to 7,643 yards, but many of its back tees won't be used.
What's going on? A revolution, thanks to the ascension two years ago of Mike Davis to the position of senior director of Rules and Competitions for the USGA. Davis, a strong player, has a more sympathetic ear for the plights of the world's best players than did his predecessor, Tom Meeks. Compared to the late, legendary USGA dictators Joe Dey and P.J. Boatwright, whose course setups frustrated players, Davis might seem like an apostle of appeasement, especially when he says, "We don't want to penalize the long-ball hitter. If they can hit a ball 340 yards, good for them. We're going to give them an advantage."
But a U.S. Open under Mike Davis isn't about identifying (or rewarding) the biggest bashers in golf. It's about testing every player's complete game. He's pretty sure you don't do that by funneling every shot into narrow parameters. You do it by posing a variety of situations and options that let each golfer play to his strengths when he can -- but exercise his imagination when he can't. Thus, the fairways at Torrey Pines will be 29 to 34 yards wide (in an age when 24 yards has been considered sufficient off the tee), framed not by uniformly long rough but by bands of progressively higher cuts.
"The theory of graduated rough [which Davis introduced at Winged Foot in 2006] is that the first cut of primary rough takes away some spin and distance control, but not as much as for those who are wild off the tee," Davis says. "In theory, we like the concept. But that primary cut was slightly more dense at Winged Foot and Oakmont [2007]; it came out far more penal than what we wanted. Guys just had to hack it out."
That led, in part, to winning scores of five over par the past two years.
"At Torrey Pines, my guess is the primary rough [a mix of Kikuyu and ryegrass] will be 2¾ inches deep, certainly not more than three," Davis says. "None of the rough should be perfect. After Oakmont, I sent a memo to superintendents, saying, 'If you think the USGA is looking for incredibly consistent, dense rough, you're mistaken.' We like the idea of a bit of inconsistency in the rough, to give the guys different kinds of shots."
Likewise, rough around the greens will be mowed in concentric steps, and the approach areas in front of greens -- of Bermuda grass rather than the Kikuyu elsewhere on the fairways -- have been aerified and top-dressed as if they were greens, making them as firm as possible. Davis wants players to be able to bounce shots into greens, should they choose to do so.
The greens are pure Poa annua and as healthy as they've ever been. When mowed very tight, subtleties and tricky breaks in the surfaces become noticeable. But Davis doesn't want them too tight; he doesn't want them near-dead on Sunday afternoon.
"You need a margin of error if it gets windy," he says. "I'd rather get them fast during practice rounds and back off a bit during actual play. Last year, Oakmont's greens were close to 15 on the Stimpmeter early in the week, and we backed them to the low 14s for the championship. We had to use the most conservative hole locations at that speed. We want Torrey's greens no more than 13."
If that still sounds incredibly swift, know that Torrey's greens are not the rounded domes of Pinehurst, the steep slopes of Winged Foot or the massive, tilted plates of Oakmont. They're big, perched saucers, with difficult flagstick positions in various spots. They're designed to hold long-iron approach shots, and Davis is hoping players will have to hit some long irons into these greens, given that Kikuyu fairways, even when dry, won't provide as much roll as traditional rye, bluegrass or bent grass.
Shaved slopes leading to chipping areas have been a feature at many U.S. Opens in recent years, and Torrey has a nifty corner-pocket chipping hollow to the left of the surface on the par-4 seventh. There will also be shaved banks behind the greens on the par-3 third (playing into the wind) and the par-4 14th (playing downwind). There's nothing behind those two greens but deep gulches. Players won't be chipping; they'll be trying heroic shots from beneath bushes, or taking penalty strokes.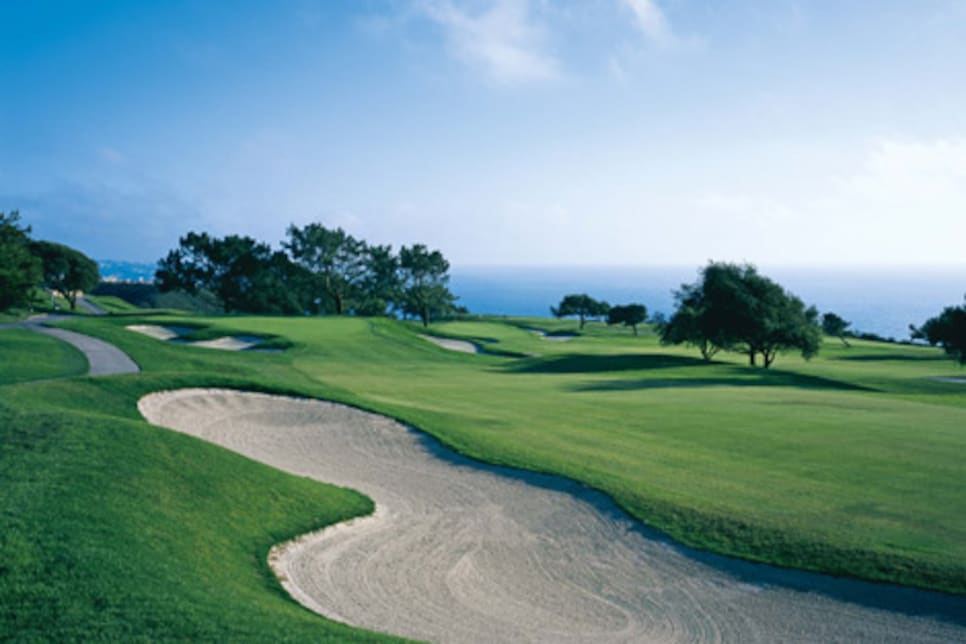 The selection of Torrey Pines for this year's Open was a surprise. Particularly because it beat out another California contender, Riviera Country Club, a Golden Age sweetheart that's the favorite of many a PGA Tour player. Critics sneered that Torrey Pines is the Tori Spelling of golf, assigned a starring role on reasons other than merit (in Torrey's case, location and room for all the ancillary hoopla).
Torrey Pines does sit in a gorgeous location atop Pacific cliffs, and it has a sister North Course, where a couple of holes have been converted into a massive range. But it's subjected to 66,000 rounds a year on the South. (The North gets even more play.) That's twice as much golf as on the usual Open venue, far more than even at Bethpage Black, the only other municipal or state operation to host an Open.
Torrey Pines is 51 years old, but the present architecture of the South Course dates only from a 2001 Rees Jones remodeling, privately funded, with the intention of making the course worthy of hosting a U.S. Open. It was not a lavish production. Jones was able to rebuild all greens and bunkers, but a restricted budget prevented him from rearranging the layout to take full advantage of the deep canyons that eat into portions of the plateau site. He was able to move three greens -- the third, fourth and 14th -- right to the edges, but mostly he was stuck with a seemingly uninspired routing by original architect William F. Bell. (In Bell's defense, the city has never owned the canyons, just the land on top, so he couldn't build holes playing down into them.)
Despite the efforts of "Open Doctor" Jones (see "Rees: Jones: The pleasure of his company"), Torrey Pines is not on Golf Digest's ranking of America's 100 Greatest Golf Courses, the first time an Open course has been missing since Atlanta Athletic Club in 1976. Curiously, Torrey Pines had been ranked from 1969-'75, when it had a far less compelling design than exists today.
We rank it 90th among America's 100 Greatest Public Courses, and that seems low. Under Mark Woodward, the director of golf, operations manager and head superintendent, Torrey Pines should gain appreciation by being showcased in dry, breezy June instead of chilly, soggy January.
Granted, Torrey Pines is not Pebble Beach. You don't taste the salt air at Torrey the way you do at Pebble (ranked sixth on our 100 Greatest), or face a daunting carry over crashing surf the way you do on Pebble. But Torrey Pines compares favorably with Bandon Dunes (No. 31 on our 100 Greatest list) farther up the coast in Oregon. Torrey and Bandon have the ocean as a backdrop, not a hazard, though both have holes running along cliffs above the beach.
The virtually treeless Bandon Dunes has small ravines and dramatic sand dunes to add character, and Torrey Pines has its deep, daunting canyons back in play for the first time in decades after Woodward's aggressive program that cut down the rows of eucalyptus that lined most canyons. He also transplanted namesake torrey pines (a variety so rare the law prevents outright removal) to allow the fourth fairway to be shifted closer to a bluff.
Davis is so enamored with Torrey's new look that he has kept bleachers and TV towers positioned off to the side of greens at the third, fourth, seventh, 11th, 12th, 14th and 16th holes to keep those targets fully exposed to the wind.
Bandon Dunes and Torrey Pines finish away from the ocean, with somewhat anticlimatic, straight par 5s. But Torrey Pines has a hazard in front of its 18th green, a pond that brings to mind the 15th at Augusta National, with a steep, tightly shaved bank between the water and the putting surface. Bucking another USGA practice, Davis and championship-committee chairman Jim Hyler have decided not to convert this par 5 into a long par 4; they intend to position the tee markers so the hole will be a reachable par 5 for most in the field. It's the closest any 18th hole in a U.S. Open has come to resembling the fictional 18th in the movie "Tin Cup."
Davis did convert the par-5 sixth, a dogleg right around a gulch, into a par 4 of 515 yards for the Open, reducing par to 71. Architect Jones would prefer to see par reduced to 70 by playing the straight, par-5 ninth as a par 4, but Davis wants to provide some birdie opportunities (No. 9 can be stretched to 612 yards). Because the ninth and 18th run in opposite directions, one or the other will always be into the wind.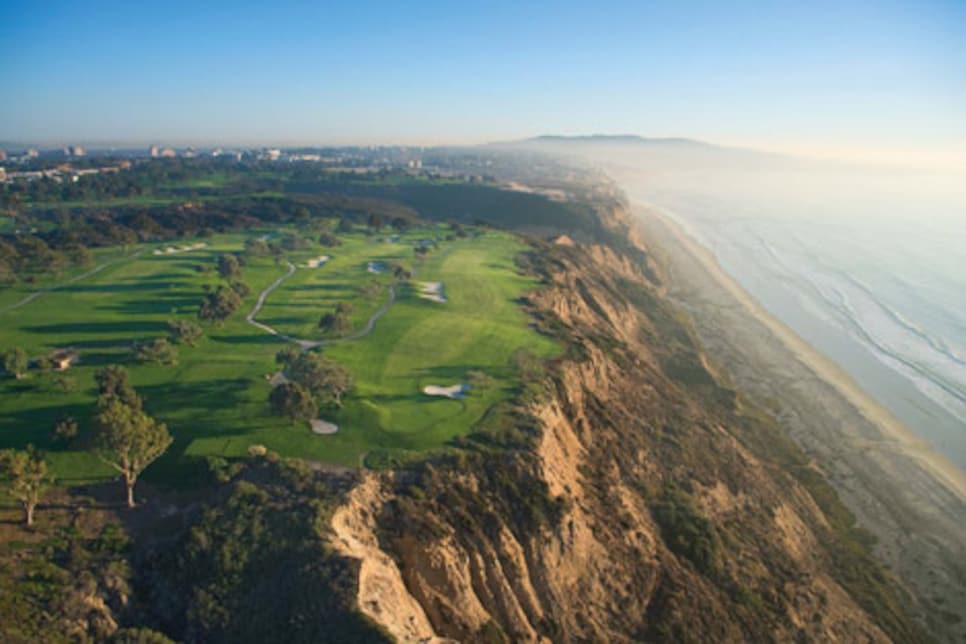 His main concern is that Torrey Pines has no real short par 4. Davis is considering moving tee markers way up on one hole to create a drivable par 4. He won't say which hole; he wants to surprise players in the final round. Torrey's other par 5, the 13th, has three tee locations available, including a newly installed back tee that stretches the hole to 631 yards and demands a 245-yard carry over the corner of a canyon. (click here to view an aerial photo of the 13th Davis plans to use that tee at least once.
The best courses offer all kinds of ways to overcome obstacles and achieve good scores. Should this year's winner tie the Open record by shooting a 12-under-par 272, it shouldn't be a disgrace to Torrey Pines. After all, that's the score Tiger Woods shot at Pebble Beach in 2000 (though everyone else was over par).
Playing the South in January, Woods shot a 19-under-par 269 to win by eight strokes. But if Tiger and half the field feast on birdies in June, Torrey Pines might join the ranks of one-time-only Open venues, a group that includes some surprising names -- Colonial in Fort Worth, Champions in Houston and, yes, Riviera -- as well as forgotten ones like Philadelphia Country Club and Northwood in Dallas.
We've got to believe, however, that Mike Davis will continue to experiment and change the culture of the Open.