The Loop
USGA's Rugge to retire in February
Though his tenure as the U.S. Golf Associations's Senior Technical Director may not have been the longest, the impact of Dick Rugge on the rules and restrictions controlling equipment was plenty deep.
Rugge, 64, announced Monday that he would be retiring from his post after nearly 13 years, effective February 2, 2013.
Since taking the job in May 2000 after leaving TaylorMade Golf, Rugge guided the equipment rulemaking process through changes that ranged from restrictions on clubhead size to a new portable test to determine conformance to the spring-like effect rule. He oversaw the development of a modernized test for the overall distance standard for golf balls, as well as put in place a relaxed set of guidelines covering clubhead adjustability.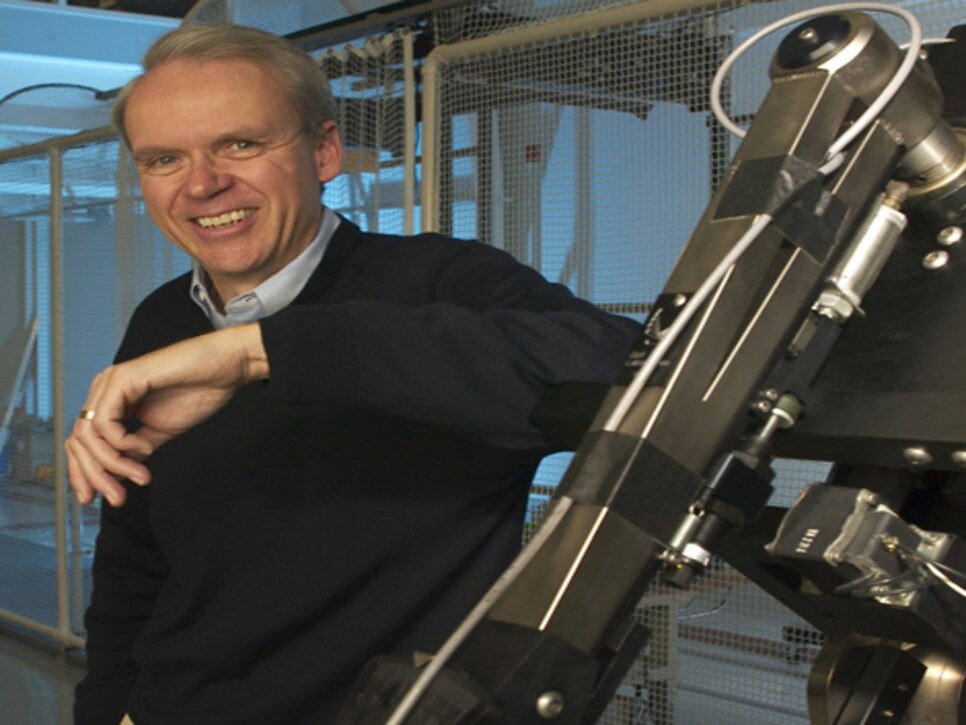 But Rugge, who also did much during his tenure to improve the communication between golf's ruling bodies as well as the interaction between rulemakers and golf's manufacturers, largely will be remembered for his work in two specific areas of the rules, one which led to a change and one that, at least for the moment, hasn't. First, he reopened the debate over whether more aggressive grooves on wedges and irons were having an undue effect on spin, a bold move toward a reversal from the stance golf's ruling bodies took nearly two decades earlier and which resulted in lawsuits that threatened the USGA's very existence. After nearly three years of research and debate with the industry, Rugge and his team provided the framework of research that led to a rule putting new limits on the size, shape and sharpness of grooves on wedges and irons. He also spearheaded a long-term research project on golf balls that fly 15-25 yards shorter than current balls. That latter project is still ongoing with no specific timetable for a release of the research or a proposed rule change.
In a letter to staff announcing Rugge's retirement, USGA Executive Director Mike Davis praised his colleague's role during an era of perhaps the most rapid innovation in the game's history.
"His vigilance has assured that skill remains the most important factor in hitting a good shot," the letter reads.
"Dick will leave behind a Research and Test Center team that is extremely well positioned to handle its mission moving forward. His contributions to the USGA have been invaluable, and I would like to sincerely thank him for his significant role in helping us govern the game."
Rugge became the USGA's technology czar at a time when the USGA and manufacturers were barely on speaking terms, at the height of a difference of opinion over non-conforming drivers and the implementation of a complicated test for the then recently established spring-like effect rule. Rugge saw reopening those lines of communication to be a crucial part of his job, stating as much when he was hired: "I still have the mission to protect the game of golf, but to do so, hopefully, in a way that is palatable to everybody."
There's little doubt that he has attempted to do much in that area. Many of the decisions he orchestrated offered compromise. For example, at the same time new restrictions were put in place to roll back the effectiveness of grooves, the USGA also expanded the rules governing adjustability. That was not a coincidence.
"Both proposals are aimed at the average golfer," Rugge said at the time. "On one hand, it minimizes the effect of the average golfer with grooves, and in the other case it maximizes the impact on average golfers with the adjustability proposal. We'd like to always do that, but we may not always be able to. I can't predict the future. But it is certainly preferable to have things that have less effect on the average golfer."
Rugge sought to communicate even when it meant taking the heat directly. In one instance, he specifically made a point of meeting with Phil Mickelson at the Barclay's Championship after Mickelson was openly critical of the proposed groove rule. He told Golfweek, "I wanted to talk to Phil and give him a chance to let me have it. I thought it was appropriate to give him a chance to vent."
Manufacturers and other naysayers suggest that the groove rule was more inconvenience than effective, that it hasn't had any effect on controlling distance, nor resulted in any increase in driving accuracy on the PGA Tour. Statistics from 2012 show a marked improvement in the correlation between driving accuracy and money rank, the key measurement that had deteriorated in the decade leading up to the groove rule.
But Rugge does not point to the groove rule as the most significant rule change in his tenure, but rather the change to a more relaxed set of rules governing clubhead adjustability, saying that rule "will continue to evolve in ways that benefit golfers, manufacturers, retailers, and even golf journalists, all without harming the challenge of the game."
In more practical terms, Rugge sought to bring respect for and an openness to the USGA's Research and Test Center team. The group earned an ISO 9001 Quality Management System certification under Rugge's stewardship, and in November 2010, working with his counterparts at the R&A, golf's rulemakers convened a meeting in between manufacturers and the ruling bodies to discuss the equipment evaluation and rulemaking process. Rugge himself, along with his staff, even began conducting tours of the Research and Test Center for visitors to the USGA Museum.
Criticized by either side of the equipment technology debate for either being too intrusive or not doing enough, the USGA during Rugge's tenure did institute more equipment-related rules than at any time in its history. In the 12 full seasons since Rugge was named senior technical director for the USGA, driving distance has increased 10.5 yards. Rugge was part of the USGA team that announced in May 2002 a Joint Statement of Principles with the R&A governing future equipment regulation. In the 10 years since that announcement, driving distance has increased 3.4 yards.
For his part, Rugge acknowledged that his tenure saw a significant number of equipment rules, decisions and notices to manufacturers, but it was only borne out of necessity.
"The equipment manufacturers have the skills, resources, and motivation to continue to look for new ways to incorporate new technology into their clubs," he said. "Because of their heightened activity and our mission to maintain the challenge of the game, we needed to step up our attention and actions."