The Loop
USGA's Davis stands by his Chambers Bay warning to players, but says reaction is "overblown"
FAR HILLS, N.J. -- Mike Davis would never request a mulligan, for either a misdirected golf shot or a perceived misstatement, so it should be no surprise that the USGA executive director wasn't about to retract a pointed observation he made last month about the upcoming U.S. Open at Chambers Bay that drew the ire of several would-be competitors. "I was simply trying to be helpful by pointing out that preparation for this year's U.S. Open might be more critical than any in recent memory given the uniqueness of the golf course," Davis said Wednesday at Golf House, the USGA's headquarters. "I think things have gotten a little overblown, but the point is still valid."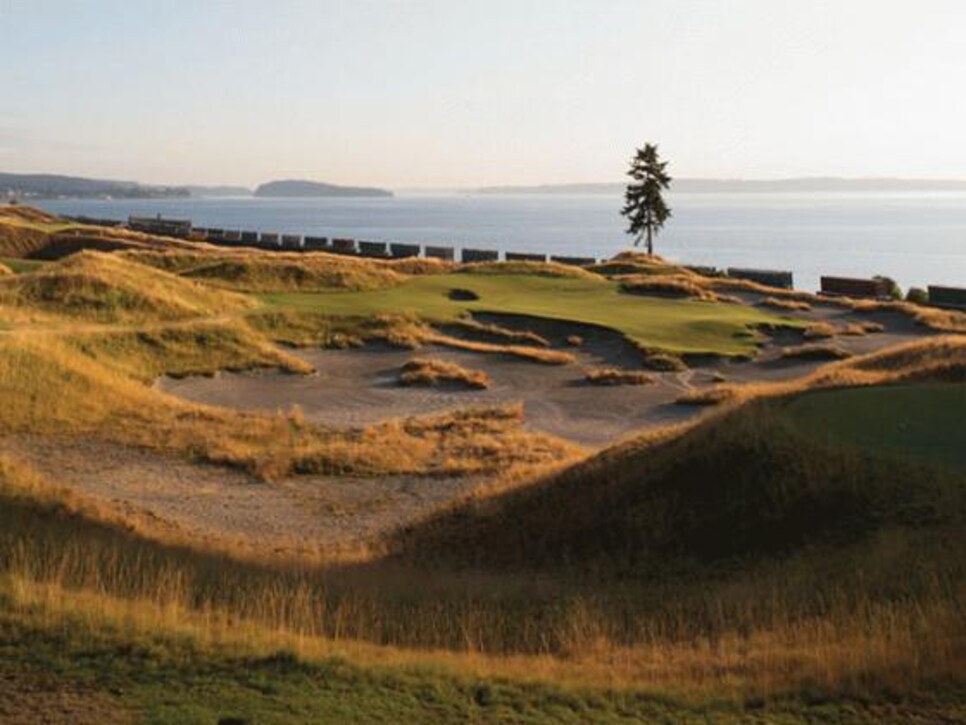 Davis caused a stir during media day at Chambers Bay, in University Place, Wash., when he predicted that intense advanced preparation was all but mandatory to have a chance to win the 115th U.S. Open. "I would contend that there is no way, no way, a player would have success here at Chambers Bay unless he really studies the golf course and learns it," Davis said April 27. "The idea of coming in and playing two practice rounds and having your caddie just walk it and using your yardage book, that person's done. Will not win the U.S. Open." Among those with sharp retorts was 2012 U.S. Open champion Webb Simpson, who snarked, "We'll play for second." "My point was this is really a unique golf course that was going to require a lot of study," Davis said. "[There's] more elevation changes than a normal U.S. Open course. It's wider. It's all fescue. They had never seen it before. There's a lot of local knowledge needed. "This is going to be my 26th U.S. Open, and I've noticed that players just don't play as much golf there [at the Open site]. They'll play nine holes a day, rely on their caddies instead of coming in early to play three or four rounds the week before like they did in the past … it's just the way things have become. And what I wanted to communicate is that the advantage really goes to the player who knows the course inside and out. There is so much bounciness to that course that you just can't learn it quickly. You certainly can't learn it well from a yardage book. It is not a straightforward test, like, say Oakmont next year, which many of them have already seen." As Davis was talking, the embodiment of a well-prepared U.S. Open player was within earshot. The USGA officially opened the Jack Nicklaus Room Wedndesday at the USGA Museum. Nicklaus won four U.S. Open titles, starting in 1962 when he beat local hero Arnold Palmer in a playoff at Oakmont CC, near Pittsburgh. Nicklaus captured the first of his 18 major titles after an extensive visit to Oakmont the week before the championship, and throughout his career he made it a habit, whenever possible, to visit a major venue early to learn the layout and acclimate himself to the challenge. "I think Jack knew which players would be the toughest to beat based on preparation, and he also knew which ones he could eliminate," Davis said. "A little bit of this is just things tend to get, I think, lost in translation, and I should probably be used to it," Davis added. "Look at last year, when there was talk that back-to-back Opens at Pinehurst was going to be a disaster. Why are the women playing second? Are the greens going to be unplayable?' Two years ago at Merion it wasn't going to work; they were going to demolish that golf course. The year before that was Olympic, and players weren't going to like that style of architecture because of the doglegs and the fairway slopes cantering the other way. "In the end, the best thing is to just let the golf course speak for itself."