The Loop
USGA set to nominate Diana M. Murphy as its second-ever female president
For decades, the practice of the USGA has been for the powerful Nominating Committee to put forth its slate of officers -- most notably a president -- and Executive Committee candidates in the early fall, well in advance of the USGA Annual Meeting, which was usually the following February.
But this year, September came and went, and so did October, with no announcement.
Now, with November about to end, sources familiar with the situation tell GolfDigest.com the nominations will be announced on Monday. Sort of.
This time there is something new: There will be no vice presidents named, the sources say.
The next president will be Diana M. Murphy, joining Judy Bell as the only women ever to lead the governing body in its nearly 121-year history. Murphy will serve 20 years after Bell held the post.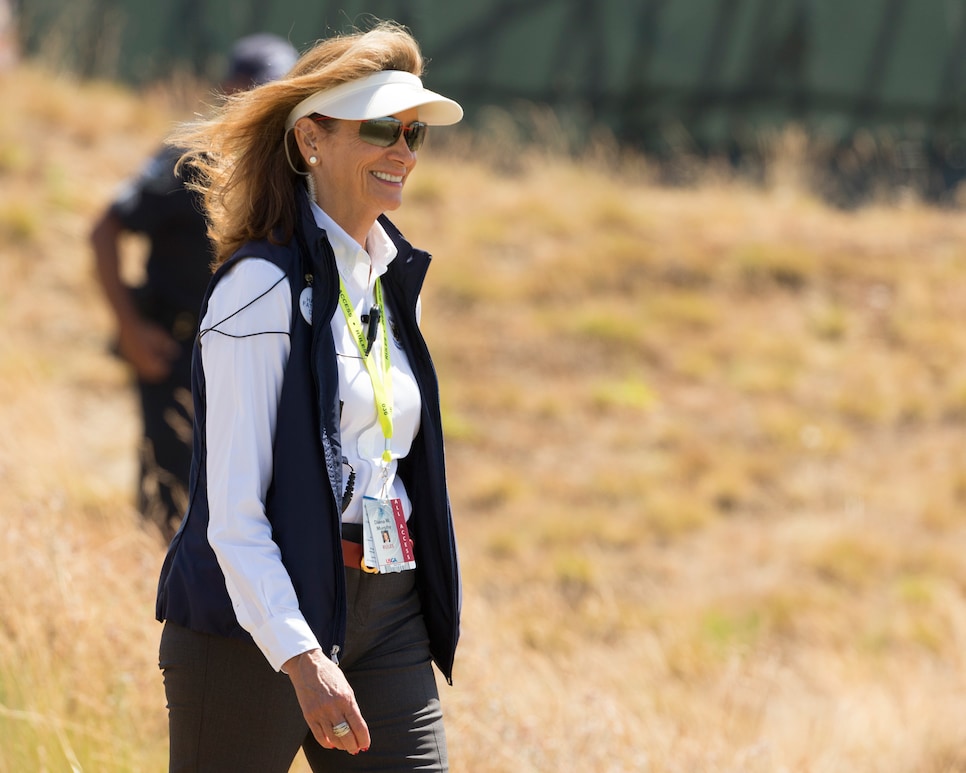 Sources familiar with the situation tell GolfDigest.com that a change was made in the USGA bylaws so that, going forward, the new president can be anyone on the 15-member Executive Committee.
The sources say the change was made to avoid the embarrassing situation that has happened several times in which the seeming heir-apparent for the president's post has fallen out of favor with the Nominating Committee and was passed over.
Under the new system, there will be no distinguishable line of succession.
Murphy, 59, of St. Simons Island, Ga., is currently a USGA vice president and is in her fifth year on the Executive Committee. She will succeed Thomas J. O'Toole, Jr., at the Annual Meeting in San Diego next February when the formal vote of the membership is taken.
Murphy, whose husband Reg was USGA president from 1994-'95, is managing director of Rocksolid Holdings LLC, a private equity firm dealing with small business and real estate in the Southeast. She is also managing director of the Georgia Research Alliance Venture Fund.
She was managing director of Chartwell Capital Management Company, a private equity firm in Jacksonville, Fla., for 11 years and spent 15 years in publishing as a senior vice president of The Baltimore Sun Company.
Murphy received a bachelor's degree in journalism from West Virginia University in 1978 and completed the advanced executive business program from Northwestern University in 1993.
She also serves on several public and private boards of directors including CTS Corporation, Landstar System Inc., Georgia Research Alliance Venture Fund and Coastal Bank of Georgia. Her philanthropic activities include Chairman of the Board of the Boys & Girls Clubs of Southeast Georgia and the College of Coastal Georgia Executive Committee.
In 2015, Murphy was chair of the USGA Championship and Compensation committees as well as serving on the Audit and Corporate Partners Committee.
Murphy, who has a 15.7 Handicap Index, inherits a USGA still licking its wounds after a rocky start to its 12-year, $1,1 billion TV deal with Fox Sports.
Fox, which has only USGA championships in its stable of golf events, made its debut to generally negative reviews of its coverage of the U.S. Open at Chambers Bay, a logistically difficult venue from which to broadcast.
Sources close to the situation say Murphy, who has business experience and an education in communications, is committed to working intensely with Fox to make the 2016 U.S. Open at Oakmont C.C. in Pennsylvania significantly better.
Updated, Nov. 30, 10:20 a.m.:
As expected the USGA announced Murphy as the nominee to be the governing body's 64th president. "I am deeply honored," Murphy said in a statement. "Since first being introduced to the USGA in 1988, I have had opportunities to watch the organization evolve and develop stronger relationships with Members, golf facilities and industry colleagues. Golf has greatly benefited from the leaders and volunteers who have come before us, and who continue to give back to the game." Ten other current members of the Executive Committee will return in 2016, with two new members nominated—J. Michael Bailey, of Salt Lake City and Clifford J. Shahbaz of Portland, Ore. The slate of nominees will be formally voted on at the USGA Annual Meeting in San Diego Feb. 6, 2016.