Analysis
The USGA and R&A golf ball rollback: Your questions answered about what they said and what it means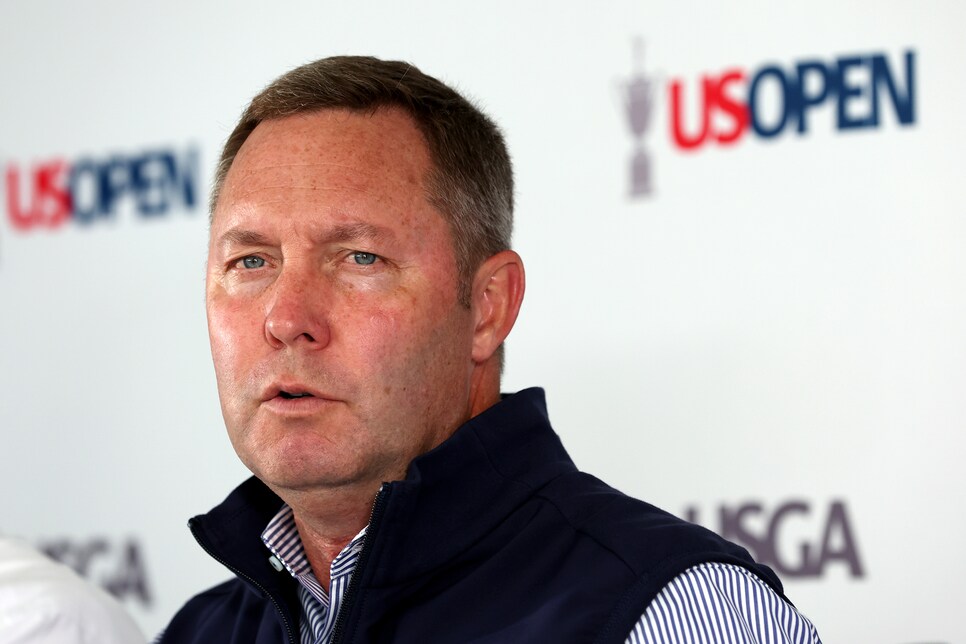 USGA CEO Mike Whan says the time was now to start on a golf ball rollback after many years of no action taken.
Rob Carr
The proposal, officially announced at a Tuesday press conference led by the USGA CEO Mike Whan and R&A CEO Martin Slumbers, calls for a model local rule (MLR) that would increase the test speed for golf balls used at elite competitions from the current 120 mph to 127 mph—all but assuring that current golf balls would break the testing barrier of 320 yards. The test would not change for the golf balls used for recreational play, but the balls used under this new proposed test for elite competition could result in a distance decrease of at least 15-20 yards, perhaps more.
The proposal is now in a Notice and Comment period through mid-August, with a projected start date of no earlier than January 2026. Both Whan and Slumbers stressed that the time to act is now, but not just because of what's happening in the elite game at the current moment. Here's a rundown of what they said and what we think it means:
Mike Whan: "You want to critique the USGA and the R&A over the last 20 years, you can be a critic on 'why didn't you do this five, seven, 10 years ago?' Fair comment, and we've taken that on, too. But taking another 10 years off or looking the other way and saying, 'Distance is great; everybody is excited, and of course it's going to grow by more than a yard a year for the next 20 years, and we all know it, but we'll just turn the other cheek.' Well, that would be a shame."
The ruling bodies have been on record that distance was a problem since a famous Joint Statement of Principles in May 2002. In the 20 years since, the average driving distance on the PGA Tour has increased from 279.5 yards to 299.6 yards. However, almost half of that gain occurred by 2005, fueled by the large percentage of players switching to the Titleist Pro V1 and Pro V1x golf balls in 2002 and 2003. The USGA and R&A have been aggressively on the distance beat through the Distance Insights research project and specific distance-related "areas of interest" since 2019.
Martin Slumbers: "We're of the view that at the elite male level, both amateur and professional, we've crossed the Rubicon with regards to where hitting distance is, but more importantly, where it is trending. It's our responsibility as governing bodies to propose change to protect the long-term integrity of our sport. Golf has become far more athletic, and technology has improved substantially, and it is the future impact that is the most pressing concern to the USGA and the R&A."
Retrofitting golf courses for all sorts of elite competitions is eventually and perhaps already a grotesque distortion, like a 1970s bodybuilder blown up with steroids. Extending tee boxes 100 yards behind original spots (see Pinehurst No. 2), or onto adjoining golf courses (like at the Old Course), or converting two holes into one (like at The Country Club) eventually becomes impractical and less than sustainable. Plus, the rules as currently constituted cannot contain current golfer-athlete performance and likely those equipment testing standards will become increasingly irrelevant.
For historical purposes, it's worth remembering that the test for golf balls first was set in the 1970s at 109 mph and then was changed in the early 2000s to 120 mph to reflect the fastest swings in the game at that time. While PGA Tour average swing speed today (115.2 mph) is significantly below the proposed test speed, the R&A's Steve Otto, chief technology officer, said "the 127 mph is representative of the top one percent of shots actually on the PGA Tour."
This year, the fastest average swing speed on the PGA Tour is accomplished by Brandon Matthews at 126.1 mph. But 25 players have recorded a speed of 127 mph or faster this year, and the average of the fastest swings recorded by every player on tour is a little more than 120 mph, which, of course, is the current test speed for golf balls.
Whan: "The thing that we'll probably find most challenging is getting others to be as committed to the future of the game as they are to the exact current state of the game. In a lot of cases, if you work for an association, that association is about opportunities and jobs and careers and financial opportunities, and it's difficult to talk about 20, 30 or 40 years from now, because that's not what's driving you. There are people in the business today that are connected to manufacturers and they're about moving product today, and we get all that. That's real.
That's an acknowledgment of the difficult task that lies ahead in getting manufacturers, the PGA of America, Augusta National and, especially, the PGA Tour, on board. They all have business interests that need to be satisfied now, and the prospect of a perceived lesser product is concerning, especially for the PGA Tour, because it must concern itself with LIV. Do they adopt the MLR and risk LIV (assuming it is still here in 2026) being able to tout, "Golf, but Longer"? Whan is a consensus-builder, but there are a lot of folks to convince and the good of the game 20-plus years out is a tough sell for some to accept the reason for change.
"Will you use it for any of your respective championships? Whan: "Yes. I won't speak for The R&A, but I think it's safe to say we wouldn't be suggesting this if we didn't think this would be something we would utilize, as well. Slumbers: "Yes."
If adopted, expect the USGA and R&A to, at minimum, use the MLR for the U.S. Open and U.S. Amateur, as well as Open Championship and British Amateur, and possibly more. No sense implementing a rule if you're not going to use it. What could be interesting is if the PGA Tour, PGA of America and Augusta National decide not to adopt the MLR. That would put players in the position of playing half the major championships with a ball very different from the one they're used to. And that doesn't even get us started as to what happens at the local qualifying level for the U.S. Open.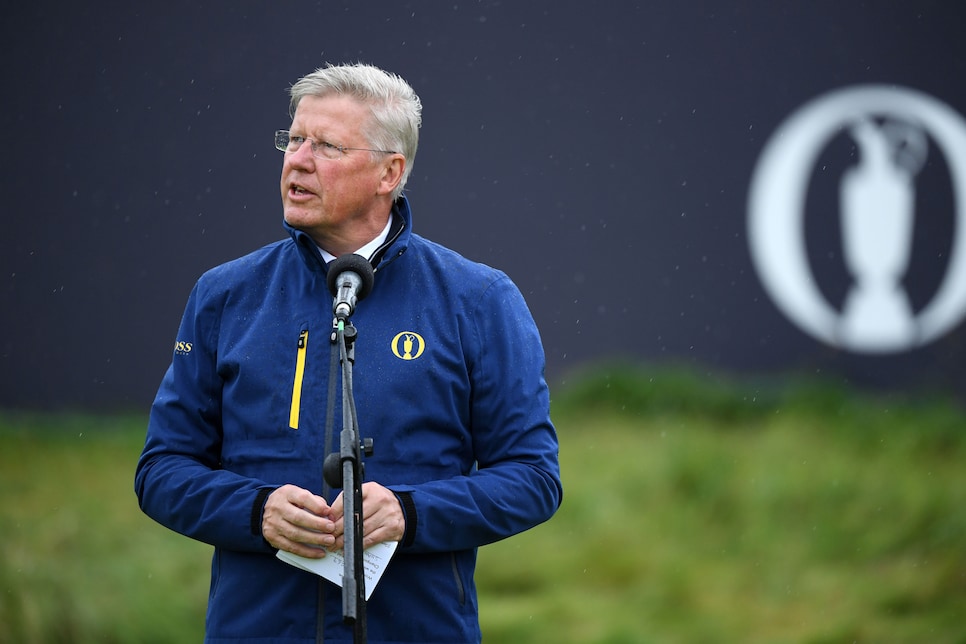 R&A CEO Martin Slumbers said they fully expect to institute the new rules in upcoming Open Championships.
Matthew Lewis/R&A
Slumbers: "We heard three key pieces of feedback. First, please do not do anything to affect the recreational game. Golf is doing well, and we don't want to undermine this.
Recreational golfers have nothing to worry about. You're not losing a yard.
Slumbers: "The second piece of feedback we heard is an MLR on the driver would impact multiple clubs, and the unintended consequence could be 3-woods or other clubs that perform better than drivers, and thus multiple clubs would need changing."
Manufacturers won this argument. Although they are likely to oppose a ball rollback, as well, it is not as deleterious to their business as having to come up with small amounts of spec-specific golf clubs for elite players. They make different types of golf balls all the time, some in limited quantities. But the tooling and R&D for spec-specific equipment would be time consuming and expensive, not to mention difficult to monitor. Common sense prevailed here.
Slumbers: "The third piece of feedback we heard is there is too much change proposed and it's too complex."
The proposed MLR on the ball is certainly easier than what was on the table before (see above on clubs), but that doesn't mean this will be easy. For starters, what is an elite competition? AJGA? NCAA? Must play for prize money? The Winged Foot club championship? If it is left to the total discretion of tournaments without any guidance, it could still fall into the complex arena.
Whan: "You can do the homework, too—that the kind of distance impact we're talking about is probably going to last 12 to 15 years before we'll be right back to where we are now, given historical trends."
This proposal is meant to deal with driving distance's potential until the next surge. Then, the test parameters—for elite competition only (not your game)—will be adjusted in response. What's not clear is whether the ruling bodies have research that understands where the ceiling might be from a practical and biomechanical sense.
Yes, long-drive competitors swing much faster than PGA Tour players. Current long-drive champ Martin Borgmeier has reached a swing speed of 156 mph, and this year on the PGA Tour, Stephen Jaeger has a high of 144. But Borgmeier doesn't play on the tour and Jaeger has only three top-10s on the PGA Tour since 2013. The last player to experiment with an extreme, long-drive-like approach to distance was Bryson DeChambeau. He clearly had success, but after a couple of years his body started to break down to the point where he decided to throttle down. And, of course, he has since left for the less-demanding LIV Tour. It's also worth noting that while players on the developmental Korn Ferry Tour average higher driving distances than those on the PGA Tour, the players who graduate to the big tour aren't the fastest swingers and generally hit it shorter as PGA Tour players.
Steve Otto, R&A chief technology officer: "One of the reports in the distance insights project ... asked people what they enjoyed about the game, what they find interesting about the game, and it was all about relative performance rather than absolute performance [at the professional level]. It wasn't the absolute score or the absolute distance. It was the interaction of the stories between players is what people found exciting, not the absolute distance they were hitting the ball, or they were scoring, and that came out in those distance reports.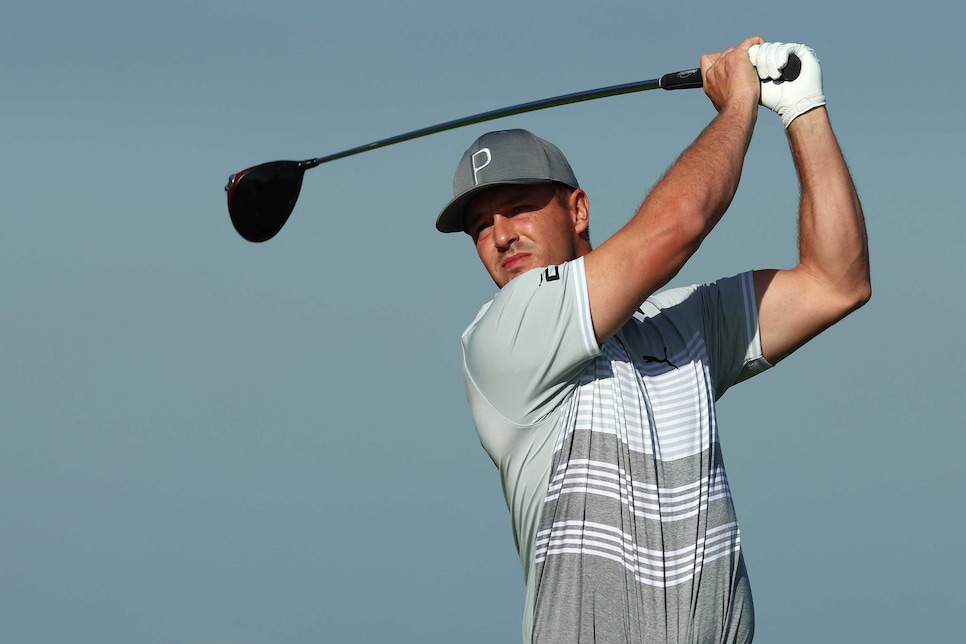 Bryson DeChambeau has been among the most prominent golfers to push the distance envelope.
Luke Walker/WME IMG
This is an attempt to say distance on the tours means less to the average golf fan than perhaps we think. It's certainly true the stories of the players mean much. Kurt Kitayama's win in the Arnold Palmer Invitational was compelling. Max Homa is not a bomber, but has become one of the game's most loved figures.
But let's not kid ourselves—distance is a strong allure. We watch professional athletes in awe when they do things that we simply cannot. We can stake an iron, nip a chip, spin a bunker shot, hole a lengthy putt, and those connections to the pro game make playing it ourselves so much fun. But we will not hit it 350 yards. Bryson DeChambeau going for Bay Hill's par-5 sixth off the tee in 2021 was one of the most talked-about things in sports, let alone golf. The appeal of raw distance is undeniable.
Slumbers: "I think at this point there isn't a distance challenge in the women's game. You're certainly seeing changes in the women's game where more power, longer distances is coming in than maybe even five years ago. But at the moment there's plenty of headroom on the golf courses that we have for the women's game.
Although distance on the LPGA Tour continues to climb for many of the reasons it does on the men's tours (better fitting, better fitness, better equipment, etc.) in 2022, the leader in driving distance on the LPGA was Maria Fassi at 279.25 yards. That's a number the governing bodies are perfectly comfortable with.
Thomas Pagel, USGA's chief governance officer: "[Bifurcation]'s a word that I think has caused some anxiety for governing bodies in the past, but in this instance, if somebody wants to call this bifurcation, I'm not going to have an argument over words with them. Use of a model local rule is something that we've done consistently over the years. We've always said it gives the game options, and in this case, we're just giving the game options. Based on the significant feedback we received, we think it's appropriate here, and it's not the start to writing two different sets of rules. It truly is just an option around a piece of equipment."
As they say west of the Pecos, "Boy, howdy, this is stepping in it." This is the crux of golf's universal debate over all of us playing the same game by the same rules. It's why some manufacturers argue vociferously or privately against anything that might break the perceived link between elite golf and Average Joe and Jane golf. A different physical ball is a fundamental change that golf has never experienced. Hard to say whether this still matters when Rory McIlroy is hitting drives 100-150 yards longer than average golfers. Clearly, the ruling bodies aren't worried about this in terms of a potential marketing problem for equipment manufacturers.
But as much as the ruling bodies are concerned for the future of the game because of historic golf courses becoming obsolete, others would be just as adamant about the damage being done by disconnecting elite golfers from the working public. Of course, the entity most concerned about that disconnection might be the PGA Tour. The tour's attitude seems cagey at best and not in full support at the worst: "The tour remains committed to ensuring any future solutions identified benefit the game as a whole, without negatively impacting the tour, its players or our fans' enjoyment of our sport." In other words, they need a lot of convincing.
The next six months of the Notice and Comment period will see a great deal of activity behind closed doors. An answer on whether and where this dividing line is drawn will be ready by the end of the year.