News
USGA, R&A send notice that use of 'green-reading materials' is next on rules radar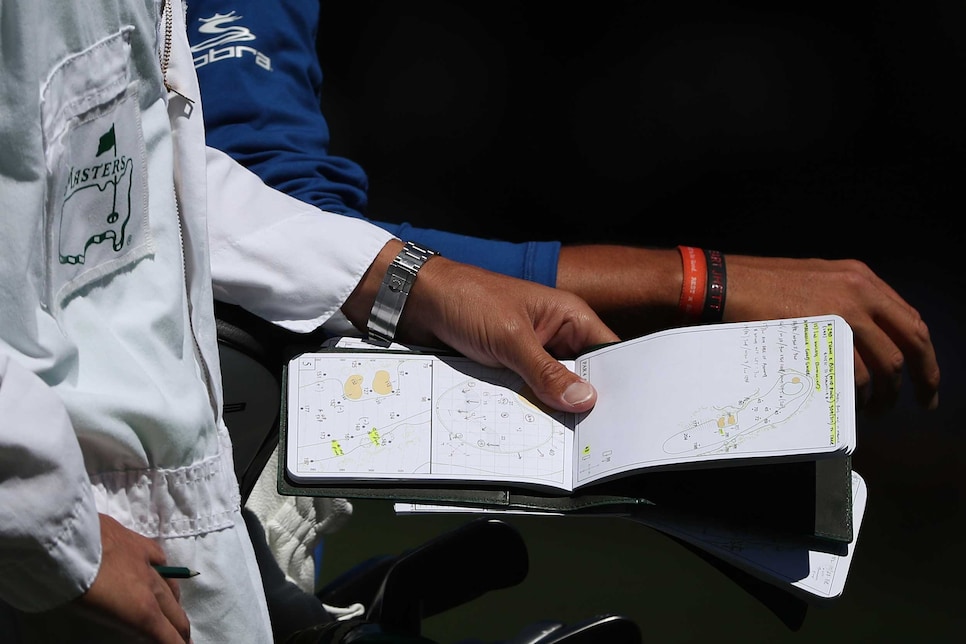 Somewhat cryptically, the USGA and R&A announced Monday that they would be reviewing the use of "green-reading materials" under the context of Rule 14-3, which primarily prohibits a player from "the use of any artificial device or unusual equipment … for the purpose of gauging or measuring distance or conditions that might affect his play."
Monday's initial announcement did not specify what "green-reading materials" might constitute. Nor what sparked the announcement. Nor under what process the ruling bodies' review might take place.
The USGA-R&A joint statement reads as follows:
"The R&A and the USGA believe that a player's ability to read greens is an essential part of the skill of putting. Rule 14-3 limits the use of equipment and devices that might assist a player in their play, based on the principle that golf is a challenging game in which success should depend on the judgment, skills and abilities of the player. We are concerned about the rapid development of increasingly detailed materials that players are using to help with reading greens during a round. We are reviewing the use of these materials to assess whether any actions need to be taken to protect this important part of the game. We expect to address this matter further in the coming months."
Currently, Rule 14-3 prohibits players from using rangefinders that have activated a feature that calculates the affect of slope on distance. Also, outlined in Appendix IV, under Rule 14-3, an artificial device is not allowed if it provides "recommendations that might assist the player in making a stroke or in his play [e.g., club selection, type of shot to be played, green reading or any other advice related matter] …"
However, the focus of the statement may reach beyond devices. Indeed, it may not be about mechanical devices in any way. Rather, it may be a consideration of a kind of ban on the special knowledge that's increasingly being used by tour players and their yardage books, which often have green topography and other schematics meant to help players specifically understand and interpret how putts might break from different directions. It is, for instance, not uncommon these days to see players on a green reviewing their yardage books for information on slope and other topographic guidelines about the very green they're standing on.
"It is the increased level of detail that the USGA and the R&A has seen of late, both in printed and electronic form, that has prompted the study," said Thomas Pagel, the USGA's senior director of rules and amateur status. Commenting via e-mail, he continued, "It is fair to say all materials will be reviewed, but the original intent was not focused on basic printed yardage guides found at most golf courses, but those with an increased level of detail/sophistication."
It is not unusual for a tour yardage book to map the slope of green in tenths of a degree with dozens of arrows and contour lines that cover every square inch of the putting surface. Moreover, it's not clear where that technology might be headed. It seems conceivable that green charts instead of contour lines measuring the percentage of slope (see below) might someday reach a stage where all putting locations might be determined to have a certain break like two feet right or six inches left.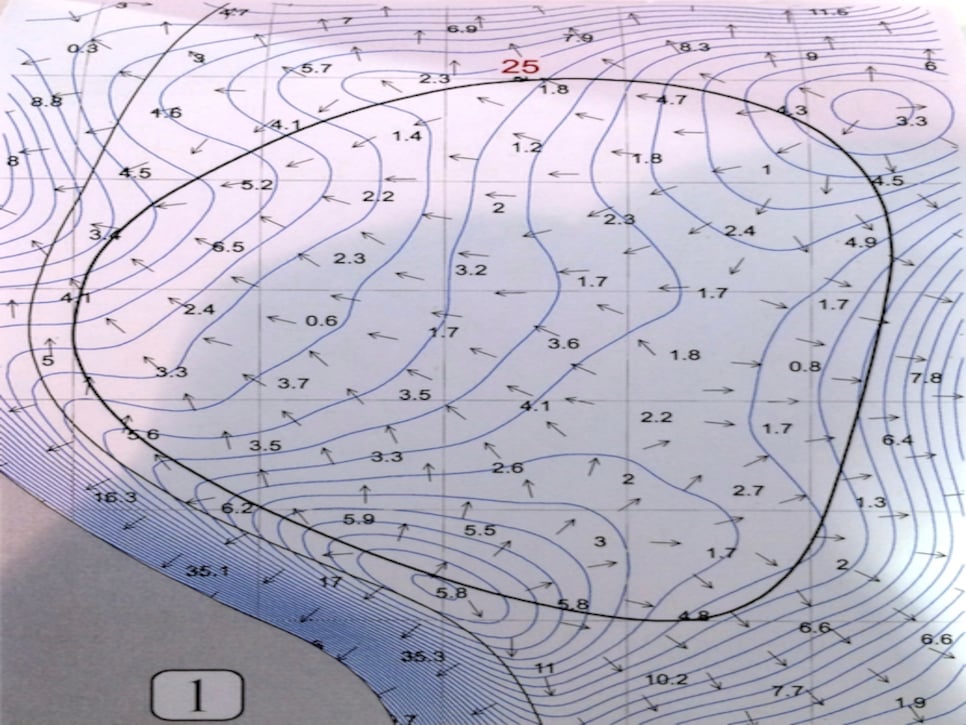 Mark Long, a 25-year tour caddie, produces yardage books used by tour players, and he thinks the question is a difficult one for golf's ruling bodies because of the rapidly advancing technologies. Long says there was a time in his career caddieing for Fred Funk that he sometimes had access to a so-called greens book and sometimes did not. He calculated that when he did, it resulted in an average of $20,000 in increased earnings per tournament, or a stroke for the week, compared to an event where he did not have a greens book.
The knowledge at hand continues to grow today, says Long, whose books are some of the most detailed ever produced. But, he says, every player and caddie feels they must use it or yield an advantage to their competition. There are some reports that some players are objecting to their use because the charts, arrows and contour plots provide a skill or a knowledge set immediately that they may have worked to develop the old-fashioned way for years.
"You can buy the ability to read a green as well as Tiger Woods does," Long said. "It's a question of whether you want the game to be how well you perform physically, or do you want part of the competitive game to be the ability to think better than other people?
"You can buy your knowledge. The question is whether that's a good idea. What do you consider the parts of the game? Is judgment part of the skill, and if it is, to what degree?"
As for now, though, it is premature to even consider whether a change in Rule 14-3 might be in the offing regarding yardage books or other "green-reading materials." The ruling bodies seem to be in the gathering information mode at this point, and that stage isn't limited to devices and yardage books or note-taking. The decision process may even include less material things and a general consideration of whether detailed greens maps have a negative effect on pace of play.
Of course, at the moment, Long finds himself genuinely betwixt and between. He is at once a caddie and a businessman, as he is an observer of the game's truth: "If I was out caddieing in a tournament today, oh man, would I want a greens book in my hand. Are you kidding me? A thousand percent.
"But is that really the best thing? Is that how the game should be played?"
We may have an answer from the ruling bodies "in the coming months."