News
Noah Goodwin, 4 down with eight holes left, rallies to win U.S. Junior title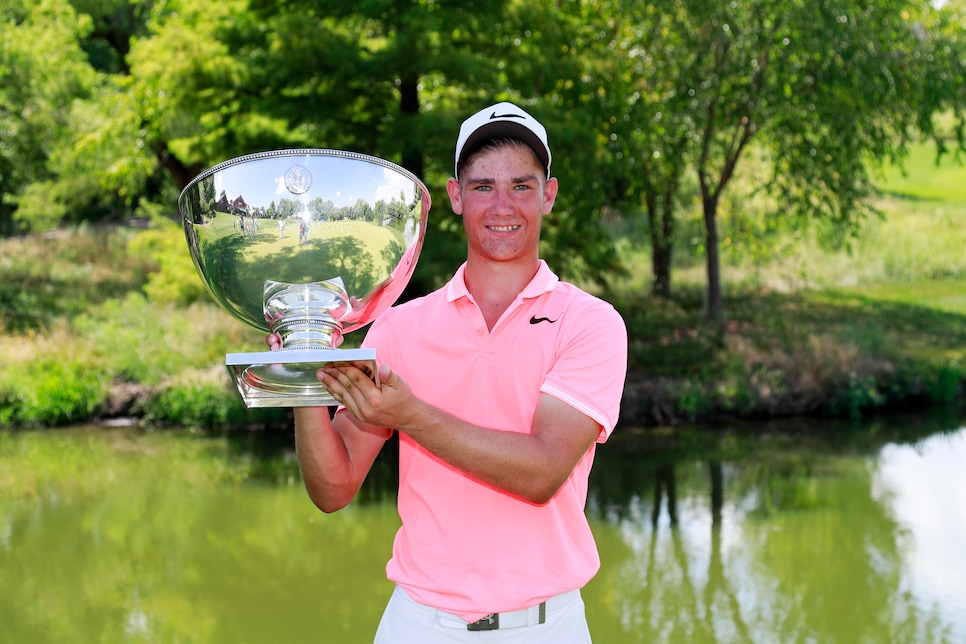 Copyright USGA/Jeff Haynes
There is no shortage of USGA champions who overcame significant match-play deficits to claim their titles. Noah Goodwin can add himself to the list.
The 17-year-old from Corinth, Texas, was 4 down with eight holes remaining to Matthew Wolff in the scheduled 36-hole finale of the 70th U.S. Junior Amateur at Flint Hills National G.C. in Andover, Kan., yet walked away with a 1-up victory and the most prestigious title in junior golf. It was the second-largest comeback in U.S. Junior history behind Phillip Barbaree being 5 down with eight to play only to win in 37 holes in 2015.
In the process, Goodwin, No. 27 on the World Amateur Golf Ranking, avenged his defeat in the 2016 U.S. Junior final to Min Woo Lee and joined Mason Rudolph (1950) and Tim Straub (1983) as the only players to follow up a runner-up finish with a victory the next year.
Mind you, it was no easy task for Goodwin, a rising high-school senior who hope to graduate early and start playing college golf at SMU in January. Wolff, an 18-year-old from Agoura Hills, Calif., held a 1-up lead after the morning 18 holes. He then won three of the first 10 holes in the afternoon to take a seeming commanding lead, playing the equivalent of two under par over the first 28 holes with normal match-play concessions.
Slowly but surely, however, Goodwin buckled down. He'd win the 29th hole with a 35-foot birdie putt, and the 30th hole with a short par when Wolff made bogey.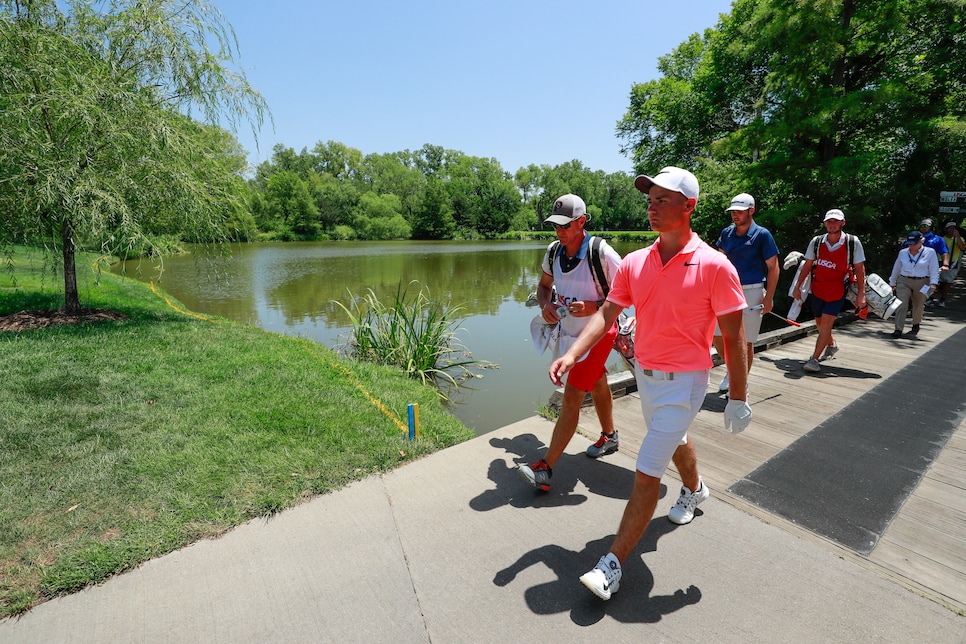 Copyright USGA/Jeff Haynes
Goodwin then won the 32nd and 33rd holes with pars to square the match and claim the momentum. Still all square on the 36th tee, Goodwin found the fairway and reached the par 5 in two while Wolff struggled off the tee. Goodwin's eagle try was eight feet short, but when Wolff missed his par effort, he conceded Goodwin's birdie.
"It's a feeling that I'm still kind of trying to grasp," Goodwin said. "A lot of emotions are going through me right now, and I'm guessing it's all going to come out in the car ride back. More than anything, I'm just extremely blessed and grateful to be given the opportunity to be back in the final again and to be able to have a little bit different outcome."
After the victory Goodwin's cellphone was bombarded with text messages from well-wishes. Among them was his instructor, Cameron McCormick, who also teaches British Open leader Jordan Spieth and Austin Connelly, who is T-3 at Royal Birkdale.
"He just said congrats to me, and that just means a lot," said Goodwin, the 2016 AJGA boys player of the year. "He's done so much for my game. I can't really express my gratitude for Cameron. I wouldn't be where I am without him. … He's invested the work and the time in me, and we've just both grinded. It's just amazing to see how far we've come because of it. It just shows hopefully how far we can go in the future."