USGA
Newport Country Club to host 2024 U.S. Senior Open after missing out in 2020 due to pandemic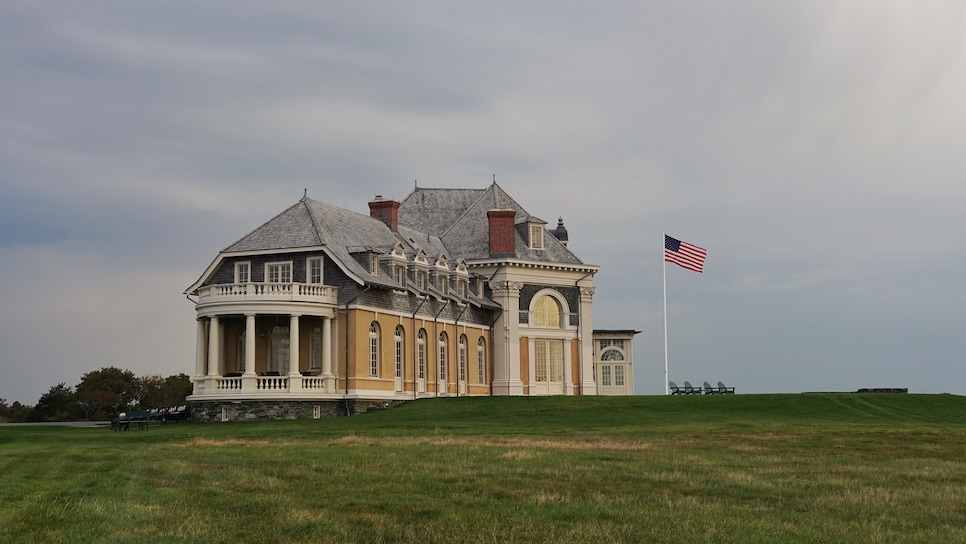 Newport Country Club's distinctive Beaux Arts-style clubhouse, designed by architect Whitney Warren, overlooks Brenton Point.
Courtesy of Jon Cavalier
Golf fans' disappointment at the cancellation of the 2020 U.S. Senior Open due to the COVID-19 pandemic didn't just stem from having the tournament scrubbed. It also came from losing an opportunity to see Newport Country Club, the scheduled site for the championship, host another premier event. The historic Rhode Island course, one of the USGA's original founding clubs and venue for the first U.S. Amateur and U.S. Open in 1895, isn't often showcased for the golf world to see.
Thankfully, the USGA isn't waiting long to get back to Newport, announcing on Tuesday that the club will be the site for the 2024 U.S. Senior Open, June 27-30.
"On behalf of the Newport Country Club, we are excited to have the opportunity to host the 2024 U.S. Senior Open Championship as our nation and community work toward normalcy," said Barclay Douglas Jr., club president. "The state of Rhode Island, the city of Newport and the club are enthusiastic to support this USGA championship. Our 'City by the Sea' will be enhanced by having the world's best senior players compete for the Francis D. Ouimet Memorial Trophy on our historic Tillinghast course."
This is scheduled to be the fifth USGA championship played at Newport. In addition to the 1895 events, the course hosted the 1995 U.S. Amateur, Tiger Woods winning the second of his three straight titles, and the 2006 U.S. Women's Open, where Annika Sorenstam beat Pat Hurst in an 18-hole Monday playoff for her third career Women's Open victory.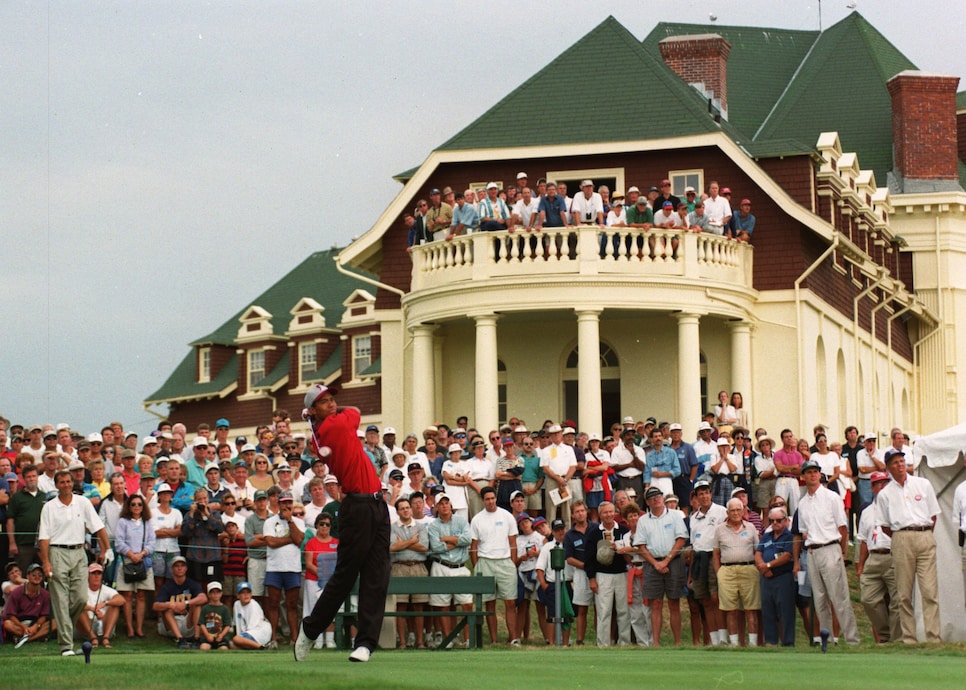 Tiger Woods tees off on the first hole in the 1995 U.S. Amateur final against Buddy Marucci.
J.D. Cuban
Adding the Senior Open means Newport will become the sixth club to have held the U.S. Open, U.S. Women's Open, U.S. Amateur and U.S. Senior Open. The others are Cherry Hills Country Club, Hazeltine National, Oakmont, Pinehurst No. 2 and Winged Foot.
Newport was originally a nine-hole course designed by William F. Davis. It was eventually extended to 18 holes, and in 1923, A.W. Tillinghast remodeled the entire course, resulting in the most authentic links experience Tilly ever created. It was restored in 2005 by Ron Forse and is the rare nationally-ranked course that's never had a fairway irrigation system.
Here are the upcoming U.S. Senior Open venues:
2021: Omaha (Neb.) C.C.
2022: Saucon Valley C.C. (Old Course), Bethlehem, Pa.
2023: SentryWorld, Stevens Point, Wis.
2024: Newport (R.I.) C.C.
2025: Broadmoor G.C. (East course), Colorado Springs, Colo.