News
USGA executive director says 'variable-distance ball' could be part of golf's future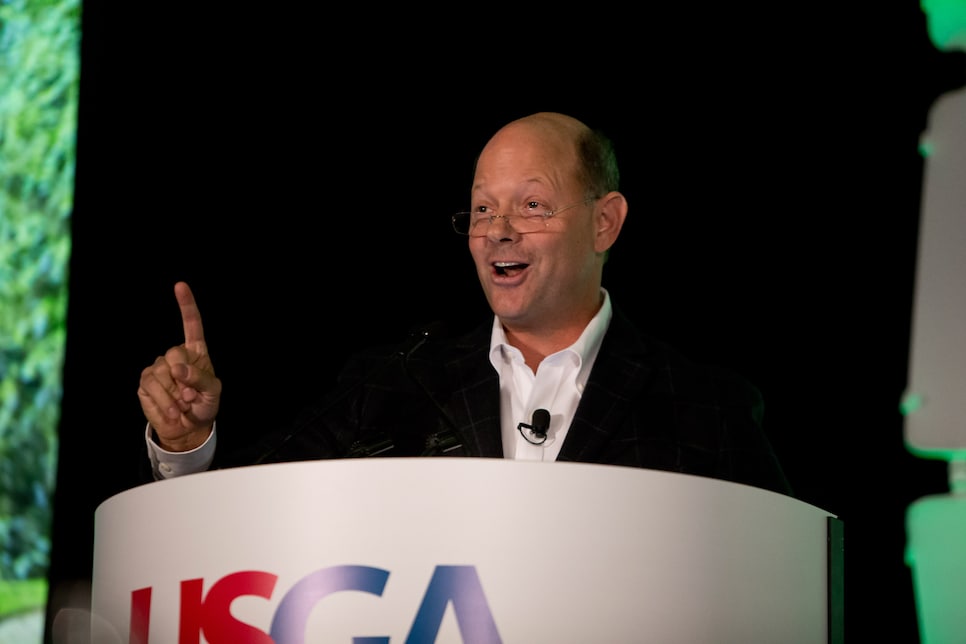 VANCOUVER—USGA executive director Mike Davis turned a few heads with his closing remarks at the North American Golf Innovation Symposium by suggesting there's room in the game's future for a "variable-distance golf ball."
The idea, somewhat similar to a 2011 proposal from Ping's chairman John A. Solheim, would be to tailor golf balls to golfers or courses so golfers with different distance capabilities could play together from the same tees or compete on certain courses that would play more true to their original heritage for today's longer hitters.
After his remarks, Davis stressed, however, that such an idea is only an alternative for golf's future and that there is no plan for a mandatory golf-ball rollback.
"Despite what some people write, we've seen roughly 13 years in a row where distance at the elite level is hardly moving, which is where we wanted to get it to," he told GolfDigest.com. "This notion of people saying that the USGA and the R&A had their heads in the sand, well, this is not our data and you can extrapolate it however you want it, but the stark reality is it's hardly moving.
"We don't foresee any need to do a mandatory rollback of distance. We just don't see it. But that's different than saying if somebody comes to us and says I want an experience that doesn't take as long or use as much land, can we allow for equipment to do that?"
In his remarks, though, Davis clearly indicated distance is a concern for the game's future. He made specific reference to the U.S. Open at Shinnecock Hills G.C. next year, where it will play at approximately 7,500 yards—or 2,000 yards longer than it did when it played host to the second U.S. Open in 1896.
"Anybody is hard-pressed to say that as distance has increased in the last 100 years that that's been good for the game," he said. "We all want to hit the ball farther. We get that. But distance is all relative. When you think about the billions and billions of dollars that have been spent to change golf courses, and you say, Has that been good for the game?
"Is the fact that Shinnecock Hills went from 5,500 yards to 7,500 yards, what has that done good for the game? It's increased the expenses to maintain it. It's cost us time to walk an extra 2,000 yards. So you have to say, What has that actually done?"
Davis later even suggested golf was alone among all sports because of the way its equipment has dictated its playing field.
"Think about baseball in the United States," Davis said. "If they were using titanium bats and a hot baseball, and they had to go to Fenway Park and say move the Green Monster out another 75 or 100 feet? That's exactly what's happened in the game of golf.
"And you have to say what good has that done? I can't think of a good reason for it. Maybe it's helped architects and construction companies, but by and large it's cost a lot of money."
Davis imagined a scenario where courses even could reduce their footprint by adopting a shorter golf ball for use on their course, reducing water use, maintenance costs and time, noting that a future of longer, harder, overwatered courses is foolhardy. "People want to see a dark-green, perfectly manicured, overwatered golf course," he said. "That can't be the future of the game, not the way water is going to be."
Davis referenced Dustin Johnson playing historic Myopia Hunt Club, site of four U.S. Opens between 1898 and 1908, which now measures at 6,539 yards. "Throw him an 80 percent golf ball and go play the back tees, and guess what? It would be a great experience for him, and he would be able to play this wonderful historic golf course that by and large he can't play anymore."
Dustin Johnson's average drive is 316.2 yards, so at 80 percent he'd be averaging about 253 yards off the tee.
But Davis said his intention was to make golf less rigid, and that a variable-distance ball wouldn't be a mandatory change or rollback. It would be just another option to allow for a better golf experience.
"The point is it's about the health of the game, the enjoyment of the game and giving the game more options and having golfers actually accept that it's OK," Davis said. "Maybe there's a way to give golf choices to say if it's right for a certain golfer or it's right for a certain golf course you shouldn't shy away from it."
Would one of those options include bringing the best players in the world to a course like Myopia Hunt Club for a U.S. Open in the future with a reduced-distance ball?
"We haven't talked about that," Davis told GolfDigest.com, "but if we were closed-minded to that, shame on us."