News
USGA devising plan to reflect regular U.S. Open field as much as possible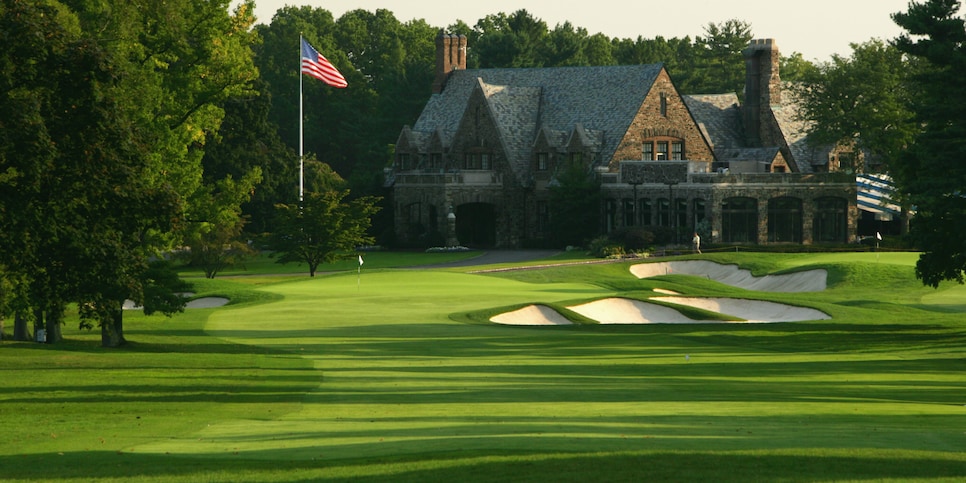 The field for this year's U.S. Open at Winged Foot might not look appreciably different than it has in previous years. At least that's what the USGA is hoping to achieve.
With all local and sectional qualifying canceled due to the coronavirus pandemic, this year's championship, postponed to September, will be populated entirely by players selected via various exemption categories—many that already exist and have for some time, and others created for what the USGA hopes is a one-time occasion.
Similar plans are being instituted for three additional championships the USGA still plans to conduct this year: the U.S. Women's Open, the U.S. Amateur and the U.S. Women's Amateur.
It's a process that has started from scratch. But at least there is a template of sorts.
"We're trying to create exemption categories that when we produce a field and when we start playing on that Thursday of the championship proper, people will look at the fields and say, 'You know, they didn't have qualifying, but wait, that looks pretty close to what a U.S. Open field might look like,'" John Bodenhamer, senior managing director of championships for the USGA, told Golf Digest as part of a wide-ranging telephone interview, a portion of which was reported on Monday. "We are looking at data, we are looking at those who play year in and year out in the championship and qualifiers. We want to kind of turn over every stone to build a field."
Of course, the field can't quite measure up to modern U.S. Open standards, given that the number of competitors is being reduced from 156 to 144 because of the late-summer date. The championship begins Sept. 17, when the duration of daylight in Mamaroneck, N.Y., is 12 hours, 21 minutes—not all of it effective, mind you, for playing golf. That compares to the 15 hours, 6 minutes of daylight on Thursday, on which the first round of the 120th U.S. Open on Winged Foot's West Course originally was scheduled.
Last year, there were 78 players fully exempt into the U.S. Open at Pebble Beach Golf Links, exactly half the field. A similar number this year would leave 66 spots to be filled by players selected from new exemption categories, which can come from a number of sources, including the USGA's recent amateur championships and the World Amateur Golf Rankings. Bodenhamer said that, on average, around 15-16 amateurs compete in the U.S. Open annually. Other considerations for filling the field will be given to international tours, senior golf events including past U.S. Senior Opens and club professionals via input from the PGA of America.
"Our endeavor," Bodenhamer said, "is that when we release what the exemption categories will be this year, we're going to at least give people an opportunity to in various categories who normally compete in the U.S. Open the opportunity to participate.
"It won't be perfect," he added. "We know that, and we hope people understand that it falls in line with what occurs through qualifying. Sometimes some good players don't make it through qualifying."
Bodenhamer said that qualifying was eliminated for its remaining championships strictly due to safety concerns for players, caddies, administrators, rules officials, personnel at the clubs that host them, and anyone else who might have engaged in those nationwide events. The USGA leadership had lengthy deliberations over what was the best course of action. They opted for caution. They know what it means to the thousands of golfers who enter the U.S. Open each year hoping that their long-shot bid to play in the championship is realized. Same goes for players who want to compete in other USGA events.
"We like to think about it [qualifying] as the platform we provide for a U.S. Open, let alone any of our 14 championships, for people to follow their dream to play in a major championship or a national championship, a golf championship of importance, whatever their level or demographic," Bodenhamer said. "It was really, really agonizing for us to not be able to provide that platform to folks."
Bodenhamer did not give an indication of when the USGA would release the various exemption categories. It is not in a hurry, trying to get it right—even while knowing there is no completely right way in the process.
"We're not at the finish line yet. We've got some work left to do," Bodenhamer said. "It's complicated. We keep asking ourselves, 'What our are options?' It's just all so new for us. But our thought, absolutely, is that this is a one-time thing. It's a one-off. We go back to our traditional DNA in '21. Qualifying is an important aspect to all of our championships. It's what we're about as a governing body that promotes the game."