News
USC's Justin Suh picks up where he left off the college season, winning the Northeast Amateur in a runaway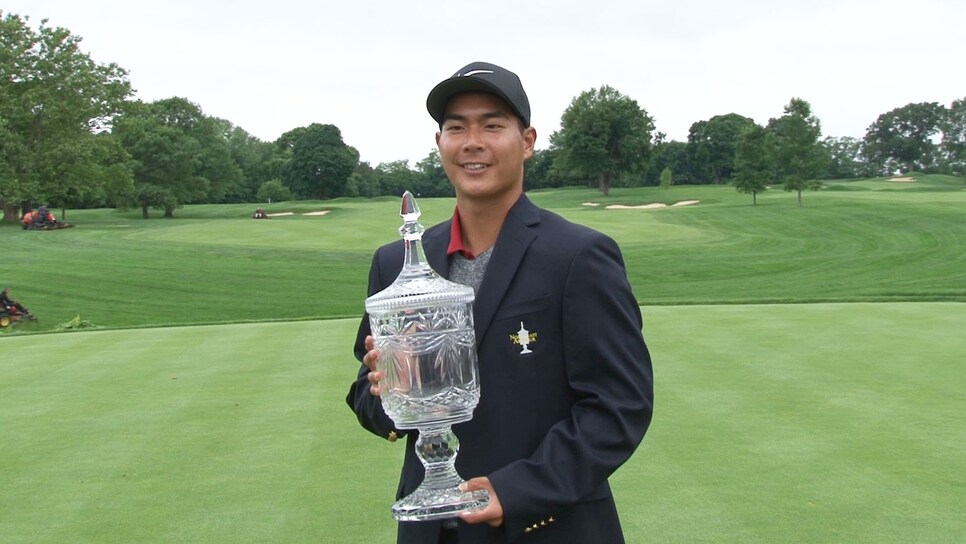 Courtesy of the Northeast Amateur
Early in the final round of the 57th Northeast Amateur, it was clear who was walking off with the title and the victor's honorary navy blue blazer. Justin Suh, a rising senior at USC, had been leading since Day 1 after shooting an opening 63 at Wannamoisett Country Club outside of Providence, R.I. He started Saturday with a three-stroke edge, then made an a birdie on the first hole, essentially letting the rest of the field there would be no Suh slide.
The only question, then, lingering was by how much would the 21-year-old from San Jose, Calif., win by and would it be enough to break the tournament's all-time scoring mark. The final answers: six strokes and not quite.
Suh's closing three-under 66 gave him a 15-under 261 total on the par-69 Donald Ross gem, which tied the 72-hole scoring mark set by Peter Uihlein in 2011. In outpacing runner-up Sebastian Crampton, Suh became the first wire-to-wire winner since Stewart Jolly in 2014.
It was Suh's debut at the Northeast Amateur, having missed the event the previous summer to play in the California Amateur. It made the convincing way in which the rookie claimed the title—it was the largest margin of victory in the event since Jonathan Byrd beat Aaron Baddeley by seven strokes in 1999—all the more impressive.
"It feels unbelievable. This is always known as such a big event, one of the best," Suh said. "To get to win my first time out here, it means a lot."
For the week, Suh made 21 birdies (a tournament best) to just six bogeys. And he outpaced a field that had plenty of star power. Luis Gagne and Matt Parizale, the low amatuers at the U.S. Open, finished T-4 (10 strokes back) and T-15 (15 strokes back).
Mind you, anyone who watched Suh play this past season for the Trojans knows his potential. In 11 starts during the 2017-'18 season, Suh posted five wins, including the Pac-12 title, and eight top-four finishes. He earned first-team All-American honors, and was named Pac-12 player of the year, after finishing with a 68.73 stroke average, crushing USC's previous single-season mark of 70.10 set by Jamie Lovemark in 2007.
While the Pac-12's other dominant star—Oregon's Norman Xiong—decided to leave school at the end of the spring to turn professional, Suh says he's committed to finishing his last year at USC and earning his degree in business administration.
"Graduating is important for me. Mentally it's a lot more comforting having a paper in hand when you go out there," he said. "Paper from USC means a lot. It's what I've had to look forward to for quite a while."