The Loop
USC, UCLA, Duke grab top seeds for NCAA Women's D-I Regionals
The three most dominant women's teams during the 2013-14 season -- USC, UCLA and Duke -- claimed No. 1 seeds when the NCAA Division I women's regional fields were announced Monday.
The Trojans, defending NCAA champions (below) and the top-ranked school in the Golf World/WGCA women's coaches' poll, earned the top seed in the West Regional, with No. 2 Bruins headlining the field at the Central Regional. The Blue Devils, fresh off a 27-stroke victory at the ACC Championship, were rewarded with the East Regional's top seed.
All three regionals will be played May 8-10. The top eight teams and two individuals advance to the NCAA Championships, which will be held May 20-23 at Tulsa (Okla.) Country Club.
This year's national championship will be the last played over 72 holes of stroke play, as the tournament will incorporate match play to determine a team champion, similar to how the men's D-I title is decided, in 2015.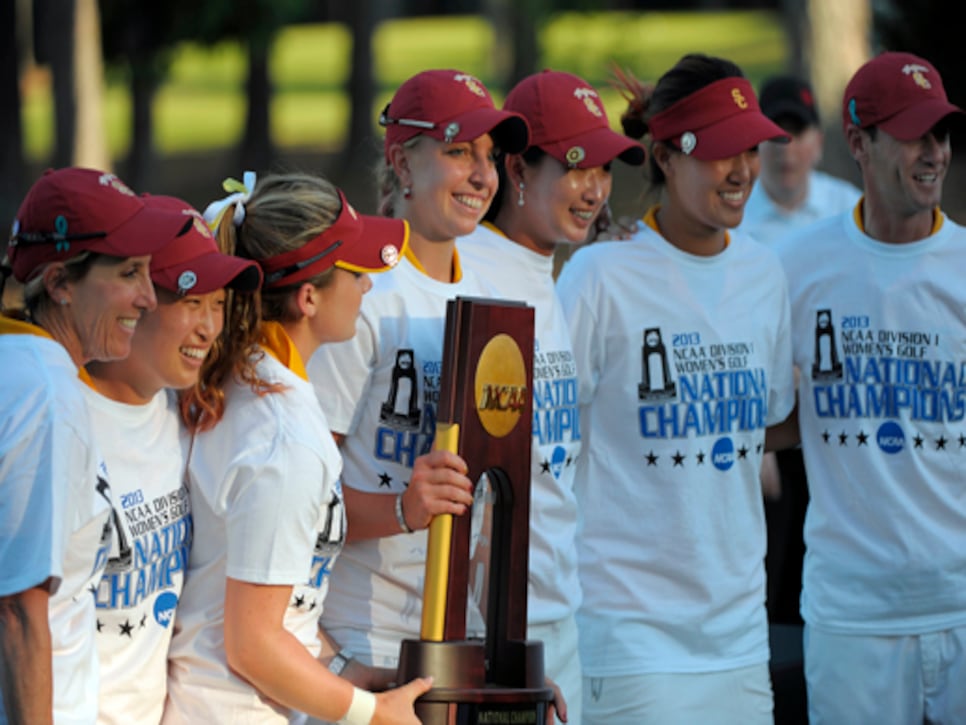 *SouthWood G.C., Tallahassee, Fla.
Duke, South Carolina, Stanford, Vanderbilt, Pepperdine, UCF, Virginia, Auburn, N.C. State, Florida State, Kentucky, Tulane, Louisville, Baylor, East Tennessee State, Georgia, Campbell, East Carolina, Texas State-San Marcos, College of Charleston, Troy, Murray State, Seton Hall, Alabama State
Lori Beth Adams, UNC Wilmington; Ellen Ceresko, Penn State; Lacey Fears, Mercer; Kaew Preamchuen, Kennesaw State; Abby Newton, Mississippi; Christina Vosters, Penn State
__*Karsten Creek G.C., Stillwater, Okla.
UCLA, Arkansas, Alabama, Arizona, LSU, Oklahoma State, Florida, North Carolina, Ohio State, Miami (Fla.), Mississippi State, California, Kent State, Kansas, Texas, UNLV, Colorado, SMU, Minnesota, Harvard, Lamar, Wichita State, LIU-Brooklyn, Siena
Aurora Kan, Purdue; Sanna Nuutinen, TCU; Jenna Hague, Ball State; Ember Schuldt, Illinois; Kimmy Hill, Texas Tech; Stephanie Miller, Illinois
__*Tumble Creek Club at Suncadia Resort, Cle Elum, Wash.
USC, Arizona State, Oklahoma, Washington, Clemson, Wake Forest, Northwestern, Michigan State, Iowa State, GRU-Augusta, Oregon, Texas A&M, UC Davis, Denver, San Diego State, Wisconsin, Gonzaga, Notre Dame, Tennessee, Chattanooga, New Mexico, New Mexico State, Portland State, Detroit-Mercy
__Kayla Alison Knowles, Louisiana-Monroe; Regan De Guzman, San Jose State; Clariss Guce, CSU-Northridge; Fabiola Arriaga, UT-San Antonio; Madchen Ly, Fresno State; Alexandra White, BYU