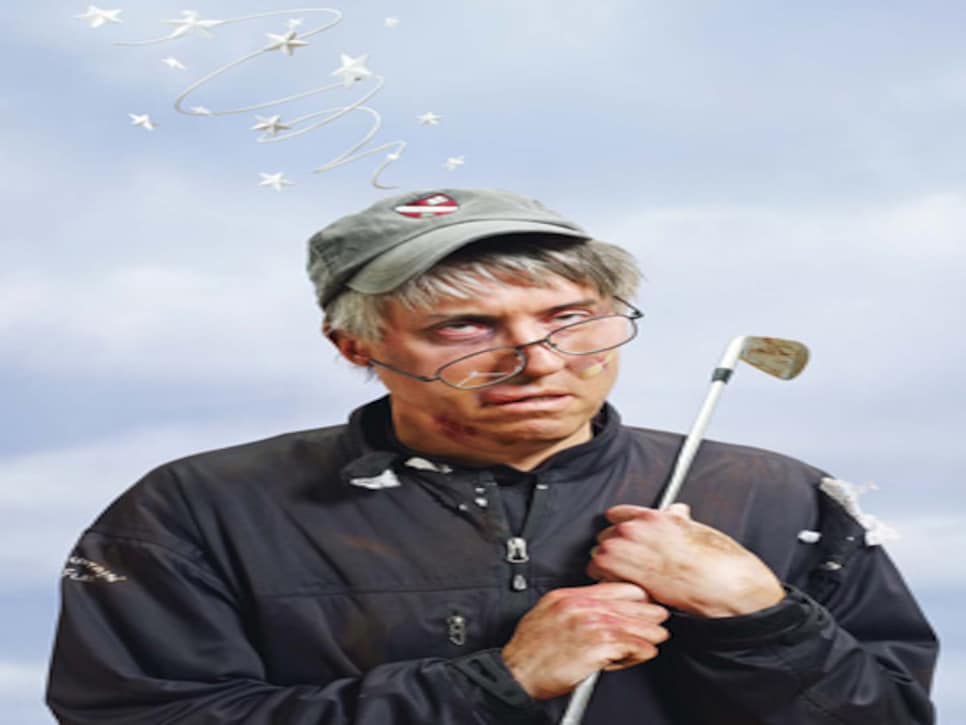 For the latest details on the 2010 Golf Digest U.S. Open Challenge, click gdopencontest.com. Each time you log in to the site, youll receive an additional entry into the sweepstakes to win a golf vacation for two to Pebble Beach.
In mid-December, I played Pebble Beach from the U.S. Open tees. I was attempting my version of the 2010 Golf Digest U.S. Open Challenge, in which an ordinary recreational golfer will attempt to break 100, a feat that Tiger Woods once called impossible for a regular guy playing under Open conditions. This year's Challenge will be the third. In 2008 and 2009, the Everymen shot, respectively, 114 (at Torrey Pines) and 101 (at Bethpage Black). Each was accompanied by three golf-obsessed celebrities, all of whom did better--Tony Romo shot 84 at Torrey Pines in 2008, and Justin Timberlake, Michael Jordan and Ben Roethlisberger all broke 90 at Bethpage in 2009--perhaps because famous people get less nervous in front of spectators and television cameras.
My round was spectator-free, and no one in New Zealand or China was watching me on TV, but I still felt shaky, primarily because I knew I was going to have to reveal my score in this magazine. Every time I three-putted, I pictured the write-up and winched my grip a little tighter.
And I've got other excuses: It had been raining on the Monterey Peninsula for several days, and when we teed off it was kind of still raining, sort of; my caddie and I never got into sync (which was my fault, not his, although I blame him); a sea otter frolicked in the foam below the fourth fairway, distracting me; and last year I had surgery to fuse four vertebrae and three disks.
Oh, wait--the guy who'd had surgery wasn't me. It was Chuck Dunbar, Pebble's head pro, who played with me and, despite the steel rods in his spine, outdrove me on every hole except the first. Anyway, for a variety of reasons, I had a tough day.
My round might have gone better if I'd started with a par instead of a three-putt bogey. Or maybe not, because I two-putted the second green but still made a triple-bogey 7. From the human tees, Pebble's second hole is a 460-yard par 5; from the Open tees, it's a 500-plus-yard par 4. A number is just a number, of course--but try telling your brain, at the top of your backswing, to ignore the USGA's obsession with "protecting par." I hit a reasonable drive. Then, after my caddie and I had struggled to come to terms with the nearly incalculable yardage remaining between me and the flag, I topped a hybrid, sliced a 4-wood, bladed a wedge and chunked a chip, each screw-up having laid the psychological foundation for its successor. I used to hate Pebble's second hole because I thought it looked like an overflow-parking area at a state fair. Now I hate it for personal reasons.
While I awaited my turn to three-putt for bogey on the fourth hole (a 330-yard, uphill par 4 that the USGA considers potentially drivable), I watched the group ahead teeing off on the par-3 fifth, Pebble's newest hole, whose Open debut was in 2000. (The original tee shot was up a hill to a green you couldn't see; the new hole, which was designed by Jack Nicklaus after the resort acquired a critical piece of property, looks like a real golf hole, and it runs along the ocean instead of into someone's back yard.) I thought about how inviting that tee shot looked--then, with a gulp, I realized that the golfers I was watching were hitting from the white tee, which is 70 yards ahead of the Open tee, and that there was a ravine between them and the place that I was going to have to hit from.
Long par 3s--like the eighth at Oakmont, which measured 300 yards in the final round of the 2007 Open, making it longer than four of the par 4s on my home course--might be the most demoralizing features of big-boy golf layouts. For an average golfer, even a 6-handicapper like me, a 500-yard par 4 isn't all that different from a 430-yard par 4, because getting to either green requires approximately the same depressingly large number of shots. But a 300-yard par 3 seems at least a mile longer than a 150-yard par 3, especially if the wind is blowing. Pebble's fifth is "just" 200 yards from the Open tee, but the target is small and surrounded by potential catastrophes. I managed a reasonable-looking tee shot, with a club I consider a secret weapon--a second, 16-degree driver, which I carry for just such emergencies. But I missed the green to the left and somehow needed four more to get down.
Yet I did worse on the seventh, the shortest hole in the history of the Open, a downhill par 3 that maxes out at 115 yards. The green sits on a shelf that overhangs the Pacific, and in good weather you feel that you could almost kick your ball into the hole. In a gale, though, the tee shot presents a graduate-level problem in aerodynamics, because the wind gets a running start that begins, basically, in Japan. Chuck Dunbar--the pro with the bum back--told me that, during a recent storm, he had bet one of his assistants $5 that the guy couldn't hit the green that day in three tries. Deal! They raced to the seventh tee, and when the assistant got out of the cart the wind ripped his bucket hat from his head and lifted it into the sky. They watched the hat climb, like a helium birthday balloon, until it had disappeared against the clouds.
Our weather was nothing like that, although there was at least a club's worth of ocean breeze coming straight at us. I knocked down an 8-iron, and the shot was so gorgeous, and so dead on the flag, that I held my finish and glanced around to make sure that everyone was watching. Then my ball disappeared. "Hole-in-one?" Well, no. We found my ball in a small bunker directly beyond the flag, and from that bunker I hit a delicate little explosion shot into a somewhat larger bunker, and from there I hit a similar shot onto the fringe above the hole, and from there I got down in three.
Shortly before we played, the Pebble Beach maintenance crew, at the direction of the USGA, had begun allowing many acres of fairway to lengthen into U.S. Open rough, traditionally the tournament's main non-mental obstacle. This new peril was only an inch or two high during my round, so it sometimes seemed more inviting than the sodden fairways, but I could easily see what was coming. On the eighth hole--which features a blind, uphill tee shot to a plateau at the edge of a cliff--the normal landing area had been cut in half. I hit a good drive into what would ordinarily be the center of the fairway but will be demoralizing savanna during the Open. Then I hit a pretty good second shot just short of the green, and got up and down--my first (and next to last) par of the round, and a certain bogey (or worse) if the rough had been full-size.
Among the USGA's diabolical plans for this year's Open is to bring the Pacific even more into play, not only by narrowing the fairways on the ocean holes but also by shifting their downhill edges closer to the cliffs. You can see this clearly on the ninth and 10th holes, a pair of gargantuan par 4s whose fairways, even during non-Open years, resemble the listing decks of torpedoed aircraft carriers--although sliding off the short grass is much less of a problem if you can't reach the short grass from the tee: Both holes are roughly 500 yards from the Open tees, and the carry to the fairway on each is 230 yards or so. The holes seem even longer if the wind is blowing in your face, as it was for us. (The story is that in the third round of the 2000 Open, only a dozen players reached the ninth green in regulation.) On the 10th, the Open tee is 50 yards back from where it was in 2000. I drove the ball fairly straight all day, so the beach was never a problem, and I finished my round with the same ball I started with. But if the devil had been in our group, I would have offered to trade 20 degrees of driving accuracy for 100 additional yards off the tee. (I reached the ninth green in regulation-plus-one, then three-putted; I needed four shots to reach the 10th green, then two-putted.)
The next holes are easy to summarize: three-putt bogey, four-putt triple, three-putt double, two-putt bogey, two-putt bogey, three-putt triple. That brought us to the 17th, one of the world's greatest par 3s, where Tom Watson chipped in, unforgettably, in 1982.
For this year's Open, the hole will measure about 235 yards when the cup is cut on the left--as it was for Watson and as it was for us. By the time we reached the tee, the wind was blowing briskly in our direction, so I knew I was going to have to hit my driver (the regular one, not my secret weapon), and I was both relieved and shaken when I saw that Chuck had chosen his driver, too. He hit a beautiful shot, straight at the flag, and carried the bunker in front of the green. I hit the green, too, but to the right of the bunker, leaving a literally impossible putt. My caddie suggested chipping over the green's central spine, but I felt I hadn't earned the privilege of taking a divot on a U.S. Open putting surface, so I settled for yet another three-putt and a gentleman's 4. (Chuck, like Watson, made a 2.) On the 18th--a tremendous par 5, on which the ocean isn't truly out of play until you're close to gimme distance--I drove into a fairway bunker but made the same score Tiger did during the final two rounds of his record-annihilating 2000 performance: par. I accomplished that by pulling my final putt, a dead-straight three-footer, by exactly the same amount that I pushed it.
I didn't add up my score until the next day--very possibly a sound strategy, although a difficult one to pull off if there's a volunteer walking next to you with a signboard. I shot the same score Matt Lauer did at Torrey Pines: 100. My round was perfectly symmetrical--50 on the front, 50 on the back--and because my play was so consistently bad I've had a hard time feeling haunted by what might have been--although if my three-putts had been two-putts, and my four-putt had been a three-putt, I would have come very, very close to breaking 90.