News
U.S. Women's Open leaders prove distance isn't everything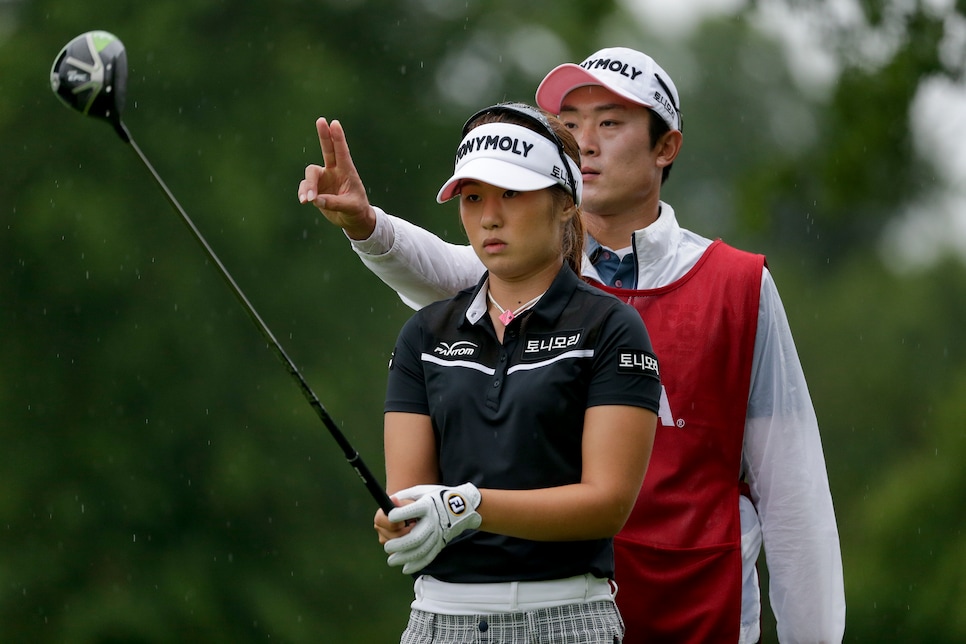 BEDMINSTER, N.J. -- The rain came down hard during the first two rounds at the U.S. Women's Open. Trump National Bedminster is set-up at 6,687 yards, which is rather stout to begin with. Add in wet fairways that give up no roll, and you're looking at a golf course that's playing long. The obvious assumption then would be that to be successful, you'd have to be a long hitter. But the stats tell a different story. Four of the women sitting T-6 or better after 36 holes did not rank inside the top 75 in average driving distance in both the first and second rounds of the national championship: leader Shanshan Feng (ranked 106th in driving distance), Jeongeun Lee (T-80), In Gee Chun (T-76) and Seon Woo Bae (133rd).
One of Golf Digest's Best Young Teachers, Bill Schmedes III of Fiddler's Elbow G.C., taught under Gary Gilchrist. Through that experience, he spent time around multiple top-10 LPGA players. He wasn't surprised that a lot of the women in the lead weren't ranked in the top for distance.
"They're almost always trying to perfect their ball striking and ball flights rather than increase distance," Schmedes said. "A tighter dispersion is paramount when it comes to being in contention on a weekly basis."
Schmedes says that the women on the LPGA Tour aren't trying to get longer, they're trying to get more consistent. You can hit it as far as you want, but if you don't know where it's going, you're in trouble. The overriding philosophy right now is that it's more important to know you can be in the right place on the fairway than know you're the longest on tour. In turn, more time is spent on developing a predictable shot shape than trying to be long.
"Having a movement pattern that will repeat under pressure is key to each week's champion out on the LPGA Tour, even if it may sacrifice a few yards," Schmedes said.
It's a good lesson for the average golfer: When you're at the range, make sure you're thinking about where the ball is going, not how far it's flying. And don't forget to leave the range all together and get on the practice green. In contrast to the distance off the tee, no player sitting T-6 or better after 36 holes was ranked outside the top 75 for putting during either round.