The Loop
U.S. Senior Open leader Gene Sauers and the disease that threatened his career and his life
EDMOND, Okla. - Who knows what the odds are of Gene Sauers hanging on to his lead after 54 holes and winning the U.S. Senior Open Sunday, but they are probably better than the 25 percent chance doctors gave him of surviving a rare disease that was eating away at his skin and causing unbearable pain three years ago.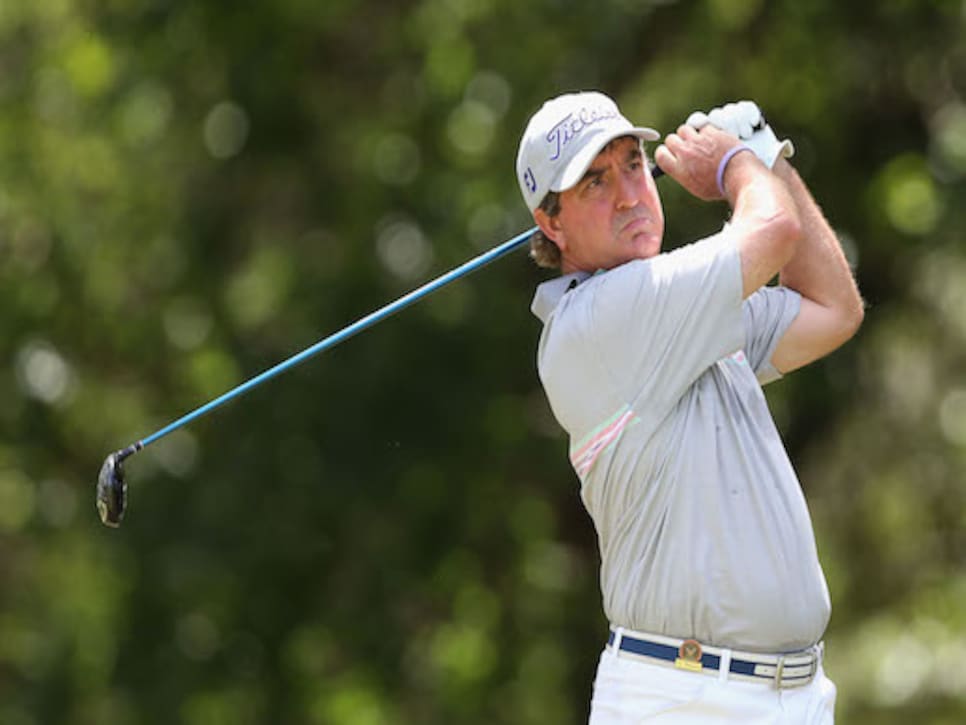 That the 51-year-old Georgian is even playing at Oak Tree National, much less leading Bernard Langer and Scott Dunlap by three strokes, is remarkable. If Sauers isn't on a very short list of candidates to receive the Ben Hogan Award - given by the Golf Writers Association of America to someone who has continued to be active in golf despite a disability or serious illness - there is something wrong.
After being plagued by debilitating pain for more than a year, Sauers was hospitalized for seven weeks in the spring of 2011, his arms and legs battlegrounds of misery, the agony as if he had been badly burned in a fire. He still isn't sure exactly what the problem - originally diagnosed as rheumatoid arthritis in 2009 - really was. But he would be driven to the floor with pain hopscotching from one part of his body to another, having to slide around his home's hardwood floors in socks.
"They're treating me with all these drugs," Sauers said, "and the next thing you know after taking them for six or eight months, from a drug interaction, it was burning me from the inside-out. Both my arms and both my legs." Doctors settled on Stevens-Johnson syndrome, a milder form of toxic epidermal necrolysis, that badly blisters or erodes the skin.
In the hospital, not sure if he would live or die, as skin was grafted onto his limbs and under heavy medication, Sauers worked on his swing in his mind and decided that if he were ever physically able he wanted to play golf again. A three-time PGA Tour winner who was T-2 at the 1992 PGA Championship, Sauers, always self-critical of his game, had left competition after the 2005 season frustrated and tired of the grind.
"I was kind of playing bad and wasn't having a good time, pulling my hair out and going crazy," Sauers said. "I stepped away from it for awhile, and then 2009 came and I started feeling bad."
After getting out of the hospital on June 1, 2011, In two months Sauers made his first swings, tentative ones because his new skin was tight. They were baby steps, wedges struggling to fly 10 yards. Within a month, though, Sauers was seeing vestiges of his old skills. The man whose ball-striking was always admired by his peers, who was held back by a balky putter, shot a 71 in his first round. "Birdied the last three holes," said Sauers, "I said if I can do that, I can sure give it another shot out here."
Following his 50th birthday in 2012 Sauers joined the Champions Tour and had a couple of top-10 finishes. Playing a full season in 2013 he was twice a runner-up - losing a playoff to Esteban Toledo at the Insperity Championship - and finished 19th on the money list. This season Sauers hasn't had a top-10 but this week, despite being less than 100 percent physically because of a virus and fever, he has been solid. "I think it's a summer cold," Sauers said. "I've got a fever and my throat is scratchy. But you know what they say, Beware of the sick golfer.'"
Not only has Sauers, Savannah born and bred, been through a lot with his health, but his veteran caddie, Tim (Smiley) Thalmueller has too.
While in Miami for the 1990 Doral-Ryder Open, Thalmueller was shot in the abdomen during a mugging. On Dec. 26, 2004 Thalmueller was in Thailand when the tsunami hit Phuket. Thalmueller climbed a palm tree as the devastating wave - which claimed 200,000 lives - came on land. As Thalmueller told the Pittsburgh Post-Gazette in 2005, while in the tree he grabbed onto a man who was floating past and grabbed him to keep him from being swept away. The caddie also has been badly injured in three motorcycle accidents, the most recent in 2009 involving his lower left leg. Five surgeries saved Thalmueller's foot, above which a considerable e chunk of his calf is missing.
"We're survivors," Thalmueller said of he and Sauers."He says bogeys aren't supposed to bother him anymore, but I'm not buying it."
They'll go out on a hard course on a hot day and try to make the comeback even better.
"The good Lord touched me and said, I'm going to give you another chance,'" Sauers said. "Hopefully I can play good tomorrow and pull it out."