History
At U.S. Senior Amateur, CC of Detroit will celebrate Arnold Palmer's first national title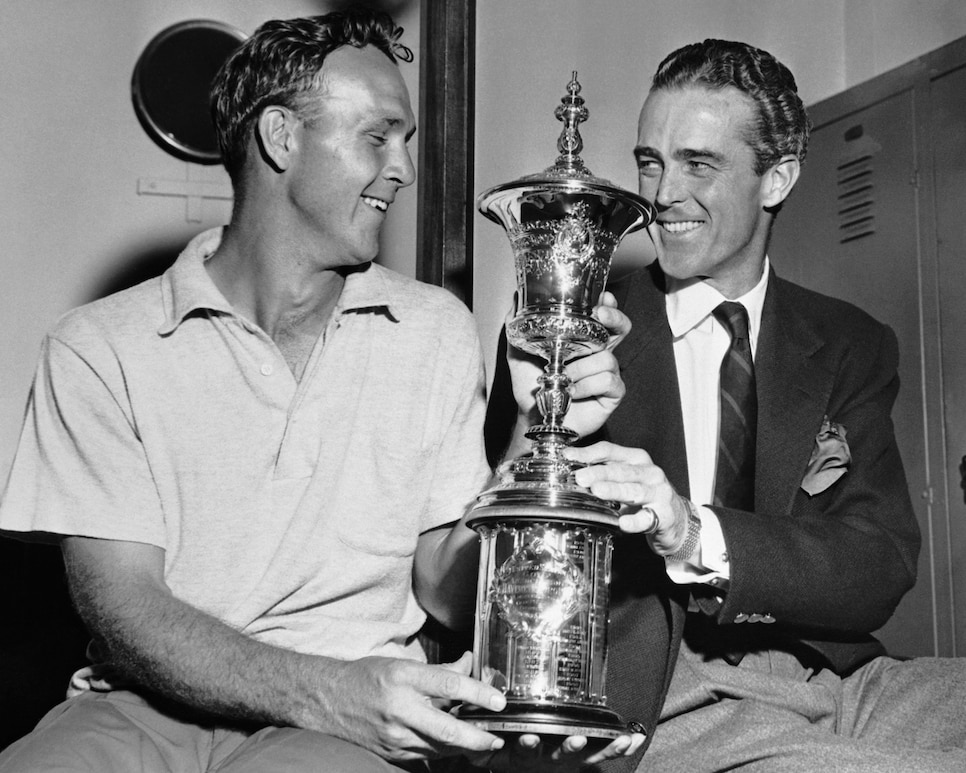 Arnold Palmer (left) and Robert Sweeny hold the U.S. Amateur trophy heading into the final of the 1954 championship, won by Palmer at the Country Club of Detroit.
Bettmann
A celebration of the late Arnold Palmer's victory in the 1954 U.S. Amateur will highlight the opening day of the 66th U.S. Senior Amateur Saturday at the Country Club of Detroit. Palmer captured his first national title 67 years ago to the day, on Aug. 28, at the club in Grosse Pointe, Mich.
Arguably the most popular player in the annals of golf, Palmer often referred to his 1-up win over Robert Sweeny as the "turning point" in his golf career, and as he wrote in his final autobiography, "A Life Well Played," he considered the victory his first major championship.
"The U.S. Amateur was still a big deal in that era, which is one reason why I consider myself a winner of eight major championships, instead of the seven that I'm given credit for in my professional career," wrote Palmer, who died in 2016 at age 87. "When you finish first in such a huge tournament with the kind of talent gathered that week in Detroit, I can tell you that it felt like a major championship."
According to the USGA, several artifacts on loan from the Arnold & Winnie Palmer Foundation will be on display on the first tee at the Country Club of Detroit throughout the day Saturday, including a replica of the Theodore A. Havemeyer Trophy that Palmer was given around 2004 by then-USGA president Fred Ridley, a photo of Palmer when he won the U.S. Amateur, and one of the many golf bags Palmer owned with a set of clubs.
Throughout the championship, the flag on the 18th green will feature a silhouette of Palmer tossing his visor after winning the 1960 U.S. Open at Cherry Hills in Denver, one of the most recognizable images from Palmer's career.
In addition, each contestant will receive a welcome letter from Amy Saunders, Palmer's daughter. Kenneth Boehner will attend the championship on behalf of the Palmer Foundation.
The U.S. Senior Open is the first USGA event to be held at CC of Detroit since Palmer's win.
Rick Herpich, Orchard Lake, Mich., has been given the honor of hitting the opening tee shot at 7:20 a.m. EDT off the first tee.
Bob Royak, Alpharetta, Ga., is the defending champion. He won the 2019 championship after the event was canceled in 2020 due to the coronavirus pandemic.