News
U.S. runs away in Sunday singles to beat Internationals and claim Arnold Palmer Cup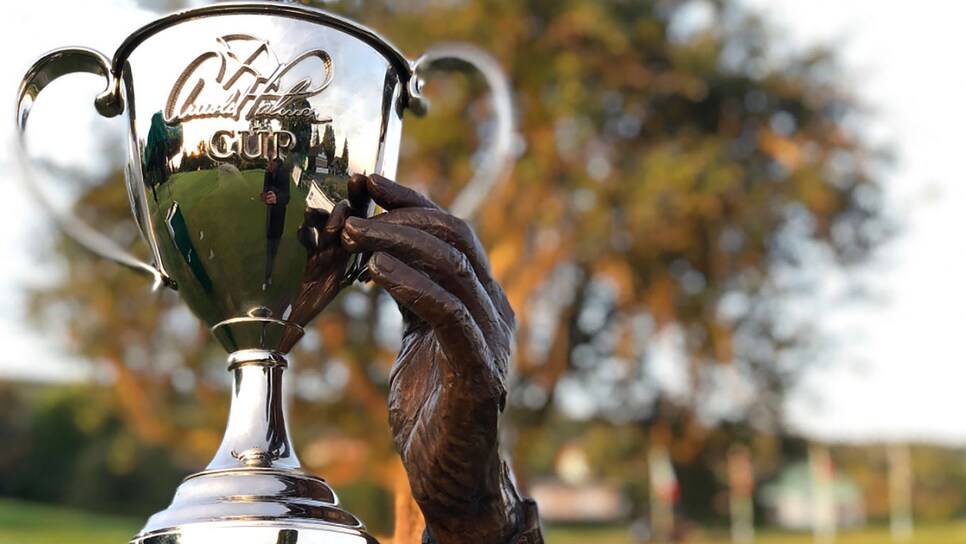 The revamped Arnold Palmer Cup had a little bit of everything: a championship course, high-profile players from around the world and an intriguing format.
The only thing missing was drama.
Leading by five points heading into Sunday's singles at Evian Resort in France, the United States team of 12 male and female college golfers won 17 of the 24 singles matches and halved two others to defeat their International counterparts.
Alana Uriell, who just finished her senior year at Arkansas, grabbed the deciding point, beating Kent State junior Pimnipa Panthong, 2 and 1.
The final margin of victory for the Americans was 38½ to 21½. It was the first time the visiting team has won the Cup since the Americans did it in 2010.
Since 1997, the annual competition was a men's only event that pitted players from the U.S. against European. But the 2018 expansion of the three-day Ryder Cup-style competition—adding women and including golfers from all countries—was greeted with enthusiasm.
"It made an already incredible competition even more so," said Alabama men's coach Jay Seawell, who captained the victorious U.S. team in 2013. "Some of these young men and women aren't going to have a chance to play in a Ryder Cup or Solheim Cup, so to get to play for their countries in an elite event like this is a special opportunities."
Having men and women on each roster allowed the squads to play mixed team four-ball and foursomes competitions over the first two days.
The U.S. side jumped to an early 8-4 lead on Friday in mixed four-ball, only to see the International team win 7½ of 12 points in Saturday morning foursomes. But the U.S. took the Saturday afternoon four-ball session 8-4, then dominated singles.
American Emilia Migliaccio was the only player in this year's competition to go 4-0 in his or her matches.
Northern Ireland's Olivia Mehaffey and Collin Morikawa of the U.S., were the winners of the Michael Carter Award, given to the participants that best represent the qualities and ideals of sportsmanship, integrity and upholding of the game.
Justin Suh earned an exemption into the PGA Tour's Arnold Palmer Invitational, and Dylan Kim will receive a invitation into this year's Evian Championship. The honors were given after a vote of their teammate.
Alumni of the event include major champions (Dustin Johnson, Justin Thomas, Ben Curtis, Webb Simpson, Graeme McDowell and Webb Simpson) and winners of a combined 195 events on the PGA and European Tours.
The competition had traditionally been close, the U.S. holding an 11-9-1 edge entering this year's event.
U.S. Roster
Ryan Hybl, Oklahoma (Men's coach)
Therese Hession, Ohio State (Women's coach)
Shintaro Ban, UNLV
Zach Bauchou, Oklahoma State
Brad Dalke, Oklahoma
Stephen Franken, N.C. State
Jamie Freedman, Nova Southeastern
Mariel Galdiano, UCLA
Kristen Gillman, Alabama
Dylan Kim, Arkansas
Jennifer Kupcho, Wake Forest
Andrea Lee, Stanford
S.M. Kim, Dalton State
Emilia Migliaccio, Wake Forest
Collin Morikawa, California
Kaitlyn Papp, Texas
Chandler Phillips, Texas A&M
Davis Riley, Alabama
Sophia Schubert, Texas
Lauren Stephenson, Alabama
Justin Suh, USC
Sahith Theegala, Pepperdine
Braden Thornberry, Mississippi
Alana Uriell, Arkansas
Lilia Vu, UCLA
Matthew Wolff, Oklahoma State