The Loop
U.S. Open, USGA: Golf 'had once again taken an AK-47 to its foot'
Stories of interest you might have missed…
The USGA was an easy target in the wake of the Dustin Johnson/rules fiasco in the final round of the U.S. Open on Sunday, as this column by Ewan Murray of Guardian shows.
"A sport seeking to emerge from dark age prejudice had once again taken an AK-47 to its foot, proving itself petty and unfathomable. Johnson arrived at the final holes of the biggest round of his life not knowing what his score was. Nobody watching on, including fellow competitors, knew for sure either.
"The next time those presiding over golf preach about integrity and trust as a foundation – and they will – the only response is wild laughter…Golf deserves better than to be hauled into disrepute by those supposed to be its custodians. Just because Johnson's overriding emotion was relief, the position he was placed in shouldn't be forgotten in a hurry. Amateurs running professional pursuits has never seemed like a logical alliance."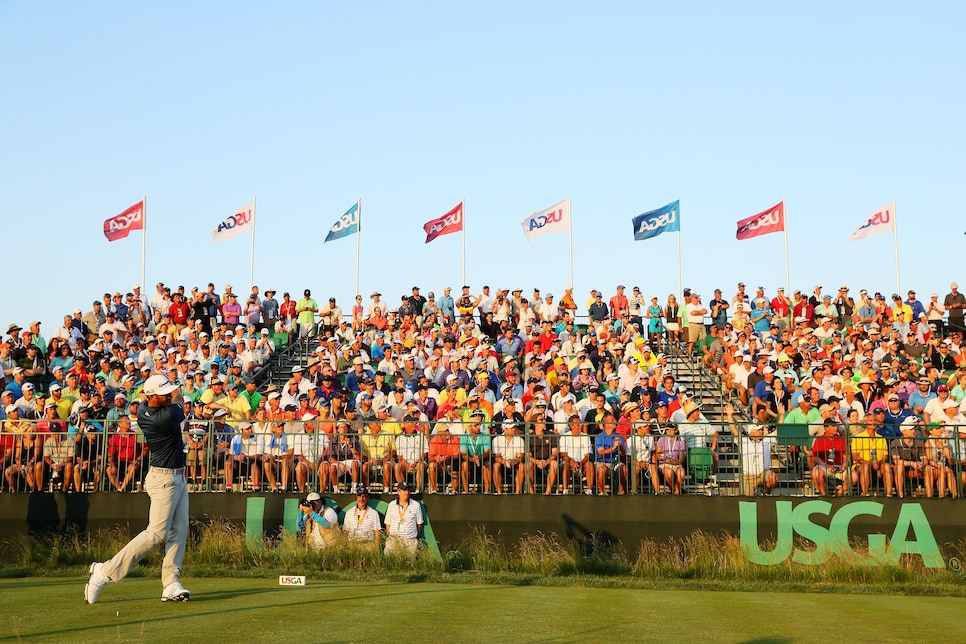 "Total adulation is not everlasting, as LeBron James and Tom Brady and [Tiger] Woods could certainly attest. Complexities emerge. It's hard to please everyone, and it's hard to live up to a ridiculously high standard you set for yourself. Some of the stuff that once seemed charming about Spieth -- talking to his ball every time it's in the air; having lengthy conversations with his caddie before each shot; answering question using the royal 'we' -- are now the fuel for a small backlash. It isn't major, but it's there. You could feel it simmering in recent months. All you had to do was plug 'Spieth' and 'slow play' or 'Spieth' and 'slump' into Twitter's search engine."
Arnold Palmer, home in nearby Latrobe, Pa., did not make it to Oakmont Country Club for the U.S. Open, though he was watching, as the New York Post's Mark Cannizzaro reported. Cannizzaro went to Latrobe to see Palmer on Friday and had lunch with him.
"The King sits exactly where you would expect a king to sit: Wherever the hell he wants," Cannizzaro writes. "In the case of Arnold Palmer…his throne is a rather modest one: Same seat with its back to the wall at the same table near the bar in the grill room at Latrobe Country Club, the place his father, Milfred 'Deacon' Palmer, helped build as part of the original construction crew and later served as superintendent and head pro."