News
'The Doomsday Of All Doomsday Scenarios'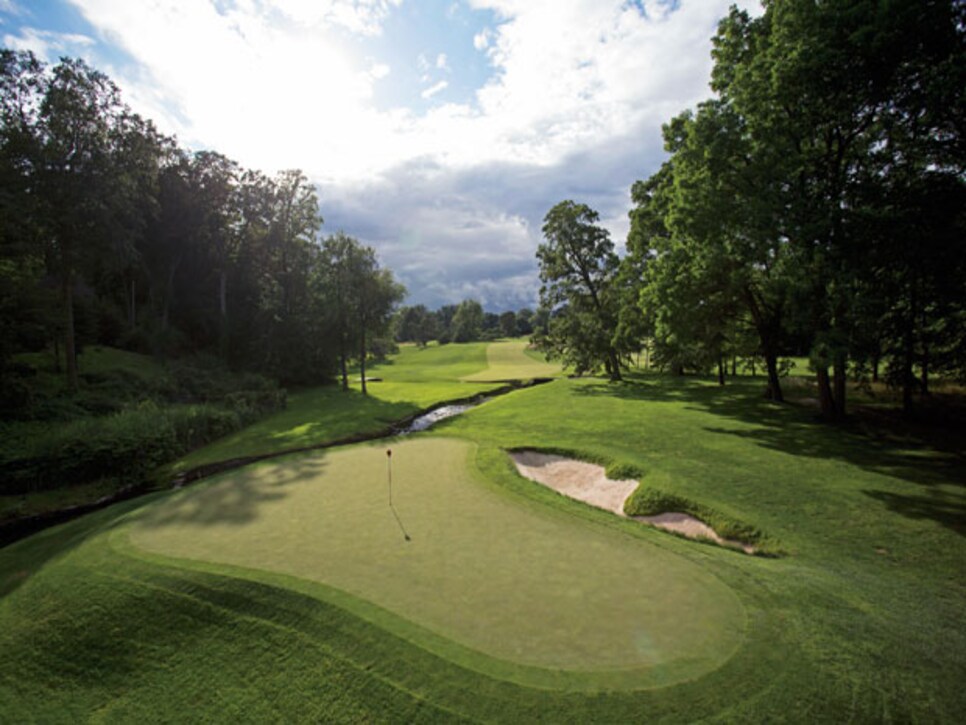 NO. 11 / 367 YARDS / PAR 4: This stream has flooded the green "probably 40 times in the 12 years I've been here," says Matt Shaffer, director of golf-course operations.
The 11th green at Merion is one of the most famous in golf. It's where Bobby Jones closed out Eugene Homans, 8 and 7, to win the 1930 U.S. Amateur and complete the Grand Slam with victories in the U.S. and British Opens and Amateur championships in a calendar year.
The 11th green at Merion is also infamous. It sits at the lowest portion of the property, perched on a rock wall above Cobbs Creek, just yards south of where the creek intersects with another stream. It is therefore prone to flooding.
"It's been flooded probably 40 times in the 12 years I've been here," says Matt Shaffer, Merion's director of golf-course operations. "I've pulled logs and tree trunks off that green. It's had so much silt and grit left on it, the subsurface has turned to concrete. I mean, the players in the U.S. Open better pray it floods a little--otherwise, they won't be able to leave a ball mark."
Joking aside, the specter of the green at the 11th and parts of the 12th hole sitting under two feet of water--or worse, washed away in a flash flood--has caused USGA executive director Mike Davis to prescribe an extraordinary measure: He has Shaffer prepping holes on Merion's West Course to be used as emergency replacements.
"We know the 11th hole floods," Davis says. "Hardly goes a year where the stream isn't up and over the green at some point. Apparently they've done some work downstream that causes backups. So, historically, it floods and it drains. Having said that, you have to ask, 'What if all hell breaks loose? What if it stays flooded for two days?' That's why we're going to take some precautionary measures on the West Course."
Given the tight confines at Merion, the West Course has already been pressed into other service for this year's Open. Three of its holes are being used to create a practice range, and the course also will be used for the media center, scoring tent and limited parking.
In an abundance of caution, Shaffer will maintain several of the West's holes to U.S. Open conditions.
Davis says that in a worst-case situation--if the East's 367-yard 11th hole and 403-yard 12th were to be declared out of play--players might begin their round with two understudy holes on the West, both ideally playing as par 4s to keep the par at 70 for a composite course. Players then would be shuttled to the East Course for the rest of the round, skipping the flooded holes. (Another hole on the West Course will be available, primarily if sod is needed to make a repair. The East's fourth green, for instance, sits next to a stream and might experience overflow damage.)
"We've had other clubs prep greens on adjacent courses in previous U.S. Opens, because you never know when you might need some emergency sod," Davis says, "but I can't recall that we've asked entire holes be held in reserve."
Davis admits the possibility of needing the West's holes is "very, very remote" and would be a last resort, given that players wouldn't have seen the replacements in practice rounds.
"I'm giving you the doomsday of all doomsday scenarios," Davis says. "We wouldn't use a hole from the West Course unless we absolutely otherwise couldn't get this championship in--if we had a stream that wouldn't recede for several days. In that case, the show's got to go on. What we don't want is that situation, and we're sitting there scratching our heads."
"It's just not going to happen," Shaffer says. "It won't wash away. If the green is underwater, I'll have it playable within two hours after the water recedes. But I get the greatest 'What if?' questions from Mike Davis. So we'll have those holes ready."
You'd have to go back to the 1987 Western Open to find a situation such as Davis fears. That year, Butler National suffered major flooding before and during the tournament, so nine holes of the adjacent Oak Brook public course were used along with nine of Butler's holes.
No shuttling of players was needed at the Western Open because those two courses sit side by side. In a mayhem situation at Merion, players would have to be shuttled from the West Course to the East Course, but they're going to be shuttled back and forth anyway to use the range and sign their scorecards. The distance, about a mile, is much the same as it was shuttling players from the practice range to the 10th tee at Bethpage Black during the first two rounds of the 2009 U.S. Open.
Merion will be ready, even if it takes two courses to do it.