From the Magazine
How Trevino Tamed Merion, Jack, And A (Fake) Snake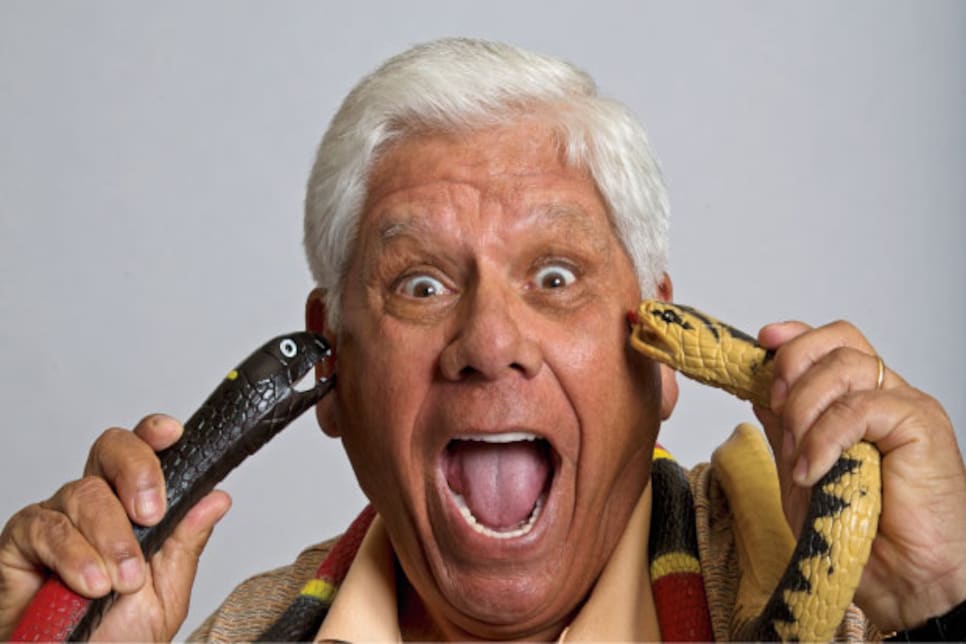 In 1971, Merion was just over 6,500 yards, par 70. It was short by U.S. Open standards even then, but not super short compared to a lot of courses we played. The average tour player in those days hit his driver about 250 yards. Nicklaus was a monster, hitting it over 270. I was on the short side, but length wasn't the biggest factor. If your game was off by only a little, you suffered. Good players struggled there. Tom Weiskopf, Billy Casper and Tony Jacklin missed the cut.
AFTER MY FIRST practice round at Merion, a writer asked me what I thought of the course. I told him, "It's 16 birdies and 18 bogeys." What I meant was, if your game was good and you could hit the fairways, you could shoot some good scores. But if you were just a little off, you could shoot a million. [There were 39 scores in the 80s.] After two rounds I was two over par and four shots back. I was pretty happy about that.
MERION HAS wicker baskets on top of the flagsticks instead of flags. I thought they were the most amazing thing. They actually affect the way you play, because you always rely on the flag to tell you which way the wind is blowing. The wicker baskets tell you nothing.
FORTY-TWO YEARS later, and I can still remember the clubs I used that week. I had a Hogan Special sand wedge, the kind with green paintfill in the Hogan signature. It was the best sand wedge anyone ever made. I used a Wilson 8802 putter, one of many I had during my career. My driver was a gorgeous PowerBilt persimmon model; I didn't miss fairways with it. I carried a 2-wood that week, a MacGregor Eye-O-Matic with a metallic-looking insert about the size of a dime. And I had a Tommy Armour 4-wood.
THE SET OF IRONS I used at Merion, best I ever had. When I went to Australia in 1969, David Graham, who won the Open at Merion 10 years after I did, told me about a great clubmaker, a man named Sandy. I found Sandy sitting in his workshop, smoking a cigarette, surrounded by barrels of iron clubheads and discouraged beyond words. "My work has been reduced to rubbish!" he said, gesturing toward the barrels. "I'm a craftsman. I've spent my life making these clubheads by hand, and nobody sees value in them. They're forging clubheads by the hundreds now, and these fine clubheads I've made--they're seen as rubbish."
I wasn't so sure about that. I took a bare shaft and went into the barrels looking for the best clubheads. I'd stick the shaft into one, set it on the ground, and choose or reject it based on the grind. Eventually I had a whole set. This was on a Monday. I asked Sandy if he could install the shafts I liked and leather grips by Wednesday, which he did. I proceeded to shoot 16 under in a tournament there, lost in a playoff. These irons were unbelievable. I won the U.S. Open at Merion, my British Opens and my PGAs with them. One day, during a streak when I wasn't playing well, I drilled holes in them to take some weight out--and ruined them. I still have them, and when I look at them I could cry. If I hadn't tried to fix them, they might be in my bag to this day.
MERION IN 1971 was so penal. The setup was so hard. The rough was Merion bluegrass, a strain I hear was discovered by a superintendent there. It was thick, and because it rained early in the week, wet. It held the moisture and never did dry out completely. Then there were the bunkers, known as "the white faces of Merion." I didn't think the sand itself was that difficult to play from, but the bunkers were surrounded by long, unmanicured grass that was wild and scary looking. They triple-cut the greens twice a day, and the looks on players' faces when they hit their first few putts was something to see. The course was very intimidating. Even though it was a big field, most players had no chance. Between the visual end and the fact it played as hard as it looked, I knew I didn't have to beat as many players as usual.
MY CADDIE was a young man named Tom Tadeo. A college student. You weren't allowed to bring your own caddie in those days; you took a local guy who was assigned to you. Tom basically drew my name out of a hat. The day of the playoff, I told him if I won he'd get three big ones. When I did win and paid him $3,000 [from a first prize of $30,000], his eyes about came out of his head. It turned out that when I said, "three big ones," he thought I meant $300.
THE MAN TO BEAT that week was Jack. He had fewer than 10 majors [eight] at that point, but he was the best player in the game, and I already thought he was the best player in history. It wasn't just his game, it was the way he went about everything. The first time I ever saw Jack was at Baltusrol at the U.S. Open in 1967. It was early in the week, late in the day and almost dark. I looked down from the clubhouse at the practice green and saw the outline of a man putting with a Bulls Eye putter, the head painted white. It was Jack. Watching him made an impression as to what makes a man great. At the end of the day, all that matters is how hard you work, how much dirt you move. That's how I measure people. I don't care how talented you are, if you don't move enough dirt, somebody is going to run over you. Jack moved a lot of dirt.
ONE OF THE GREAT myths in golf is that Jack didn't practice very much. When he bought a house at Lost Tree in Florida in the mid-'60s, nobody saw him. He'd go out back behind his house and hit balls across those fairways all day long. He also built a putting green on land between his guest house and the tennis courts. He adjusted the speed of that green for whatever tournaments were in front of him. He wore that putting green out.
I WAS PAIRED the third round with an amateur named Jim Simons. Very nice kid, and an excellent player. He shot 65 and left me four in back of him with one round left. I was impressed by his poise, but I knew it would be hard for him on Sunday. The situation is enormous for a pro, so how do you think a kid amateur of 21 feels? And he did end up fading. Jim went on to have a decent career in pro golf, though he always had trouble with his eyes. He'd done a lot of nice things for people. When I heard the news [Simons died in 2005], I had this feeling that there's a guy who's going to heaven.
A LOT OF MERION'S greens are shaped like saucers, higher on the edges than in the middle. That would seem to make it easier, with balls collecting toward the middle of the greens, but it makes it harder, especially when you miss the green. On saucer greens, every chip shot is downhill. A downhill chip from rough is the hardest shot in the game. And it's a mental thing. When you miss a green at Merion, you make that long walk to your ball knowing there's a good chance you're going to make bogey. Make just a few of those walks, and it starts to wear on you. After three rounds, I was four behind Simons, but the only other guys in front of me were Jack and Bobby Nichols. I was only two behind Jack. I knew that if Jack and Bobby didn't hit as many of those saucer greens as I did, I had a great chance.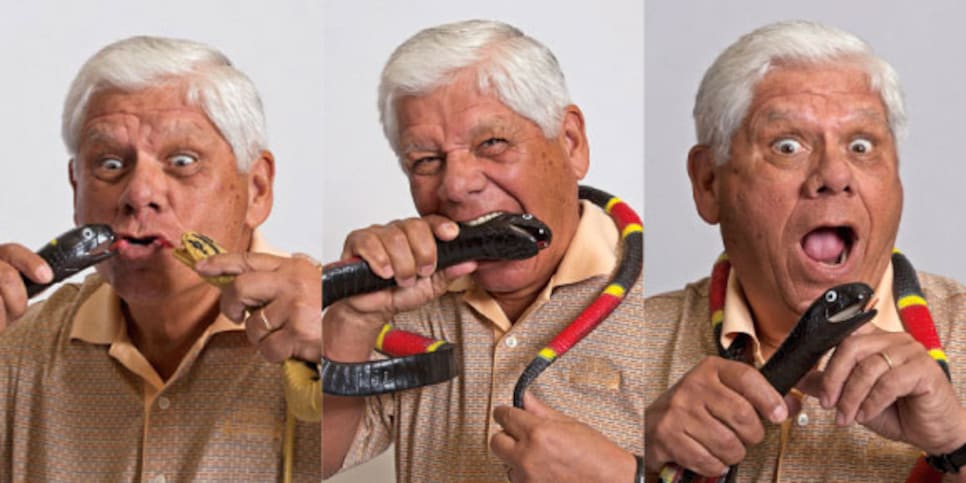 ON SUNDAY, I wore a red shirt and black trousers. I called it my payday outfit. Red is a powerful color. Bullfighters wear red. Tiger Woods wears red. It empowers the person wearing it. You never caught me wearing yellow, because yellow is a sign of cowardice. Wearing red was a good tradition for me for another reason: It saved me the trouble of deciding what to wear on Sunday.
I MADE IT to the last hole in good shape. I was playing well and had a one-shot lead. The 18th is the hardest hole on the course by far, and I drove it to about the spot where Hogan hit his 1-iron [in 1950], then went long with my 4-wood. I probably was amped up and choking just a little. It was nothing like the 1974 PGA, where on the last hole I had enough cotton in my mouth to knit a sweater. At Merion, I felt lucky to be where I was.
NEEDING TO GET up and down to win, I hit the chip a little heavy and left myself seven feet for par. Just as I'm ready to take the putter back, there's this huge noise. A kid had climbed a tree to get a better view and was perched on a sign that had been nailed to the trunk of the tree. The nail had come loose, and the kid fell. This is hard to believe, but the sign read, QUIET PLEASE. It startled the hell out of me, and I backed off the putt. I settled back over the ball and missed to the right. After I tapped in for bogey, I did the only thing I could do. I hollered out, "You OK, son?"
AFTER I TAPPED IN for a 69 and 280--even par--I went to the locker room. I sat on a bench in front of these metal lockers that reminded me of my days in the Marine Corps, took off my shoes and waited for Jack to finish. I was practically alone. A guy wanders in and says, "You going to watch Jack finish?" I said, "No, but I'm going to listen." Jack had a 15-footer for birdie, and it was easy to tell when he hit the putt. I listened to the sound of the crowd build, then heard the "Ohhhh" when the putt didn't drop. Jack came in and sat next to me. Five writers at most interviewed us; you can't believe how small the press was in those days. I told them, "No matter what happens, I'm a winner."
I'D BROUGHT ALONG some buddies for the week to keep me company. We stayed in the same room at a motel near the course. We had checked out on Sunday morning, figuring we'd leave town Sunday night. Immediately after I came off the course, I told one of the guys he had to go back to the motel and get us checked back in. By the time I cleaned out my locker and finished talking with the press, my buddy was back at the course with the key. We drove back to the motel and couldn't find the room. There was no room number that matched the one stamped on the key. I was hungry, tired and hot, and we spent a good 30 minutes looking for that damned room. I said, "Check the room number." He pulls out a piece of paper and reads off the room number. I said, "You just read out a four-digit number. We've been looking for a room that has three digits. Check the key again." He looks down and says, "Oops." He'd accidentally covered up the fourth digit of the number stamped on the key with his thumb. Boy, was I mad. That was the most stressful moment of the whole week.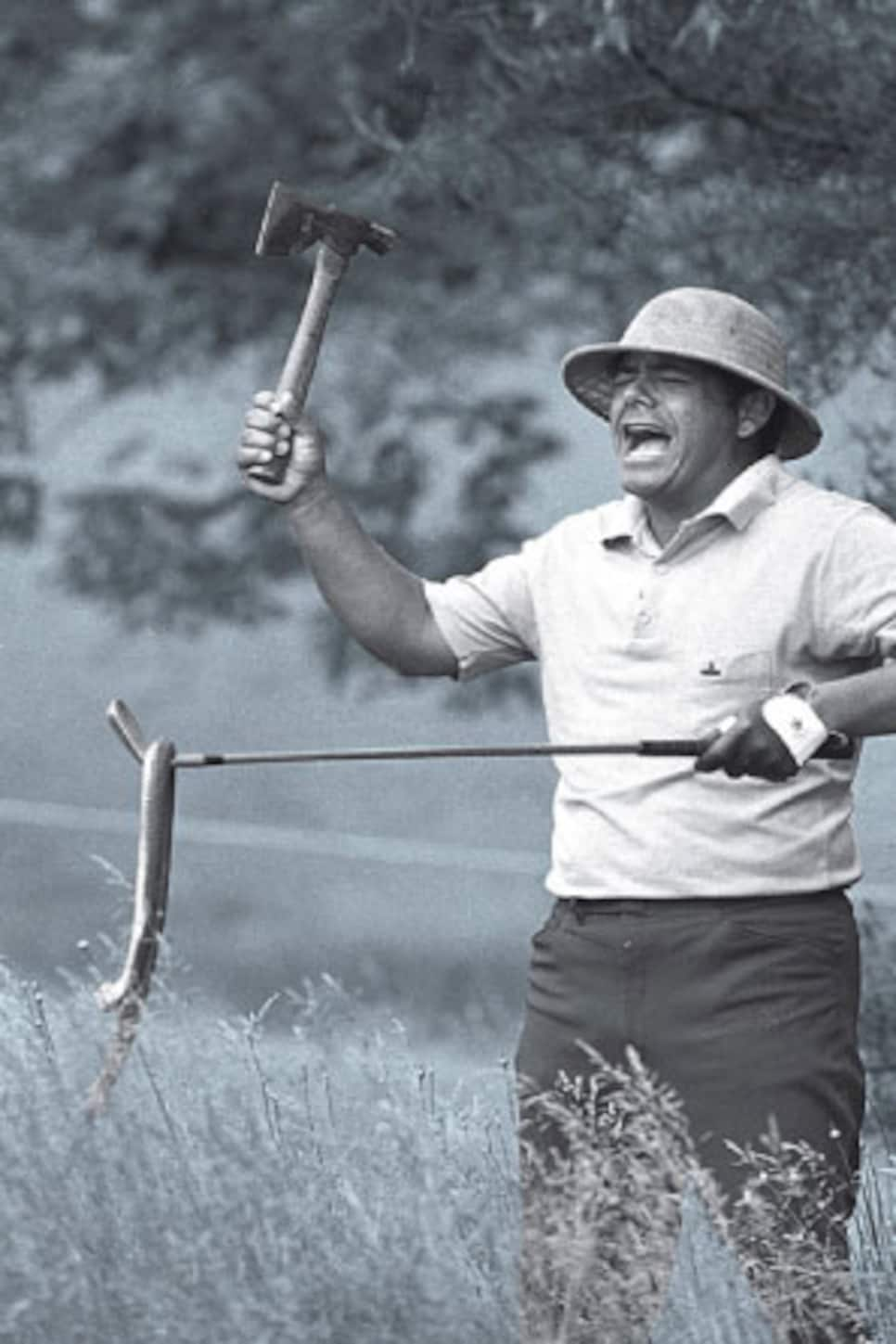 GOING INTO THE playoff, I knew I had to beat Jack with my clubs. Jack wasn't going to give you very much emotionally. He was very hard to read. Knowing where a guy's head is at can help you. I'm a good observer of people and always could tell if a guy was confident, scared, full of b.s. or whatever. It helps when a guy talks a lot by nature. But Jack wasn't much of a talker on the golf course, and off the course Jack made just cursory small talk to most players. He called everybody "pro." It would be, "How you doing, pro?" "Family good?" "That's great, have a nice round today." The kind of stuff that doesn't give you much insight into what he's really about.
DURING the Colonial tournament a month earlier, I'd taken my daughter Lesley to the Fort Worth Zoo. I bought her a big rubber snake. For some reason Lesley stuck it in my golf bag. Herman Mitchell [caddieing for Miller Barber at the time] didn't know it was in there, and when I pulled it out on the 18th hole at Colonial, he took out about eight rows of folding chairs trying to get away. At Merion, before the tournament, the photographers wanted some shots of me. I remembered I had that snake, and they got me an ax and a pith helmet, and we shot some pictures out to the left of the fourth hole. But then I forgot about it. Now on Monday, the day of the playoff, it was hot. I'd soaked a glove with sweat warming up, and on the first tee I went into my bag for a fresh one. There was the snake. I pulled it out and held it up, which made the gallery laugh like crazy. Jack was sitting on the other side of the tee, and he said, "Throw that thing over here." I tossed it over, and an official picked it up and handed it to Jack. He looked at it, shook his head and laughed, and tossed it back.
I BOGEYED THE FIRST HOLE of the playoff to give Jack a one-shot lead but got it back when he left a ball in the bunker on the second hole and made bogey. He left another ball in the bunker at the third to make double, and I took the lead for good. He chunked a wedge from the fairway at the 10th. It's funny how God doesn't give everybody everything, and from Jack, He held back the wedge. Jack was not a good bunker player. He could play wedges from the fairway OK, but around greens he didn't have much finesse. Years later, I asked Jack why he wasn't a good wedge player, and he said, "I didn't need to be. I hit the ball in the fairway and then hit it on the green." If you ever saw Jack play, you could see how that made sense. Still, when you add it up, two things won me that playoff: Jack's sand wedge, and the rain.
ON THE SIXTH HOLE, it suddenly poured rain. There was an hour-long delay, and had that not happened, I would not have won that playoff. The course was getting out of control for what my low-trajectory shot could handle. Over the course of the week it dried out, and by Monday it had gotten too firm and too fast for a low-ball hitter. For Jack, it was no problem either way. Wet or dry, it didn't matter because he hit the ball very high, without much spin. But because I hit the ball low, I needed it to be a little soft for my ball to grab, especially when the targets were small. That rain softened everything up just enough for me to get the job done. [Trevino shot 68 to Nicklaus' 71.]
THAT WIN at Merion was the most important of my career. I'd won the U.S. Open in 1968, but when I drove to Pebble Beach the next year I remember feeling scared to death that I might shoot a hundred. I'd carried this sensation that I was a fluke, that I'd gotten lucky. But in the spring of 1971, after I'd won twice, Jack took me aside and told me, "You have no idea how good you are." That gave me confidence. After I won at Merion and beat the best player in the world to do it, I knew deep in my heart I was a real player.
I CAUGHT A STREAK of putting that summer that I'd never had before and have rarely had since. At Merion my putter was hot, and it stayed hot after I won. Two weeks later, I won the Canadian Open. The week after that, I won the British Open at Birkdale. Three national titles in the course of one month. I spent the rest of my career trying to recapture the feeling I had over the putter during that spell. If you look at the films of those tournaments, you'll notice I took no practice strokes. I took very little time after I got over the ball, because I immediately saw the line. My ball-striking was always pretty good, but when I came off of that hot streak, I felt that if I putted well, nobody could beat me.
PLAYERS TODAY usually take some time off before or after the majors. They're exhausted or just want to relax. I always kept going. In those years I rarely played fewer than 30 tournaments a year. Later in my career I did it because I enjoyed it, but in 1971 there was a little fear. I didn't know how long it all was going to last. I felt that as long as a sponsor was putting up the lettuce, this rabbit was going to chase it. If I got tired, I didn't know it. Not everybody is built that way.
HERE'S MY prediction for this year. If the USGA gets blessed and there's no rain the first two weeks of June, it will be the hardest U.S. Open course these players have seen. The problem is the fairways, which can be 22 yards wide, pinch down even more near the green. And it's the way they bend. They aren't big doglegs, but they bend just enough to make you relax a little, and that leads to serious problems. If it's dry, the balls will run off into the rough. When that happens, hitting those tiny greens will be a nightmare. They're the smallest greens in championship golf, and if they're firm--again, if there's no rain--the players won't be able to hold them from the rough.
THE COURSE is going to be just under 7,000 yards long. That's nothing to those players. But it's a trap. The USGA is not dumb. They know players are going to be hitting a lot of irons and hybrids off the tees. They know that when they miss fairways, they'll only miss by a little. So I'm betting they keep with the plan and won't have that first cut of rough. It will go right to the tall stuff, on both sides of those skinny fairways.
LATER THAT summer in 1971 they had a Lee Trevino Day in El Paso. There was a big parade and a marching band. They named a street after me--Lee Trevino Boulevard. It was a big deal. A local dignitary told me, "Lee, you're bigger than Pancho Villa and Billy the Kid." They were the city's claims to fame until I came along. High praise.
BEING A PRO ATHLETE is a lot of, "What have you done for me lately?" People forget accomplishments literally overnight. But Merion, that one sticks. Here we are decades later, and people want to know the story.