News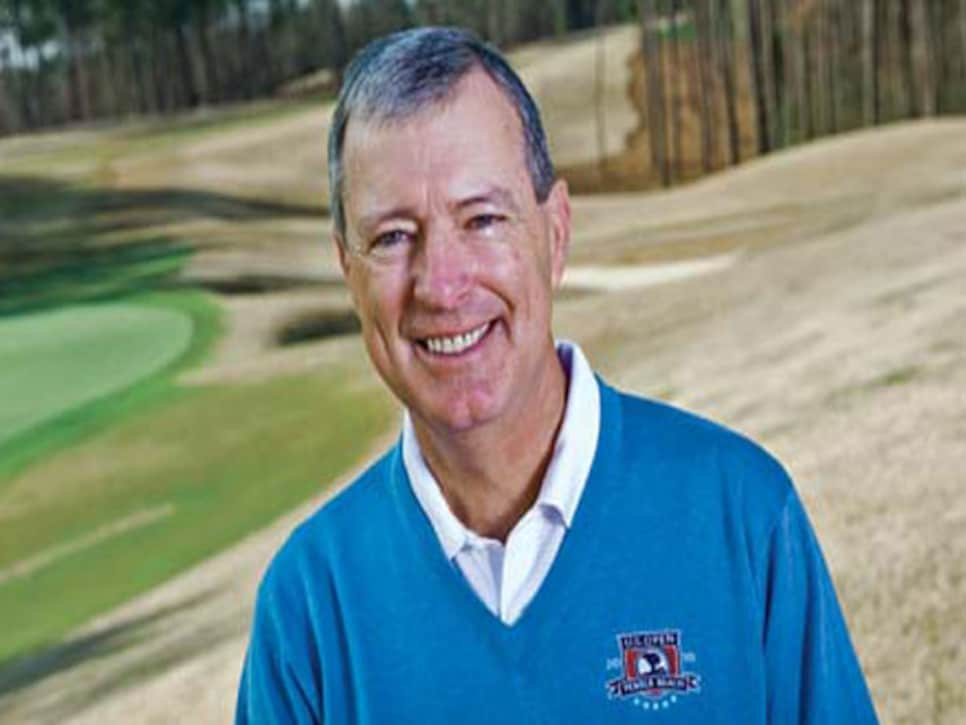 USGA president Jim Hyler is the classic Southern gentleman. In his Virginia drawl, he's disarming yet assertive. His audience gets his point, whether he's helping plan the U.S. Open at Pinehurst (which he did in 1999), talking about the financial industry (retired as COO of First Citizens Bank in Raleigh, N.C., he serves on the boards of five companies and two hospitals) or discussing the future of golf. Lately, he has taken up the cause of making the game environmentally sustainable. Managing Editor Roger Schiffman caught up with Hyler, 62, in Durham, N.C., at Old Chatham Golf Club, where he's a founding member.
Roger Schiffman: Jim, thank you for agreeing to sit down with us. One of the first things I wanted to ask you is, when you became the president of the United States Golf Association back in February, you said in your acceptance speech at Pinehurst, "When it comes to the issue that is perhaps of greatest concern to golf's future, namely water, we must reset the way we look at golf courses. We need to understand how brown can become the new green." What experiences in golf made you decide that the USGA needs to take a leadership position in this area?
Jim Hyler: Well, the USGA has actually been taking a leadership position on the issues of golf and the environment since the 1920s. Our Green Section has been doing a tremendous amount of research in this area. Unfortunately, it is probably our best-kept secret. And, as I said in my remarks at Pinehurst, that will be changing because we need to make a lot of this research more public and let people understand the relationship between golf and the environment. But from my own experiences, I would say there are several things that have impacted my thinking on this. One is in the Piedmont North Carolina area. In the last few years we have had several severe droughts that have really impacted the golf courses and available water. Secondly, the last four years I have had the privilege of working with [senior director of rules and competitions] Mike Davis, as Chairman of the Championship Committee, and working with a number of our Green Section agronomists and getting a much better understanding of what firmness really means and how it affects playability. And I've come to gain a much better appreciation for firm and fast. And then lastly, the economic meltdown that we've had has had a really severe impact on golf courses and golf-course finances. And I think that as you look at this issue of water, that dialing back the use of water, fertilizer and pesticides can clearly have a positive economic impact on clubs and courses. So I think all of these things have sort of come together and really made me realize that we need to reset the way that we look at golf courses.
Schiffman: So you're saying the economic downturn we've experienced could actually have a positive effect as far as golf and the environment is concerned.
Hyler: Absolutely. I think it will offer opportunities for clubs and courses to look at their maintenance budgets and realize that trying to get that last 20 percent of perfection on manicuring is really not worth it. It has almost nothing to do with playability. It's all about cosmetics. And then you get to this issue of water being a very finite resource -- and do we need to put as much water on the course? I think when you consider dialing back your water and look at the domino effect back through a maintenance budget, it can have a very significant impact on that budget.
Schiffman: Let's discuss the playability of golf courses when they are firm, fast and possibly brown. How does that affect shotmaking and the skill levels that are required?
Jim: Well, I think it offers so many more variables to shotmaking. You have so many more options if you're able to play the ball on the ground as opposed to just an aerial game. I think if you have a soft golf course, you are playing an aerial game because you can't bounce the ball. On a firm, fast course, you are able to use the contours and the slopes that the architect gives you. You are able to play different kinds of shots, bounce the ball on the green, if you have firm approaches. I think it adds much more fun to the game. I think it makes it a lot more fun to play for any level of skill. So I think firm and fast would introduce many more opportunities for people to make shots and increase the playability a lot.
Schiffman: Assuming we don't get a monsoon at Pebble Beach, will that course play more firm and fast?
Hyler: If we get a monsoon in mid-June at Pebble, that will be news! Pebble Beach in mid-June will be very firm and fast. In Coastal California you are really able to dial in the setup in mid-June, so we expect Pebble to be very firm and fast. __ Schiffman:__ And will it have brown areas?
Hyler: Well, we are talking with the superintendent there, Chris Dalhamer, about his water application leading up to the Open, and he will go to hand watering several weeks out. And then we might very well see some brown, but keep in mind that Poa annua fairways do require some water to keep it alive, but it will definitely be firm and fast.
Schiffman: Speaking of grass strains, let's talk about Bermuda grass and the courses in Florida and in the Southwest and in desert areas, like around Scottsdale and Tucson. There are two schools of thought as to overseeding these courses in the winter with ryegrass for a green playing surface. One is that, yes, it is necessary because it maintains the health of the turf, especially if there is a lot of cart traffic. However, there is another school of thought that says the Bermuda grass should just be allowed to go dormant. The overseeding actually hurts the turf and means it takes more time for the Bermuda to come back. What is the USGA's position and philosophy on this, and does the USGA have any research to back up its position?
Hyler: We have not been doing any research on this overseed issue. And it gets back really to the individual courses as to whether or not they choose to overseed. Our agronomists can come in and give advice on process and procedures to overseed -- what it means to overseed both in terms of planting the ryegrass, seeding the ryegrass in the fall, and then what you do to transition it back to Bermuda in the spring. But we've not done any research there. And what our experience has found, that the question about overseeding gets down to one of traffic on the golf course. If a golf course is getting an extraordinarily high number of rounds, it might make some sense to overseed. But typically, competition can also get into the equation about the course down the street, and it looks green, so therefore we are going to overseed. I do think that, at least in the Carolinas, you are seeing a trend today where courses are overseeding less than they were five years ago. It's an economic issue in terms of cost to overseed, and then it takes a lot of water, particularly in the fall to get that ryegrass out and growing. So I think you are seeing a trend away from overseeding. But it does get back to a traffic issue and what the golfers want.
Schiffman: And in addition to water, I believe you have to mow it a lot more, too.
Hyler: Oh, sure. You are mowing that ryegrass. It takes a lot more maintenance -- a lot more effort to maintain it for sure.
Schiffman: Moving on, what would you say is the role of the USGA Green Section right now in environmental stewardship? Talk about the programs you have at various research universities.
Hyler: Our Green Section is quite active in the environmental area as it relates to golf. We partner with and are a supporter of Audubon International, and there are various certification programs. We've done a lot of things with the National Fish and Wildlife Foundation, particularly in support of its Wildlife Lakes Program. A group that we are working very closely with is the Chesapeake Bay Foundation, and they are doing a lot of great things to help clean and protect the watershed in the mid-Atlantic states. I think there are a high number of courses in that watershed, and that group does a lot of neat things. We've also worked with the EPA over the years in various projects and activities, and they've provided input to us, and we've provided input to them and their programs. So our Green Section works with a lot of different groups trying to get that right balance between golf and the environment.
Schiffman: In the history of the Green Section, what would you estimate, in terms of investment, would the USGA have put into turfgrass research?
Jim: Well the Green Section has been around since the 1920s. We have been doing research on turfgrass that entire time up until now. But in the last 30 years, we have invested around $31 million in turfgrass research. We support numerous projects at universities around the country. The primary emphasis of this research has been on developing grasses that require less water and that are better resistant to various kinds of weather. For example, Bermuda grass that can tolerate cooler weather than we have. And those things lead to reduced maintenance, reduced water. And that's a major part of what we're doing to address these environmental issues.
Schiffman: What about paspalum, which can be watered with salt water in certain cases?
Hyler: Well, one of our research projects has been to identify the seashore paspalum, which can utilize salt water to irrigate it. And it's a significant breakthrough. Some places are using that now, and we think that as time goes along, that more of these grasses will be used by courses and clubs.
Schiffman: I had an opportunity to play Old Collier [in Naples, Fla.,] back in January, and it's a 100 percent paspalum golf course, and it was beautiful playing in those conditions. It was actually green. And I'm told that basically there is very little maintenance. It requires less mowing and it can be watered with salt water. But I understand from [Old Collier superintendent] Tim Hiers that's more for very hot climates.
Hyler: Warmer climates and coastal areas.
Schiffman: We found an article back in 1977 in the USGA's own Golf Journal titled "Golf Isn't Played on Green." It was written by the head of the Green Section at that time, Alexander Radko. Why has this been such a tough sell to the American public all these years? And what can the USGA do to change that attitude?
Hyler: Well, I think that if you look at golf in this country in the last 40 years, you know there's been a lot of golf on television. And golfers see golf courses that have been primed for one week to host a major championship or to host a weekly PGA Tour event. They are primed to peak for that one week, and they look wonderful on TV. They are green. They are well manicured. And so then an expectation is set -- why can't our golf course look like that all the time? Well that's an unrealistic expectation, both from a money standpoint and from a maintenance standpoint. So I think what golfers see on television has impacted expectations. I think another thing that has impacted this are the residential real-estate developments centered around golf courses -- that the owners of those developments are trying to sell lots, they are trying to sell houses. And they want that golf course to look as green and as pristine and as well-manicured as it possibly can. And then the final thing I'll say is that superintendents' skills have improved dramatically. And you combine that with technology and you get into a little bit of an arms race -- well again, the course down the street is this, why can't we be like that? And so the superintendents are better able to have a lush green golf course today and so that's what their members want. They are better able to give it to them by overwatering and overfertilizing. So I think those are the things that have made this such a hard issue to address.
Schiffman: So you are saying it's really more of an education effort that needs to be done.
Hyler: And that's what we are about today at the USGA. We are trying to raise the awareness level amongst golfers, amongst decision makers at clubs, golf-course owners, superintendents -- that golf doesn't have to be played on green. And in fact, having firmer, faster courses present both economic advantages and playability advantages. And we think when you deal with this issue of water -- water is scarce -- it's going to become more of an issue. Let's go ahead and address it, try to address it proactively, in the transitioning of grasses to use less water, and we get these side benefits from doing that. So rather than being in a situation where the water is just dramatically reduced all at one time, that can have a negative impact on the grasses. Where if you're transitioning those grasses to use less and less water over time, you really produce a healthier plant and you don't have the shock of cutting off the water or significantly reducing the water all at once.
Schiffman: The USGA has a unique opportunity with all the television exposure that it has -- especially with the U.S. Open -- to get this message out. Will we be seeing PSAs on this subject?
Hyler: Well, we are ramping up our communication efforts significantly. I talked about the Green Section work being our best-kept secret. We are doing a lot of things to communicate this work to the golfing public through webinars, through significantly increased exposure on our website, through other means to get this research out. I think in our selection of golf courses for the Open, you are seeing us look at courses that are able to give us firmer, faster playing conditions like at Pebble, like at Chambers Bay this year for the U.S. Amateur, at Erin Hills next year for the U.S. Amateur. You look on out at our Open courses -- Olympic Club in '12 will be a firm golf course, Pinehurst in '13, back to Chambers, Oakmont for the Women's Open this year. So I think when you look at our course selections for our major championships, we are really focusing on courses that allow us to have really firm playing conditions.
Schiffman: When you talk about some of these courses, does this kind of go back to some of your experiences at Pinehurst when the Open was first played there in North Carolina? I know you were instrumental in conducting the tournament there.
Hyler: Well, I think it's the team, our USGA team, Mike Davis and David Fay, and the Executive Committee leadership, realizing that firm golf courses is way the game should be played. And really making a concentrated effort to take our major championships to [those courses] and allow us to use those conditions.
Schiffman: One thing on the mind of a number of our readers -- we've noticed from letters in response to our environmental articles -- is the emphasis on pesticide use throughout this country. You don't see that as much in other parts of the world, like in the UK and Australia. What is the USGA's position on reducing pesticides or more research into how long pesticides stay in the ground and what their impacts are on the environment?
Hyler: We've done some research on that. Our principal research has been around turfgrass and developing new strains of turfgrass that require less water or Bermuda grasses that are more tolerant of colder weather. So we do have some research material on pesticides and their impacts and so on, but the primary effort of our research has been more around the development of turfgrass.
Schiffman: What about as far as organic golf? There are a couple of courses, like the one on Martha's Vineyard, The Vineyard Club, which is totally organic. And there are a couple of others out there, but it's a fledgling area still.
Hyler: It is. It is a fledgling area. Our agronomists are very familiar with that particular course on Martha's Vineyard. We are watching it. We're understanding more about what that means, and we will be factoring that more into our research.
Schiffman: You also mentioned, in your speech back in February, that the USGA needs a long-term strategy to confront deeper issues plaguing the game. I'm assuming you are talking about more than just golf and the environment.
Hyler: Actually, I was saying golf as a whole needs to confront some of these major issues plaguing the game, not just the USGA. And specifically there, we are talking about economic issues that are impacting clubs and courses today, and environmental issues, the decreasing number of players, or the inability to grow the game.
Schiffman: Well, as far as growing the game is concerned and getting more young people involved, could there be a connection between golf and the environment and getting young people to understand the origins of the game?
Hyler: It's certainly possible. I mean, I think younger people probably have a greater interest in environmental impacts. I think if we are able to get our message out better about the balance between golf and the environment, it may very well draw some younger people to the game, and that would be another benefit of continuing this trend to make sure we have that proper balance.
Schiffman: What other areas is the Green Section looking into, and any upcoming studies that you know of that are exciting?
Hyler: Well, it's not only the development of the turfgrass itself, but how to cultivate the turfgrasses. The maintenance practices to sustain that turfgrass is a significant part of the research. This new Bermuda grass is an exciting one. It's a cold-tolerant Bermuda grass, and it's now being used into the mid-Atlantic with really good results. And what that grass allows a club or course to do, is use it in the fairways and the rough, and they are not using ryegrass and bent grass, which require a lot more water. So this cold-tolerant Bermuda grass is an exciting breakthrough and could really make a difference in the use of water.
Schiffman: What about practices that the USGA would recommend to superintendents about mowing patterns? I saw an article about not trying to have the wow factor, for example -- to scale that back -- you know where you simplify mowing patterns so you don't have striped fairways?
Hyler: Well, our agronomists have developed a good understanding of best practices that are environmentally friendly and can also be economically friendly. And we share those with superintendents on our turf advisory service visits, which we offer to clubs throughout the country.
Hyler: Yes, for a fee. It's a nominal fee, and these guys are truly professional. They know what they are doing. And they have a wealth of knowledge about good maintenance practices that are environmentally friendly and can also yield economic benefits to a club.
Roger: And if anybody wanted to learn more about what the USGA is doing concerning the environment, could they find it on your website?
Hyler: Yes, USGA.org, then "clubs and courses" or "course care" and just start clicking.